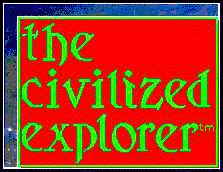 The Civilized Explorer
Sunsets on St. Barth, 2003
The sun goes down over the Caribbean, and the night comes to life.

---
Sunsets have been done. We do them ourselves. On this trip, we used our tripod to make some photos which, we hope, show something of interest in the late evening and night on the island of St. Barth. These photos were taken during our trip in 2003.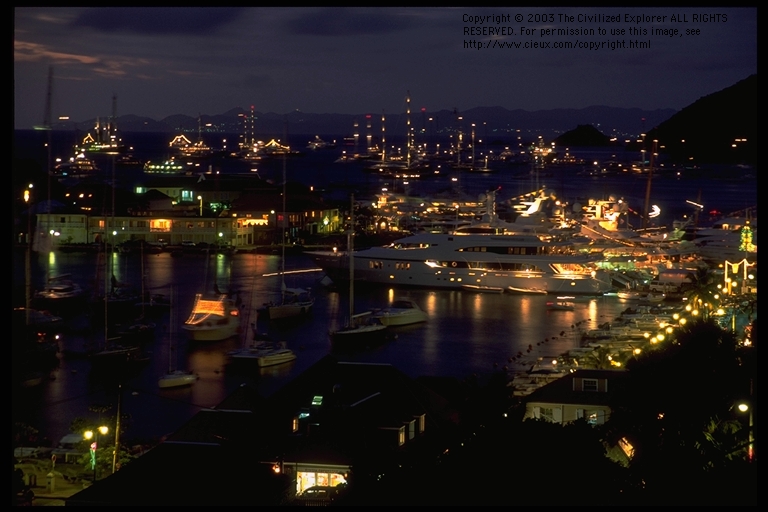 We were on the little island of St. Barth just after Christmas. For some reason, St. Barth is a very popular destination for New Year's Eve, and these are some of the yachts which were there. This photo was taken with a Pentax 67 on Fujichrome Provia (ISO 400), f/8 for six seconds at about 6:00 pm.
The harbor was completely filled, and there were many boats anchored outside the harbor proper just off Public. The hills at the back of the photo are on Sint Maarten.
---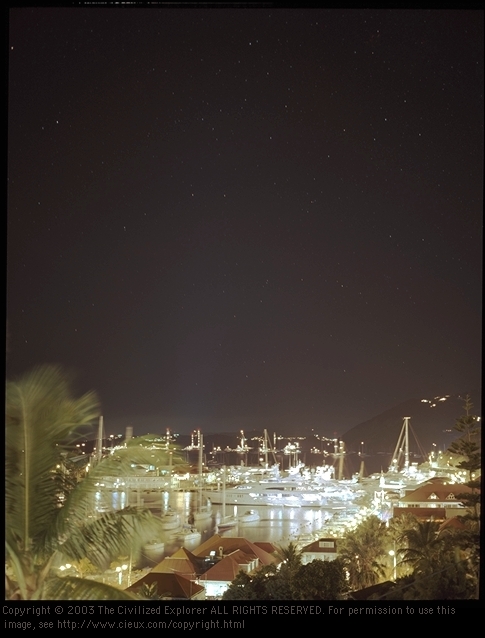 This photo was taken on the same roll of film at 9:30 pm, exposed at f/2.4 for 30 seconds. With the 105mm lens (considered normal on a 6x7 camera), the stars have just begun to trail, leaving streaks of about a millimeter on the transparency.
---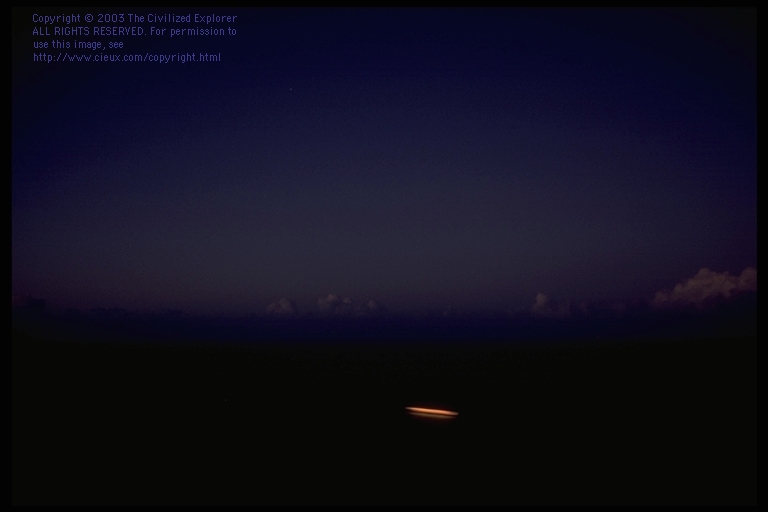 This streak of light is one of those motor yachts sailing back to the harbor after spending the afternoon anchored off Anse des Flamands. It was taken from the balcony of our hotel, Le P'tit Morne. The several lights on the ship have merged into the streak because of the several second exposure. This photo is on 35mm film, Fujichrome Velvia (ISO 50, exposure not noted). One bright star is visible near the top of the photo, to the left of center (below and to the right of the copyright URL).
---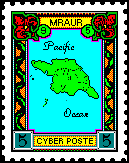 As always, if you have any objections, corrections, suggestions, or questions, drop us a line via Cyber Poste.
The Mraur Cyber Poste stamp is Copyright © 1995 by Jim Felter and is used with his kind permission. For more of his work, please drop by Jas' HomePage.

---
| The Civilized Explorer |

| Site Table of Contents | Portal |
| Help | Search the Site | Copyright, Privacy, and Warranty Information | About us |
---
Some of our pages are presented with light text on a dark background. This makes printing them difficult. If you wish to print a page with your default settings, see if the page has a link at the top called TEXT. If so, follow that link for a printable page.
Thanks for stopping by. Copyright © 1995, 1996, 1997, 1998, 1999, 2000, 2001, 2002, 2003, 2004, 2005, 2006, 2007 The Civilized Explorer. ALL RIGHTS RESERVED.
---