The Civilized Explorer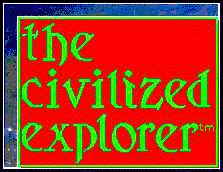 Your personal travel guide
Last update: Friday, October 11, 2013
Google+

---
We're writing up our American vacations nowadays.
The Portal has links to currency conversion, calendars, flight and aircraft seating information, news, and much more. Make it your home away from home page.
NEW! Our stripped- down portal for portable devices. Text only, no JavaScripts.
Online maps for a variety of things - just to locate a place, to plan a trip, topographical maps, aerial photos, and USGS data, just to name a few.
Browse our tag cloud to see what interests you directly without having to figure out how our table of contents is organized. Links by beach, island, people, and so on. In addition, links to restaurant reviews and maps of the islands.
The Civilized Explorer pages on Burning Man, an impossible-to- explain gathering north of Reno, Nevada.
Our table of contents to our entire site: the islands in the French West Indies, general travel, and photos/videos.
---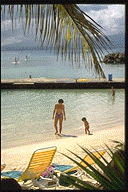 Many of us like to travel and explore the world around us. Some might like to rough it on adventures, others prefer ecotours with operators concerned about conserving our environment, and still others might prefer the comforts of civilization. (Of course, many vacations will include all of these.) These pages provide you with access to sites for budgeting and planning your own trip and to locations for your travel professional to schedule for you if you desire. The Civilized Explorer encourages responsible travel regardless of your hardship level, and the French West Indies provides an example of using tourism to provide the funds for development and protection of rainforests, underwater national parks, and even active volcanoes.

---
Our preferences are for the more relaxed vacation, where we might stay in a nice air conditioned hotel and eat wonderful meals in world class restaurants after a hard day on the beach. Please see our French West Indies page for an overview of our information on St. Barth, the friendly isle, Guadeloupe, the civilized island, and Martinique, the cosmopolitan island. We also recommend travel- related books. See PaperView for reviews and ordering information.

---
| The French West Indies | Aggregation | Portal | About us |
---
Thanks for stopping by.
No new electrons were used in the production of The Civilized Explorer. Copyright © 1995, 1996, 1997, 1998, 1999, 2000, 2001, 2002, 2003, 2004, 2005, 2006, 2007, 2008, 2009, 2010, 2011, 2012, 2013 The Civilized Explorer. ALL RIGHTS RESERVED. The addresses used are publicly available, and some persons even gave permission. No claim is made by The Civilized Explorer to any rights in the materials from other sources listed for your browsing pleasure. The blue buttons we use on this site are from Eos Development, which offers images for your free use.
---