[Site TOC] [TEXT page]
The Civilized Explorer
---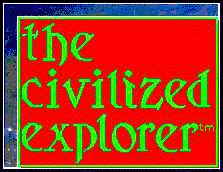 St. Barth in 1997
Can You Have a Reasonably Priced Vacation?
---

The Civilized Explorer team went to St. Barth for two weeks at the end of January 1997 to see if it is possible to have a reasonably priced vacation there. We have earlier reported on the astronomical prices of eating out, and we sought to determine whether one can obtain "reasonably priced" lodging and meals. We have found that this can be done, although there may be a sacrifice or two to be made in finding affordable lodging and meals.
We have divided our discussion between lodgings and meals. Generally, the sacrifices in lodging are location and services. You are more likely not to be on the beach and not to have daily cleaning or air conditioning (although there are exceptions). With meals, again, you may find that the restaurant is off the beaten track, provides poorer service, and may serve frozen, instead of freshly prepared, foods.
We stayed at Les Ilets Fleuris, and we will use that as an example. We describe the units and their facilities in the lodging page, so we will not repeat that here. We will note that our kitchenette at Les Ilets Fleuris was outside on our patio (as it has been at every condo we have rented on St. Barth), and when it rained, the wind blew rain onto the patio and wet us as we tried to prepare meals. The kitchenette contained a sink, under sink storage with cooking utensils and flatware, a small refrigerator/ freezer under the counter, overhanging cabinets with mismatching glassware, plates, and bowls, and an electric combination hotplate- oven on the counter next to the sink. We cooked all our breakfasts and several of our dinners. We discovered that we could not use both the oven part and the hotplate part at the same time. The hotplate had two burners, and it was under overhanging cabinets, making access less than handy. There was room for only one person at a time to get to anything, so only one person did the cooking for any particular meal (although another of us did use the table for preparing salads).
At other condos we have rented, we left the dirty dishes for the maids to do. At Les Ilets Fleuris, we had a "housewife" come twice a week, and Catherine came by once a week if she had time. Leaving dirty dishes in an outdoor kitchenette is not a good thing, so we did our own after every meal.
Catherine is a pleasant woman, and we enjoyed our several conversations with her. She runs the place on her own, with the help of an outside service for cleaning. She was distracted during our visit by certain events on St. Barth concerning its status as a freeport, and she devoted time to that effort that she would have spent on her guests and service. If you are in a family- run lodging, there is no staff to continue services if the owner is ill or distracted by other problems. Although we have no complaints about lack of service during our visit, if you go to a small guesthouse expecting highly personalized service from the owner, on occasion you may find that the owner cannot provide it (through no fault of the owner, we hasten to add). This is a cost of having reasonable prices.
We go into more detail on reasonably priced restaurants on that page, but our general impressions are that the quality of service and cuisine on St. Barth has so declined in general that higher priced restaurants are no longer worth their cost. Our number one restaurant for both service and food was Les Castelets, and it was destroyed by Hurricane Luis and has not been rebuilt. Our favorite beach restaurants, Chez Francine and the Pelican, were also destroyed and not rebuilt. We ate at the restaurant of the Hotel Carl Gustaf, a claimant to the number one spot for quality on the island, and were disappointed in both the food and the service. We discuss the decline of St. Barth elsewhere, but it is disappointing to find that restaurants (with some exceptions) no longer provide the intimate experience, wonderful service, and heart- stopping cuisine of previous years. NOTE: We visited St. Barth again in 2001, and we found that many of the problems of 1997 were resolved. See our update at St. Barth Reborn.
As for the island's beaches, we found considerable damage done to the beaches at Colombier and Baie de St. Jean nearest the airport. Both Saline and Gouverneur were somewhat narrower than before, but not disappointingly so. Marechal is gone for all practical purposes. Flamandes is also narrower, and the debris from Les Frigates has not been removed as of February 1997, but Taïwanna is adding on new rooms. Over all, the beach experience remains much the same, so if your primary occupation on St. Barth is laying out on the beach, you will be quite satisfied. We have made additions to our beach photos and our photos of naturists; you may wish to take a look at those pages for some of the changes mentioned here.
---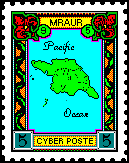 As always, if you have any objections, corrections, suggestions, or questions, drop us a line via Cyber Poste.

The Mraur Cyber Poste stamp is Copyright © 1995 by Jim Felter and is used with his kind permission. For more of his work, please drop by Jas' HomePage.

---
| The Civilized Explorer |

| Site Table of Contents | Portal |

| Help | Search the Site | Copyright, Privacy, and Warranty Information | About us |
---
Some of our pages are presented with light text on a dark background. This makes printing them difficult. If you wish to print a page with your default settings, see if the page has a link at the top called TEXT. If so, follow that link for a printable page.

Thanks for stopping by. Copyright © 1995, 1996, 1997, 1998, 1999, 2000, 2001, 2002, 2003, 2004, 2005, 2006, 2007 The Civilized Explorer. ALL RIGHTS RESERVED.
---