[Site TOC] [TEXT page]
The Civilized Explorer
---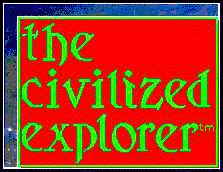 St. Barth in 1997
Having Meals at Reasonable Prices
---

Your Civilized Explorer team has done mountains of research, eating at every available restaurant on St. Barth to save you from this tiresome activity. It was a sacrifice of the first order. And the second order. And the third.
We have located several restaurants where one can have a decent meal, competently served, at prices that are not outrageous. We list our experiences here, and we have found a few restaurants that we can recommend. Those without recommendation are not bad (unless otherwise noted), and we think you should give them a try, if you have the time and inclination.
The prices given are those at the time of our meal, late January or early February of 1997. Prices change, and currency exchanges fluctuate, so you cannot rely on the prices to be the same should you choose to visit. In fact, you will notice some differences in the amounts we quote in francs and dollars from meal to meal. We also note that several restaurants have changed hands or changed chefs. New owners and new cooks will certainly void our recommendations and comments. Use our page as a guide, but not as a gospel. Plus ça change, as they say.
2001 UPDATE -- We have updated our restaurant reviews after our visit in 2001. The Wall House has been sold, and we did not have the chance to sample it under the new management. The Vincent Adam had burned to the ground. The Pelican has been rebuilt, and we had a very nice dinner there, followed by a pleasant stroll on the beach under a full moon. See our Table of Contents for the update.
---
The Wall House is one of our favorites on the island. This restaurant is on the harbor in Gustavia, and sits across from the main area of town, giving diners a good view of the town. M. Pagan has expanded his seating and offers a prix fixe menu along with a la carte. We ordered from the 130 franc menu, getting salmon with lentil beans, and from the 150 franc menu, getting beef. Service, we were glad to see, was up to the usual high standards. We arrived around 7:30 without reservations, and the crowd began arriving within an hour. There were sufficient waiters to handle the needs of the diners without strain. With bottled water and coffee, our bill was 425 francs, US$85, the top end of reasonable eating on St. Barth. Recommended. Reservations may be made at 27 71 83. Major credit cards are accepted.
---
Ti St. Barth is a small restaurant in an out of the way place in the village of Pointe Milou. It is in a residential neighborhood, and its tables generally have benches along each side instead of chairs. You may share a table with another party if seating as tight, as it was on the night of our visit. We recommend reservations in this popular spot. We started off with a piña colada which was marvellous and cost 35 francs. A special drink for the evening was 20 francs. One of us ordered chicken for 75 francs, and the other ordered a brochette of lamb, beef, and chicken for 120 francs. (The menu, by the way was entirely in English. We assume there is a French menu as well.) We could not finish the brochette. The main courses were excellent, and the service was good, if not exceptional. There were too many people for the staff, and the waiters were not as attentive as at Le Toiny, for example. We often had to wait several minutes before getting a waiter's attention. Our deserts were a Turquoise and a tarte, both of which were good. Each cost 40 francs. We got bottled water, but no wine, and our total bill was 355 francs, US$71. Recommended. For reservations, call 27 97 71. We charged our meal on a VISA card.
---
Eddy's is a nice restaurant in Gustavia. They have no listed phone number we could find. We wandered in around 7:30 and were seated promptly; as the evening wore on, however, we could see no empty tables. We shared a salade de langouste, then ordered filet de vivanneau and a filet mignon. The food was good, but not exceptional by French West Indies standards. Service was acceptable, and Eddy wandered by and inquired about our food and service. We shared a torte for desert and drank a bottle of water. Our total bill was 363 francs, US$70. We liked the ambiance in the restaurant. It is a large wooden "hut" with exposed beams, mats, art on some of the supporting posts, and no exterior walls. There is a nice garden with seating that we would like to try for drinks in the evening. Recommended. We charged our meal on VISA.
---
We had lunch at Le Tamarin a restaurant near Grande Saline, making it a good choice if you are there in the morning, or perhaps returning from Anse de Gouverneur using the back road. There is a vacant building (that used to be a restaurant) on the road -- turn in there, park in the lot, and walk toward what appears to be a house -- That is the restaurant. Seating is on an open patio, and there is a large papier maché parrot with a real parrot living on a perch. We had a filet de boeuf au poivre (140 francs) and poulet citron (120 francs), which were good. A glass of Pouilly Fumé was 35 francs, and deserts for the two of us came to 80 francs. Our total bill was 415 francs, US$83. Recommended. We got there shortly after noon and did not wait; however, the place filled and had a short line by the time we left. Reservations may be made at 27 72 12. VISA, MasterCard, American Express, Diners Club, and other cards accepted.
---

Les Hostelleries de 3 Forces is an unusual place. Located in the hills of Vitet, the motif is New Age and the Zodiac. Our waiter, Gerard ("But call me Jerry!") was cheerful and professional. We got a Salade de Trois Forces (which was good at 50 francs) a brochette de boeuf (excellent and too much to finish for 220 francs), two glasses of wine and bottled water. The amiable Jerry offered us digestifs, but we were driving, so he gave us free coffee instead. Our total bill was 350 francs, US$69. The restaurant is small and overlooks a swimming pool, a hillside, and, in the distance, the ocean. We have had dinner here on other trips, and the food and service have remained agreeable in spite of the hoards of cruise ship passengers -- perhaps because of the difficulty in getting to the place.
---
The restaurant at Le Tom Beach Hotel is the only remaining beach front restaurant we recommend, after the destruction of Chez Francine and the Pelican. We ordered salmon (85 francs) and entrecote (90 francs). How they can make a cheap cut of steak so good remains a mystery. The steak was accompanied by potatoes au gratin. We also ordered a mousse (40 francs) and a tart tatin (35 francs). The salmon had a tarragon sauce and was huge. With two sodas and a Bloody Mary, our total bill was 335 francs, US$67. We were right on the beach near the runway and watched planes taking off and people strolling and sunbathing on the beach (which is considerably narrower after Hurricane Luis). It is a convenient place to come in for a bite to eat after a hard day in the sun. We were there at noon, and the tables were never completely filled during our meal. Recommended. For reservations, 27 53 15; major credit cards are accepted.
---
The Beach Club Restaurant at Eden Rock is new and perhaps overreaches itself. All the staff wore blue and white Polo Sport jerseys, blue canvas Polo Sport shoes, socks with the Polo logo, and blue shorts (with no visible logo -- sacre bleu! -- perhaps it was covered by the shirts, which were not tucked in). The paint on all the surfaces was shiny new. The staff was having a good time, and the service was good. Boyz II Men was the music of choice on the loudspeakers. Our salade vosgienne (80 francs) was very nice, but the breast of chicken (105 francs) had not received the same amount of attention as the wardrobe. Or even the music. All in all, not bad. But not recommended. We had two planteur punches, and our total bill was 275 francs. For reservations, 27 72 94; major credit cards. NOTE: The Beach Club Restaurant is not the gourmet restaurant of the hotel. The restaurant is within the hotel itself, not on the beach. The gourmet restaurant is a very good place for dinner.
---
Vincent Adam is a prix fixe restaurant in the hills above St. Jean. It is in a house, and seating is on the porch and patio. The view is quite nice during the day, overlooking Baie de St. Jean and the airport. Seating is a little close, and you hear lots of conversations going on around you. The menus are 190 francs and 240 francs for the lobster special. We ordered from the 190 franc menu, which offers choices of appetizers, entrees, and desserts, and had dorade (really good and nicely spicy) and steak (just okay). The tarte tatin really blew our socks off, however. (For those not familiar with that particular bit of American slang, we liked it, we really liked it.) We had tatin at several restaurants, but none came close to Vincent Adam's. They offer dessert and coffee for 50 francs, and we would suggest taking advantage of that sometime during your stay.
---
During our past visits to St. Barth, we were never surprised to have dinner, even without alcohol, exceed US$100; indeed, we were surprised when we came home after having spent less than that. This trip, however, we exceeded that amount only a few times. Our meal at the Carl Gustaf, for example, was 855 francs, US$168. As we have discussed elsewhere, the food and service were not distinguished even at that price. The restaurants we have listed here equalled or exceeded the Carl Gustaf for half the price, usually less.
Without belaboring the point, the quality of food and service has declined, and this is reflected in the lower prices. The merchants on the island are facing a significant change in patronage, and they are adjusting. Your humble explorers fear that the result will be another St. Martin, but change is inevitable, and the residents of St. Barth are adamant that it will not become another t-shirt vending island with fast food restaurants. We wish the islanders well. Meanwhile, there are meals to be eaten. We wish you a bon voyage if you choose to try St. Barth.
---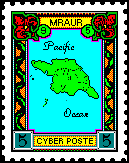 As always, if you have any objections, corrections, suggestions, or questions, drop us a line via Cyber Poste.
The Mraur Cyber Poste stamp is Copyright © 1995 by Jim Felter and is used with his kind permission. For more of his work, please drop by Jas' HomePage.

---
| The Civilized Explorer |

| Site Table of Contents | Portal |
| Help | Search the Site | Copyright, Privacy, and Warranty Information | About us |
---
Some of our pages are presented with light text on a dark background. This makes printing them difficult. If you wish to print a page with your default settings, see if the page has a link at the top called TEXT. If so, follow that link for a printable page.
Thanks for stopping by. Copyright © 1995, 1996, 1997, 1998, 1999, 2000, 2001, 2002, 2003, 2004, 2005, 2006, 2007 The Civilized Explorer. ALL RIGHTS RESERVED.
---