---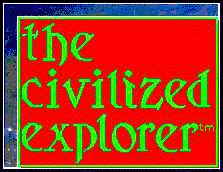 The Civilized Explorer
Gites on Guadeloupe
---
We have listed here some of the gites in Guadeloupe which have Web sites for information. Gites are likely to be privately owned and to offer fewer services and amenities than hotels. Generally, you can think of a gite as a bungalow on someone's rather large lot. Often a person has several bungalows, each self- contained, with bath, bedroom, kitchenette, and veranda. Unless the page gives you information to the contrary, you should assume that you will have no maid service or meals included in the price.
We give as much information as we can about the locations of the gites listed below, so that you will have some idea of the location. We suggest that you take a look at our beaches and beaches 1998 pages for additional information on locations. Some gites are near beaches we consider unswimmable because of strong waves and undertows.
Note that during the time we collected these links, prepared this page, and rechecked the links, several were already broken and several descriptions were no longer accurate. If you find dead links we would appreciate being told. If our description is not at all what you find, c'est la vie dans l'Internet.
A note on deposits
We stayed in a bungalow on another island where we were required to make a deposit by check. Mail to the Caribbean is not the fastest in the world from the United States, and the owner suggested Federal Express. We were allowed to make our check payable in dollars, but we had to send a bank check. The fees for the check and the delivery were noticeable, but not onerous. Because of changes in work, we had to cancel our reservation within the time for a full refund, and we notified the owner. Our refund check was short by a noticeable amount. The cost of getting a check drafted in US dollars in the French West Indies was deducted from the refund, as was the cost of sending it by Federal Express. None of this is really unfair, and we did reschedule and stay there, but the costs of making deposits by check and getting refunds by check is noticeably more than when dealing with credit cards. And it takes longer.
In English; en française. We have eaten at the nearby restaurant of the same name. These bungalows are on the road from Ste. Anne toward Pointe-a-Pitre. The page has a great deal of information to help you decide whether the gites meet your needs: prices in French francs and euros, a description of the bungalow layout, photos, and requirements for reservations. "A telephone booth is at your disposal," the page says. (Please return it when you are through.) Towels and linens are changed once a week. A 1,000 FF security deposit is required upon check in. You may make reservations by email.
In English; en française. This is in Ste. Anne, but we are unable to place it from the description. Casa Boubou offers eight air- conditioned bungalows. Each is in a garden sharing a jacuzzi. There is a link to additional photos which are stored on a free photo album Web site with instructions only in French. Just follow the links, and you will get to a couple of pages with 45 thumbnails. They are worth viewing as they give a comprehensive view of each unit and the beach. The floor plans of the units are available, and the rates are given in francs and euros. You may make reservations by email.
In English; en française. This gites is in the hills above Vieux Habitant on Basse Terre. You will have a nice view, but no direct beach access. Information is rather sparse, and there are only two photographs, neither of which tells us much about the gites. The page gives prices in francs, and you can make reservations by email.
In English; en française. Karukera offers bungalow for 2 to 3 persons and 4 to 5. This gites is a mile and a half from Gosier, and it is in a rural area although it says it is within walking distance of a small beach. The page has several photos of bungalows, and a list of the amenities offered. Prices are in francs and euros. An advance deposit mailed to Guadeloupe is required for a confirmed reservation.
In English; en française. "This unit located in a calm and very ventilated campaign." The opening page is rather confusing to navigate with no obvious links; rolling the cursor around over the page showed us that two of the eight images were links. There are three bungalows, and one is said to be wheelchair accessible. The site has photographs of the bungalows and the interiors, floor plans of the two non- accessible units, and prices in francs. Since the gite is located off the beaches, there is a map to show you how to get there, just west of St. Francois. Fill out a form to make your reservation request.
En française seulement. This site has considerable information on the three bungalows offered, including floor plans, photographs (interior and exterior), and a map showing how to get there. The gites are located well off the beach at Anse Bertrand, on the north of Grande Terre. Prices are given in francs and euros, and there is a page for each bungalow which gives a calendar showing which dates are already reserved, a very nice touch. There is a form for reservations.
En française; English. The page is rather slow to download because of the graphics, but it is certainly attractive. These bungalows are near Deshaies, on the western coast of Basse Terre. This area is about as far away from the tourist areas as you can get on Guadeloupe, and the drive to Pointe-a-Pitre, for example, would be lengthy (about 40 km) but not tiring. Deshaies is very near the National Parc and reasonably close to Le Soufrière. The site has photographs, a floor plan, and rates for reservations.
The information states that the bungalows are 250 meters from the beach at Grand Anse, just north of Deshaies, Basse Terre. They have a not very helpful photograph of a building by their pool, but they give rates and availabilities of their units.
La Cocoteraie is a luxury hotel in St. François, about 40 kilometers from Pointe-a-Pitre. We have stayed in St. François and found it to be a rather small town not much frequented by tourists. There is a strip mall a short walk from this hotel, and the main part of the village is another block or two away. There is a Robert Trent Jones golf course across the street from the hotel. No prices are given, but you may email for additional information. (La Cocoteraie is well beyond the means of the average person -- it is listed as a gite because of the bungalows, but it is as much like a gite as a Faberge egg is like the ones you find at Easter.)
---
Please be sure to take a look at our Table of Contents page for additional information on Guadeloupe, including hotels, beaches and restaurants.
---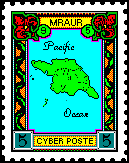 As always, if you have any objections, corrections, suggestions, or questions, drop us a line via Cyber Poste.
The Mraur Cyber Poste stamp is Copyright © 1995 by Jim Felter and is used with his kind permission. For more of his work, please drop by Jas' HomePage.

---
| The Civilized Explorer |

| Site Table of Contents
---
To view or print this page with your default settings, choose TEXT page at the top of this document.
SEARCH The Civilized Explorer Web Site.
Thanks for stopping by.
Copyright © 1998 The Civilized Explorer. ALL RIGHTS RESERVED.
---