[Site TOC] [TEXT Page]
---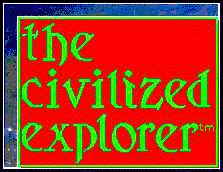 The Civilized Explorer
Beaches on Guadeloupe - 1998
---
Basse Terre
Anse Caraibe, about 2 km north of Mahaut, is a small, local beach. There are some palm-frond covered picnic tables, public restrooms, a tiny grocery store, and 3 restaurants. The Guadeloupe Dive Center is here. This beach is low-key and was uncrowded the day we stopped by; it is unremarkable for the island and probably best used if it is conveniently located for you.
La Grande Anse, 1.9 km north of Deshaies, is a big, pretty beach with white sand, lined by palm trees. The surf is pretty rough, good mainly for body surfing. The sand slopes down to the water fairly steeply. There is one restaurant at the southern end of the beach. The road to the southern end of the beach is pretty long and very rocky (small rocks only, but a bumpy ride). The northern end of the beach appeared to have several restaurants and a much shorter road. Try that first.
Anse de la Perle is a small, delightful beach, about 4 km north of Deshaies (between La Grande Anse and Fort Royal). There are palm trees for shade (with young trees planted, possibly after the last hurricane). The surf is calmer than other beaches on the west coast of Basse Terre. This was my favorite beach on this coast. We had a nice Creole lunch at the only restaurant.
Plage de Clugny has dangerous surf, with a sign warning that people have died there. That was enough for us to keep driving.
Grande Terre
Anse de Soufleur - Port Louis has a very nice, long white- sand beach just north of the city. It is a little difficult to find - we followed the signs for the city center, turned right at the last street that parallels the water, and found the beach about a km away. There are signs once you get close; of course, asking directions helped us out too! There is little shade on this beach; however, there is an adjacent lawn with lots of shade. This is a family beach and very clearly a favorite spot for picnics, weekend sunbathing, etc. We found the some interesting snorkeling at the north end of the beach, adjacent to the cemetery. This beach faces west, so is known for nice sunsets.
Lagon de la Porte d'Enfer is another popular family picnic/ swimming area. It is adjacent to the spectacular Porte d'Enfer and there is a easy path that follows the cliffs above the pounding surf. The lagoon is quite nicely protected and provides good swimming, especially for young children. There is a lunch trailer set in a small grove of trees - it looked quite appealing.
Ste-Anne has a very long, white- sand beach with a moderate amount of shade. This beach is one block off the main road through town and has all the amenities you would expect. Lots of restaurants across the road from the beach, typical beach stores, lunch vans set up in the parking lot to sell ice cream, sandwiches, rum punch, etc. It seems like everybody uses this beach - it is not a secluded, isolated beach. The advantages include phenomenally easy access - it is possible to use a wheelchair directly from the parking lot on the beach. There is a small security charge to use the beach and guards patrol routinely. At the western end of the beach is a small market with bulk spices, madras plaid creole dolls, madras clothes, beach towels, flavored rums, cheap tee shirts, etc. Vendors stroll the beach selling clothes, swimsuits, coffee, doughnuts, ice cream, sandwiches. You could quite literally lay on the beach all day and have all your needs attended to without leaving the beach. Hedonism at its best. We have photographs of this beach at our Beaches Photo Page (some photographs may show topless people).
St-Francois has a small beach just west of town. We have only driven by at sunset. It appears to be a small, local beach with minimal amenities. There is also a very tiny beach used by fishing boats and a WCPA windsurfing facility in town. This beach gets a very steady wind and lots of shallow water - it appears excellent for windsurfing.
Larger Photos Available
Remember that we use small images for our pages in a vain attempt to keep download times reasonable. We have larger jpeg scans available for your viewing please. The People and Places Photo Page has pictures of the islands and the people. People and Places is family viewing. Beaches Photo Page shows people on the beaches, and many of the people are topless; see the Table of Contents for links.
---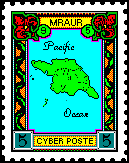 As always, if you have any objections, corrections, suggestions, or questions, drop me a line via Cyber Poste.
The Mraur Cyber Poste stamp is Copyright © 1995 by Jim Felter and is used with his kind permission. For more of his work, please drop by Jas' HomePage.

---
| The French West Indies | The Civilized Explorer | Search the Site |
---