---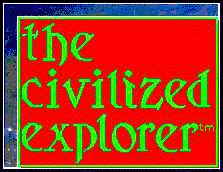 The Civilized Explorer
Guadeloupe in 2000
A brief overview of two weeks in Guadeloupe and Les Saintes in April of 2000.
---
For prices, we were getting just over 6 francs per dollar.
We got in about 8:00 or 8:30 at night. We were on a relatively small plane from San Juan, and the line through the passport inspection was short. A woman was asking for Louise Johnson, so Louise admitted her identity. A bag was not on the plane, but was left in San Juan; it was checked through as Louise's, but as we collected our bags, it turned out to be Phil's major bag for clothes. Since this happens with some frequency, we have learned to spread our necessities out among several checked bags and carry ons, so no problem.
The line ahead of us was entirely English- speaking persons, so we listened to what was being said. Generally, the man in the passport booth was rather gruff and spoke loudly; his English was good enough to get the information he needed for whatever records are being kept. No one ahead of us spoke French. When it was our turn, we wished him Bon Soir. He asked us questions in French; generally, we already knew what to expect, so we were able to know what he was asking and to answer in French. We ran into a problem on where we where staying. We were at the Hotel Domaine de Malendure, so we had put Malendure as the answer; we went to English to get that straightened out. The desired answer was Bouillante. As we finished up, he said, "Bonne vacance." We answered with a brief "mercí", but he said it again with more force. We realized he was making a gesture not made with anyone else. We were the only ones he had wished a good vacation to. We smiled and said, "Ouí! Bonne vacance ... bonne soiree pour vous, monsieur." We all smiled, and out we went.
We say it often, but we cannot emphasize it enough -- even if your French is horrible, as our is, making the effort pays off.
We got to the luggage carousel, got a cart for the bags we had, and went through customs. One of our recommendations is that, if at all possible, bring some French coins into the island with you. The carts are often loose, but if all the loose ones are taken, the ones chained together require a 10-franc coin to get loose. You get the money back if you bring the cart back to an approved location and lock it back into the chain, but you are out of luck if you do not have the coin.
We went to the rental counter and signed up for our car with no problems whatsoever, a novelty given our last couple of trips to the French West Indies. We used Avis, and our agent spoke fluent English. We had rented the car through Avis's Web site, and the price quoted for nine days was 2536.20 FFrs, and that was the exact price at the counter, a very pleasant surprise. As we waited for the van to come pick us up, an elderly man came over and spoke to us; his English and our French were on a par, but he knew why we were waiting. Another couple from France came by, and their van came first. He helped them put their luggagee aboard, and they gave him five or six francs. We had only large bills and centimes, so Phil went in to see if he could get change from any of the agents. Everyone denied having any. Meanwhile our van came, and he helped load it up. All we could do was give him a five- dollar bill, a compromise none of us was happy with. A few coins would have been much appricated.
This year we stayed a week on Basse Terre for the first time. The experience is different from Grande Terre with Gosier and Saint François. Basse Terre is the island with the volcano and rain forest, and the island is not set up for tourists as Grande Terre is. Naturally, this is good and this is bad. The restaurants are as likely to have local residents as tourists in them, but the staff is less likely to speak English. The quality of the food was entirely acceptable, but it did not knock us out like the food on Grande Terre does.
Service was also at a lower level. At one attractive beach side restaurant, we stopped in for lunch at 12:15; one other table had people at it, a total of eight persons in what seemed to be two families with children. The waitress was taking their order, so we waited at the entrance to the covered porch. She came over, shook our hands, and suggested a nice table. Another couple with a toddler came in right after us, and they were seated at an adjoining table. Soon the place filled up.
The waitress took orders from everyone, and the table of eight received their entrees. (In France, the entrees are what Americans would call hors d'ouvres; the main course is the main course, not the entree.) We had not ordered an entree, and apparently the couple at the adjoining table had not either. She delivered entrees to all the other tables, and we sat waiting patiently.
The table of eight got their main course and ordered additional drinks, which were served promptly. Maybe they know the owner, we guessed. Meanwhile, nobody else got anything. Eventually, the waitress brought us some accras and served some to the couple with the toddler, with an apology. We waited less patiently. The table of eight finished their main course and ordered desert and more drinks. They were served promptly, and no one else in the restaurant got a thing.
At 1:45, we got our lunch.
We ate and asked for our bill; the waitress tried to explain what the problem was, but we could not grasp what it was she was saying, and she spoke no English at all. She seemed sincerely regretful. This happened to us once before some years ago at another restaurant on Basse Terre, and we are mystified as to just what the problem is.
---
We got a Citroen Saxo for our car this year. We rent the cheapest car we can get with air conditioning. Standard or automatic transmission is acceptable; sometimes the "package" for air means you must take an automatic. The Saxo is in the same category as the Renault Twingo, the Seat Ibizia, and Nissan Micro -- a cheap econobox. The Saxo, however, had an overwhelming advantage -- it had power! We have never rented a car in that class before that had any power at all. With the Micro, we had difficulty on some of the turns going up to La Soufriere, for example, but the Saxo blasted its way up all the hills and mountains on the island, leaving other cars behind. That has never happened to us before -- usually, we are the slowest car on the hill, with a dozen or more cars behind us.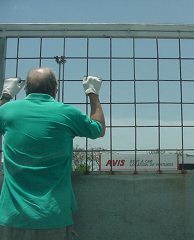 We only wish our returning the car was as easy as picking it up. When we signed the paperwork, the agent had stressed that since the car was being returned on a Sunday, it must be returned to the location where we were to pick it up. She emphasized that her office would be closed on Sunday and that the car must be returned to the pick up location at noon. We had a flight to Les Saintes on Sunday, so we drove over to the place to drop the car off. The sign on the gate said the lot was closed from 11:00 am to 2:00 pm on Sundays; it was 11:45 am. We sighed. Life in the Caribbean. We drove over to the airport, which is air conditioned, and carted our luggage in and had lunch.
Lunch sucked. It was Easter, and the only place to eat was the snack bar. The only thing worse than lunch was the service. There was no line for service at the semi- circular bar; people stood where ever there was a place and waved money to get the server's attention. The woman behind the counter was a true despot, picking people she did not like and not going to them to take their order. I saw a young man at the other end of the bar with American currency and a bad attitude (he was not American, nor was he French). He was clearly impatient with her, and she was waiting on people from the middle of the bar to the end where I was standing. He came over and stood by me. She started waiting on people at the end of the bar he had left. I moved. She waited on me, and he left. I bought a sandwich that was in one of those triangular clear plastic boxes; the sandwich was cut in half diagonally and filled the box. The lid came off easily. Too easily. The sandwich was clearly dead. The bread, the meat, even the mayonaise were dry and tasteless. Biting the bread was just like biting those thin pieces of cardboard they put in new shirts to hold their shape on the shelf. Do not eat lunch at the snack bar at Pole Caraïbes. Eat at McDonald's.
Anyway, we drove back to the drop off point at a little before 2:00 and waited. No one showed up, so we asked at the lot next door. They said 2:30. We waited some more, then drove off to take pictures of No Parking signs for five minutes. On our way back to the lot, here came the van. We flagged the driver down, and he followed us back and checked in the car. There was another man in the office. Where these people were before is just another mystery. Maybe they were getting served lunch by that restaurant on Basse Terre.
The driver then loaded us up in the van and dropped us off at the office where we had signed up for the van. It was, of course, open with a clerk busily signing customers up for their cars and with people waiting for our driver to take them back to pick up their cars. Life in the Caribbean.
---
We complained a couple of years ago about the traffic in Ste. Anne, and it has gotten much worse. Gosier has exploded; it is full of what we can only refer to as tourist traps, with more under construction. There is now a Tex Mex restaurant in Gosier. More hotels have been built near the beach (they can no longer be built on the beach, as that space has already been taken). We stayed one night at the Auberge del la Vielle Tour, which has no beach at all, but managed to solve that problem quite nicely, as we show in our page on that hotel.
---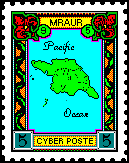 As always, if you have any objections, corrections, suggestions, or questions, drop us a line via Cyber Poste.
The Mraur Cyber Poste stamp is Copyright © 1995 by Jim Felter and is used with his kind permission. For more of his work, please drop by Jas' HomePage.

---
| The Civilized Explorer |

| Site Table of Contents
---
To view or print this page with your default settings, choose TEXT page at the top of this document.
SEARCH The Civilized Explorer Web Site.
Thanks for stopping by.
Copyright © 2000 The Civilized Explorer. ALL RIGHTS RESERVED.
---