[http://www.cieux.com/gdlp98.html] [Site TOC]
---
The Civilized Explorer
Guadeloupe in 1998

                       - You've had vacations before -
                        - now it's time to explore! -
---
Our visit to Guadeloupe took place during the last week of February and the first week of March, 1998. We found that Guadeloupe's growth has continued, with good news and bad news. There was a daily traffic jam getting through the village of Ste. Anne, and there was heavy construction traffic all over Basse Terre. More people spoke English, and we ran into more Americans than ever before. France is investing heavily in the tourist infrastructure, so much of the heavy construction was on roads, but we also so a huge truck loaded with telephone cable and many smaller trucks with plywood and other building materials. There are many new houses on Basse Terre. Flying over the United States and looking down at housing developments gives a view of streets that have been laid out according to a plan, with houses built in patterns on the streets. Flying over Guadeloupe shows roads that were built along established paths without regard to any plan and houses plopped down along the road willy nilly, an interesting contrast with planned communities.
The new terminal has been completed on the opposite side of the rundways from the original terminal (which is still in use for some airlines). The car rental agencies are now in a building separate from the terminal, but the cars are still in the old location, making getting to them from the rental agency an issue. We had reserved our car ahead of time, but we will reconsider our rental plans on our next trip.
NOTE:Our exchange rate at the time of our visit was just about six francs per U.S. dollar; it varied from 5.70 FrF to 6.10 FrF. Your rate will vary, but we give the rate here so you have an idea what our dollar costs were at the time of our visit.
We could not arrange our arrival time on the airline with the availability of our bungalow; this is a common problem when using frequent flyer mileage. We arrived about 11:00 pm on Thursday night, and our bungalow was set for Saturday. We had reserved a hotel room at St. John Hotel in Pointe- a- Pitre, a hotel we are familiar with located on the pier. Two pieces of baggage did not make it, so we got in line with two others reporting lost luggage. The man at the counter had information on everyone's luggage but ours, so we filed our claim and looked for a taxi. At midnight, the taxi stand was deserted, and the only office open was the police. They called a cab for us, which arrived a few minutes later. The fare to the hotel was 100 FrF. The clerk had our reservations on the computer and gave us our key. The key is a flat plastic rectangle with holes through it. The key is also the on- off switch for the air conditioner at St. John. The staff request that you return your key whenever you leave; our guess is that this keeps you from running your air conditioner while you are not in the room.
Our room was in the loft of the building on the fourth (but third in France) floor. Halls are not lighted at all times, and we could not find the switch so that we could see room numbers. Our handy pocket flashlight helped us out, and we got into our room. We put the key into the slot for air conditioning and waited as the room slowly cooled. The unit was above the door and out of reach. The room continued to cool, and we had only one sheet on the bed for cover. So, it got too cold, we pulled out the key. It then got to hot, so we plugged in the key. All night.
Breakfast was included, but the rolls were stale and sparse. We ate, then went to the park across from the pier and had coffee and pan au chocolat there. Later at the hotel, we asked the clerk to call the airport and inquire about our luggage. The message was that there was no information and do not call again. We had lost one piece apiece, and the one I lost had all my underwear. Mental note: Do not pack all my underwear in one bag; in fact, spread all my clothes and stuff around among all the luggage. We went out and bought a pair of undershorts for me to change into for the day and came back. When we asked for our key, we saw both our bags behind the clerk's desk. Voìla!
Breakfast on Saturday morning was the same; if you have seen the British television series Fawlty Towers, you have some idea of the quality of the staff at the St. John. The woman whose job it was to do things, did things one thing at a time. When we came in the room, the first shift of eaters had cleared the trays of all but the crumbs. She had removed all the dirty dishes from the tables and commenced washing them. There were plenty of clean dishes on the serving table, just nothing to put in them. We do not recommend the St. John. Our rate was 523 FrF per night, with one night paid in advance to confirm the reservation.
We took a cab back to the airport for the rental car, another 100 FrF. We have rented cars in the French West Indies on each of our visits, and this was the most difficult time we have had. We had reserved a car through Thrifty Car Rental, which is Jumbo on Guadeloupe. It took forever to get the paperwork completed for reasons which I do not understand. I had a written confirmation, and the woman at the desk had me in her reservation book. We went through my passport, my driver's license, the insurance, but she had to fax someone for some reason, and then she announced that she would be putting a hold of 13,000 FrF on my credit card as additional insurance. Her English and my French were not sufficient to have me understand what this was about. I had never had such an additional charge when renting through other agencies. I asked outside for anyone who spoke English, and a French couple came into help. They translated adequately, but could not explain the reason for the charge. We discussed this for some time, and finally it came about that I could have an alternate charge of 2,500 FrF with no apparent change in any coverage. Again, this could not be explained to my understanding, a lack of satisfaction I attribute to poor command of the language. In either event, a hold would be placed on my credit line, but no charge would be made if I returned the car undamaged. I took the 2,500 FrF option, signed where indicated, and left.
On 27 March, I received an envelope from the rental agency. They returned my 2,500 FrF charge slip unused, but included a bill for an additional 83.21 FrF. I called Thrifty's customer service number to complain about the unusual hold placed on my account and to query the additional charge. The operator said that the hold was up to the local agency and that the clerk making the reservation by phone would have no way of knowing the amount. When I asked why I was not told there would be such a hold placed on my account, I was informed that the reservation clerks would not even know if such a hold would be required. As to the additional charge, I would have to be transferred to the international section since the rental was overseas. I was requested to fax the paperwork for further research by the international section. So I did. A reply was promised within a few days. We had not used Thrifty before and will not use them again. Your mileage may vary.
Update:. On 11 April we received a letter informing us that the disputed amount was 31.20FrF for "missing fuel" and a refueling charge of 55.00 FrF. Since we filled the tank the night before we returned it, we find this charge to be a way to squeeze a few more dollars from us in an amount small enough not to be worth disputing. Our decision never to use Thrifty again has been confirmed.
---
This was our worst vacation on the French West Indies. We can say that without qualification, but we should qualify it anyway -- it still was not bad. The problem was a horrible allergy attack. Louise tells the story fully, along with her experiences with Guadeloupe pharmacies and doctors, but the problem slowed us down considerably. Instead of our usual touring of Basse Terre and Grande Terre, with a day or two on Les Saintes, we spent most of our time lying on the beach at Ste. Anne, suffering through the allergy while vendors of donuts, coffee, and tartes plied us with their wares, and with snack trucks offering crepes, fruit juice, and rum punch just behind us. The restaurants on the other side of the snack trucks had fresh fish and fresh fruit and vegetable salads. We talk more about these items on other pages.
We have the impression that the government of France is intent on providing the infrastructure to make Guadeloupe more nearly self- supporting, and we are encouraged by the development. Although Guadeloupe has not made the bulk of its money from tourism in the past, there seems to be a plan to increase tourism and to provide the necessary services to support the tourism industry. We also noticed for the first time, large vegetable farms. Guadeloupe has been a net importer even of food, and we hope that the vegetable farms indicate a move from subsidized plantations of bannanas and sugar cane, which have not provided net profits for the island's economy.
Even though traffic through Ste. Anne (where we stayed) was horrible in the afternoons, we thought things were improving for the tourist. We have found in past visits that any other Americans on our flight into Pointe- a- Pitre went immediately to Club Med, never to be seen again. Normally, we would see other English speaking persons perhaps twice during a one- week stay. This trip, however, we saw many Americans during our two weeks. (The Club Med people were among them, however, with one person ordering "Garçon! A bottle of vino blanco, please!") There also seemed to be an increase in the number of establishments with staff having enough English to handle routine matters. We continue to recommend Guadeloupe for visitors who have enough self- confidence to travel where little English is spoken, but we think travelers will often find someone who can help with any problems that arise. We also continue to recommend patience, relentless courtesy, and an effort to communicate in French, however poorly.
We suggest a visit to the Table of Contents for links to pages on our appraisals of restaurants, beaches, rum distilleries, the volcano, naturist beaches, and the rain forest. Remember that all opinions are opinions and impressions from our visits.
---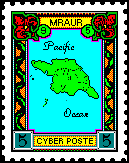 As always, if you have any objections, corrections, suggestions, or questions, drop us a line via Cyber Poste.
The Mraur Cyber Poste stamp is Copyright © 1995 by Jim Felter and is used with his kind permission. For more of his work, please drop by Jas' HomePage.

---
| The Civilized Explorer |

| Site Table of Contents | Portal |
| Help | Search the Site | Copyright, Privacy, and Warranty Information | About us |
---
Some of our pages are presented with light text on a dark background. This makes printing them difficult. If you wish to print a page with your default settings, see if the page has a link at the top called TEXT. If so, follow that link for a printable page.
Thanks for stopping by. Copyright © 1995, 1996, 1997, 1998, 1999, 2000, 2001 The Civilized Explorer. ALL RIGHTS RESERVED.
---