[Site TOC]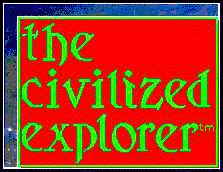 The Civilized Explorer
Our Three Hotels
We stayed at three hotels during out two weeks in Guadeloupe, with daily rates ranging from under a hundred dollars to almost three hundred. We give one hotel a failing score, but we got our money's worth at the other two.

We stayed at three hotels during our two weeks in Guadeloupe, only overnight at one of them. Our experiences were as varied as the locations. Hotel Domaine de Malendure is on the side of the mountains on Basse Terre; our room was US$118 per for night for nine nights, a total of US$1,062 before local taxes. Bois Joli is a small hotel on Les Saintes; our room was US$98 per night for seven nights, a total of US$686 before local taxes. And Auberge de la Vieille Tour is a classic tourist hotel in Gosier on Grande Terre; price for one night -- 1,810FFrs, about US$280 including local taxes. (Our exchange rate was generally over 6.50 FFrs per dollar during our two weeks.)
We used French Caribbean International for our reservations at Domaine de Malendure and Bois Joli. We had waited until the week before our trip to make reservations. We visited their Web site and sent a query for information around 7:00 pm Pacific Time and left for supper. Our answer came before we got back. We called the next day and asked for more information about two hotels on Basse Terre; our agent had been to both places and was able to give us the information we needed to make our choice. We asked for reservations for our first week at Auberge Les Petits Saints, then at Hotel Domaine de Malendure. French Caribbean makes it reservation queries by fax to the hotels, so they made queries for us at three hotels on Les Saintes, and two on Basse Terre just to be safe.
It was fortunate they did; because of our late requests, we could not get a room at the Auberge, and Bois Joli had no rooms the first week, but did the second. So we got reservations at Domaine de Malendure the first week and at Bois Joli the second. We faxed our confirmation to French Caribbean, with our signature and credit card number, and they faxed us vouchers for the two hotels.
---
Hotel Domaine de Malendure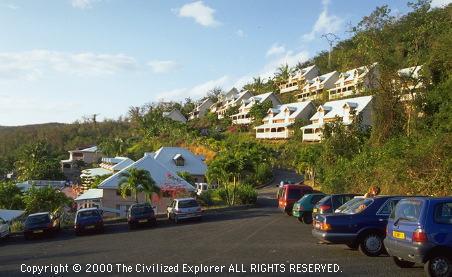 We arrived well after dark. The receptionist spoke English well and accepted our voucher for payment. She gave us a map on how to get to our bungalow; unfortunately, she drew a line coming out of the reception building that was opposite the direction we actually used, and it turned us around completely. She told us there was no parking at the bungalows, to drive there, unpack, and return the car to the parking lot. Trying to find our bungalow in the dark was very trying. Domaine de Malendure is built on a very steep hillside, and the roads are one lane, so you cannot turn around if you make a mistake. We had to back down a hill so steep we could not see it from the front seat in our car. We resorted to having one person stand in front of the car to let the driver know that the car was safely in line with the road.
Eventually, we stopped driving and walked around until we stumbled onto our bungalow by chance. It was nowhere near a road, so we drove up the hill to a road above the bungalow and carried our baggage down to our room. We left the car where it was till morning. Our room was three levels up a steep hill from the pool and restaurant, and it was a long walk back and forth across and up the hillside. The sidewalks were steep, and sometimes there were steps. If mobility is an issue, this is not a good choice for a hotel. None of the rooms is easily accessible; all require at least a steep climb up a hill, many have steps on the climb.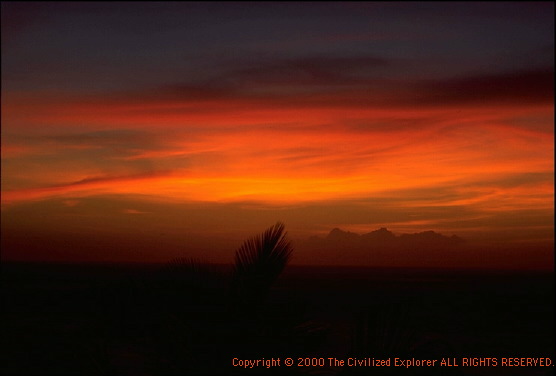 The rooms are in duplex A-frames, with porches facing the ocean for great sunsets. We bought a bottle of rum, sodas, and snacks, and spent almost every early evening watching the sun go down. The rooms are air conditioned, but you need to insert a little plastic key into a slot to turn it on. We took that off our key ring, but we turned the air off when we left the room. The air conditioner is way up on the wall where it cannot adjusted, and it did not have the power to cool the sleeping loft during the heat of the day, although it did cool the downstairs adequately. The couch pulled out and made a double bed, by the way.
The room had a television which got two French channels. The loft had only the bed and two end tables, while downstairs there was a chest of drawers, a built in closet, the couch, a coffee table, and two plastic chairs. The porch had a table and two chairs, all plastic. There was also a small refrigerator downstairs, which we put to good use.
English was generally not a problem. We had one dish which had a description not in our phrasebook and which the waitress could not translate. Breakfast was included in the price of the room, and it was the usual European style of cold cuts, assorted croissants, juices, coffee, boiled eggs, and cold cereal. Nothing was hot, and you could not order anything; all was on the buffet.
It rains a great deal on Basse Terre, especially at night. Our bedroom was in the loft, and there was no insulation between the roof and us. Sometimes the rain was so hard it sounded like a fire hose turned directly down onto the roof. It rained at night, mostly, with some rain in the mornings at breakfast. It had cleared up by the time we were ready to hit the road.
It was cool enough every night to sleep without the air conditioner. We tried that our first night, but we were awakened at about 3:00 am being eaten alive by mosquitoes. The windows in the loft were covered with wooden louvers and no screens. So we closed the louvers and turned on the air conditioner to get rid of the mosquitoes. This worked, but it is disappointing to have to run the air conditioner just to make it too cold for mosquitoes.
The bathroom had a separate room for the WC, but you had to plan ahead to open or close the door (it was small). The sink area was well- lighted and had a nice size shelf for all our toiletries. The shower was separated from the sink area by a wall and then a sill; no door. The shower was quite large and had a window covered by wooden louvers. Since the window opened onto our porch, privacy was not an issue.
All in all, we enjoyed our stay at Domaine de Malendure. The staff will arrange tours and excursions for its guests. The two dinners we had at the restaurant were good, although generally the meals on Basse Terre are not as good as the meals on Grande Terre. We had a double bed, and the restaurant at Domaine de Malendure is a true restaurant, serving lunch and dinner from their menu. (Some hotels on Basse Terre offer table d'hotel meals -- you take what the chef has prepared.) The location was excellent for getting to all parts of Basse Terre and to Grande Terre over the mountains -- probably the quickest way. The Web site (in English and French) is at http://www.malendure.gp/us/index-us.htm.
---
Hotel Bois Joli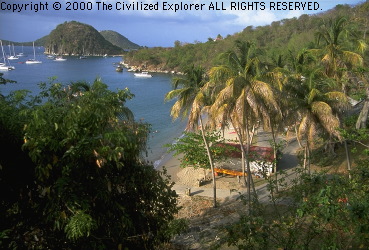 We had been unable to get a bungalow because of our late reservations, so we rented a room in the hotel building at Bois Joli. We had to call and let them know when we were arriving so they could pick us up. We had planned originally on taking the ferry over, but because it was Sunday and we had a rental car with a specific return time, we could not get a ferry at the time we wanted. So we flew; we called Bois Joli to tell them we were arriving at the airport and when. We asked first, in French, if the woman answering the phone spoke English. No. So as we were trying to tell her in French that we had reservations, she hung up on us. Not really nice, but the staff at Domaine de Malendure made the call for us.
We were picked up in the Bois Joli van at the airport and taken to the hotel. The woman at the desk (we have no idea if it was the same person) was clearly incredulous that we were not fluent in French. We handed over our voucher and were checked in. Our bags had been left on the van, and the driver took us right to our door. The air conditioning was on, a very nice welcome.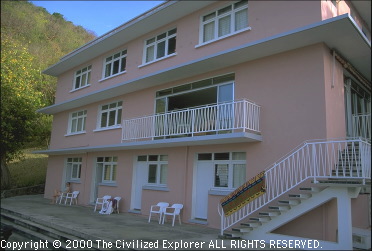 The rooms in the hotel building are adequate.There were noises from guests above us (especially when someone wore high- heeled shoes) and from the adjoining room, but nothing that kept us awake at night. We understand that some rooms do not have a private bath and indeed there were restrooms in the halls. The building was three stories high, had a lovely, large patio with a wonderful view, and the second floor had a lounge area with television and an even better view. We noticed that some of the advertising photographs had clearly been taken from the balcony on the second floor. Our room had twin beds, a night table between them, and a desk and chair, none of them plastic. There was a built in closet as well.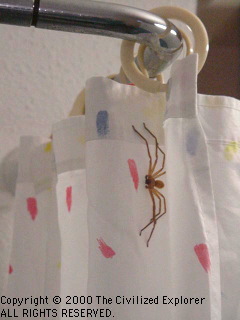 The bathroom was separated from the room by a wall that did not reach the ceiling and a batwing door (the kind you see on saloons on all American western movies that have saloons). The bath area had a sink with a small cabinet beside the mirror, a bidet, toilet, and a small shower with curtain.
Our room had a window made of louvered frosted glass which overlooked the patio. Since we were on the ground floor, we opted to leave it closed at all times. No screens, but we were never bothered by mosquitoes on Les Saintes, where it is much drier. (Or maybe our shower spider took care of all the bugs.)
Breakfast was included in the price of our room, and we were able to get eggs cooked to order every morning, in addition to the buffet (which was identical to the one offered at the Domaine de Malendure). Dinners were good, offered in the dining room on the second floor of the reception building with a nice view overlooking the ocean toward Basse Terre.
Bois Joli was the only place we have visited in the French West Indies where language was a constant problem. Our maid came while we were still in our room, and we asked in French that she come back in the afternoon. She made a statement that seemed to end in "coleur." We repeated "coleur" trying to figure out what in the world that had to do with anything. Clearly exasperated, she snapped, "What time?" Oh! We realized she was asking "quel heure"! At the desk when we needed additional information, we struggled through in French and got what we needed to know, but we began to wonder just how much of the struggle was really necessary.
All in all, we got our money's worth, but we will not stay there ever again. We understand that the bungalows are quite nice, perhaps the best places to stay on Les Saintes. We will be at the Auberge Les Petits Saints next time, though. The Web site for Bois Joli (in French) is here.
---
Auberge de la Vieille Tour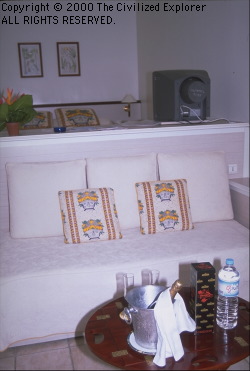 What a wonderful place to stay after Bois Joli. We arrived at the hotel by taxi from the airport (about 150 FFrs). The cab was not air conditioned, and we were hot and sweaty. We helped the driver unload our bags and paid him. When we turned to our bags, some were missing! Well, no, not quite. The porters were bringing them into the reception area for us. We had made reservations by telephone from Les Saintes, and the English was good on the phone and at the desk. While we were checking in, two men came to us carrying a tray each. One had chilled wet wash cloths which we used to cool off and freshen up, and the other had two glasses of cold, fresh- squeezed orange juice.
It only got better from there. Our luggage was carried to our room for us, and we were very happy with the room. It was held out as a suite, but we have a very minor quibble. It really was a single room, but it was on two levels. Entering the door, we were in the sleeping area, with a double bed and night tables on both sides. We had an alarm clock/ radio on one table. There was a room divider near the foot of the bed with a television on it. A few steps down was the sitting area, with a couch, chairs, lamps, and a coffee table. On the table were a bottle of spring water, a bottle of aged rum from Damoiseau, and -- on ice -- a bottle of Nicolas Feuillatte Champagne. Oh, and two glasses.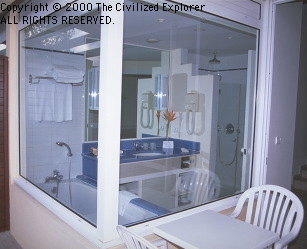 The bathroom had a separate water closet for the toilet. The bathroom itself had a glassed in shower, sink with plenty of space for our toiletries, and a tub on the outside wall. The outside wall was glass from the tub to the ceiling on two sides, looking out over the lawn at the back and our patio at the side. (Well, there were blinds to lower for privacy if you wished, but signs prohibited walking on the lawns.) The patio and tub overlooked the ocean with views of Ilet Gosier and the volcano on Basse Terre.
After we finished the champagne, took a hot bath, and sat around awhile, we had dinner in the restaurant. There was an art exhibit in the hotel (Bernard Buffet), so we looked at it before we ate. Our hostess gave us menus in English, which caused some minor confusion in ordering -- we would have been better off placing our order in French. The service was prompt; we would call it excellent, but the staff were a little too new to be polished. At many restaurants on Grande Terre, the waiters and waitresses are expert and comfortable with their competence; not only is the service correct, it is friendly with the server's personality showing. Here we had the impression that the emphasis was more on getting it right than on friendly service.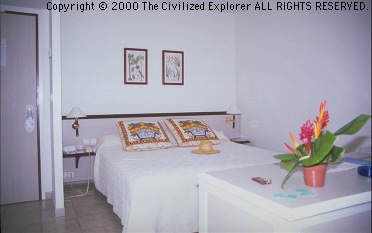 Breakfast was included in the price. The buffet was excellent and plentiful. We were also able to choose crepes and omelettes with a large assortments of fillings, although our chef was not proficient in English. We picked our table and began looking for the coffee. A server came by promptly and asked if we wanted coffee, and brought us a thermos. Our hostess from the night before came by and looked at our key on the table, checked her clipboard, and reminded us pleasantly that checkout time was noon and that there were a courtesy room and a luggage room available if we wanted to continue enjoying our stay after checking out.
We had plenty of time before noon, so we wandered around the grounds. The restaurant is separate from the hotel portion, near the pool and what little beach is offered. The hotel is on a part of the island with no natural beach, and we assume they blasted the coral cliff (about 10 or 15 feet above the ocean) out and created the sandy beach now there and protected by a stone wharf from erosion. They did a nice job, with sand on two levels, one at the ocean and one under shady palms six or so feet above the lower level. The small beaches were crowded by 10:00 am on the Sunday of our visit, and two or three people were in chairs by the large pool.
We were a few- minute stroll from the longer, better beach where the majority of hotels are located, so if you want a big beach, just walk on over. You can go on the street or take the shortcut along the cliffs.
The Auberge de la Vieille Tour is an excellent hotel and worth the price. In addition to porters, the hotel provides room service in the superior and deluxe rooms. Standard rooms have to do without. Rates (in francs) during the year 2000 for double rooms are as follows:

                           Standard             Superior         Deluxe
February 26 - March 31     1,630                2,050            2,440
April 1     - April 30     1,180                1,570            1,810
May 1       - October 31     930                1,150            1,510
November 1  - December 15  1,110                1,400            1,750

The telephone number is 84 23 23, and the fax is 84 33 43; the country code for Guadeloupe is 590. The Web page is available in English and French. You may email for additional information at h1345@accor-hotels.com
---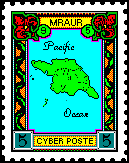 As always, if you have any objections, corrections, suggestions, or questions, drop us a line via Cyber Poste.
The Mraur Cyber Poste stamp is Copyright © 1995 by Jim Felter and is used with his kind permission. For more of his work, please drop by Jas' HomePage.

---
| The Civilized Explorer |

| Site Table of Contents | Portal |
| Help | Search the Site | Copyright, Privacy, and Warranty Information | About us |
---
Some of our pages are presented with light text on a dark background. This makes printing them difficult. If you wish to print a page with your default settings, see if the page has a link at the top called TEXT. If so, follow that link for a printable page.
Thanks for stopping by. Copyright © 1995, 1996, 1997, 1998, 1999, 2000, 2001, 2002, 2003, 2004, 2005, 2006, 2007 The Civilized Explorer. ALL RIGHTS RESERVED.
---