[Site TOC]
---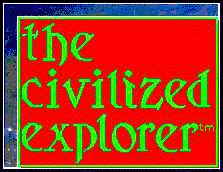 The Civilized Explorer
Guadeloupe in 2005
Into each life some rain must fall.
---
Our visit to Guadeloupe in 2005 left us with a sad feeling, we are sorry to say. Our last visit was in 2000, and this seems to have coincided with several events which have caused the island to slip into a decline.
We spoke with a man who has a clothing store on Les Saintes, and he told us that his business has dropped by half since 2000. The manager of our hotel has said that the quality of service on Guadeloupe has gone down since that same year. Their views of the cause are different. The shop owner says that he used to have a lot of customers from Canada and America with lots of money to spend. Our thought is that the dot com bust has put Guadeloupe out of the reach of many people who formerly found it a destination worth the time and effort. The hotel manager blames drugs and rampant union strikes which throw people out of work, with shop owners suffering collateral damage from the lack of local discretionary income.
---
Our hotel manager, we are sorry to report is one of the causes of the decline in service. We stayed at the Golf Marine Hotel in San François. The hotel offered an excellent discount on rentals from Hertz, so after we checked in, we walked down the street to the Hertz office and rented a Citroën C-2 (an excellent little car, by the way). On Tuesday evening, we found that the seatbelt latch on the driver's side had jammed open. The seatbelt would not stay in the slot. We went to our agent, and she replaced the car on the spot, albeit with a Hyundai Getz. We soon discovered that the electrical system on the car was faulty. The radio did not work, the dashboard clock set itself to 1:00 every time we started the car, and (of serious concern), the interior light did not come on. This is a security issue, as many of the restaurants are on the side of a highway with no lighting. Opening the car on a dark road and having no interior light to see into the car before getting in made us take that car back, too.
The agent had another Hertz employee in the store with her. Her English was quite good, but "electrical system" was beyond our ability to explain. However, she understood that the radio did not work, so she sent the other employee out to look at the car. He first checked the fuse; great idea, but it was not blown. He popped the radio out of the dash and began examining the wiring. We pointed to the dome light and tried to explain it was a fault with the entire system, but he was not able to speak English, and he was fixated on the radio. There were maybe a dozen wires in the harness, all with a connection that was taped by hand with electrical tape. He began to unwrap and separate each wire. We wandered off to browse in shops. Eventually he had it all put back together, and he put the radio back in. Needless to say, it still did not work. Forty-five minutes down the drain.
Our agent had no cars available, but she assured us we would have one the next morning. So the next morning, we drove by after 11:00, but the storefront was shuttered. We assumed an early lunch, so we had our own lunch and waited in the hotel until two o'clock. We called at 2:00, 2:30, and 3:00 with no answer. We walked over found a sign on the window: closed till 4:30. Bummer. So at 4:30 we dropped by again. She was standing outside her storefront talking to the man who worked next door at the Sixt rental agency; when she saw us, a look of surprise crossed her face. She had forgotten. We asked the agent at the Sixt rental if he had any cars available now, and he said no. There were two other car rental agencies, one empty and one with several people in line. We got a time from her to return the next day, and she promised a C-2.
At our hotel, I asked to speak to the manager. I explained the problem to her that we had been assured we would have a car and that we still didn't. She called the agent. Our manager made some notes, then hung up.
"You will have a car tomorrow," she said.
"We heard that yesterday," we explained.
"Yes, but you will have a car tomorrow at 9:00 am," she replied.
We explained about the electrical system, having seen her note about the radio. "We're spending all our time in the Hertz office," we said. "We're here for a vacation."
She consulted the hotel records. "You'll be here until Sunday." Obviously losing a few hours in a week's stay was of no concern. "And you have the car." The fact that we didn't consider it safe at night was of no concern, either.
"We want a car from another agency at the same price."
"No." There was no leeway in her answer. No help, just backing up the agent. No concern about customer expectations.
The next morning we went again to the agency. Our usual agent was not there; a man was behind the desk talking to a woman. We asked about the C-2 which we had been promised. The man had no record of our visits in the past couple of days, no note that we had a car that was faulty, and he had no C-2s. "Peugeot 206," he said. "No problem."
"No problem for you," we rejoined. "We've been here three times, and we were promised a C-2 by the woman who was here before. Why don't you have the car she promised us."
"She forgot."
We traded in our Hyundai for the 206 and left. The hotel manager never followed up with us, ignoring us when she saw us coming and going.
---
We ran into a similar lack of interest in customer care in other places. Many of the hotels are declining in maintenance as well. The former Meridien is now Kalenda, and the exteriors of two of the three wings are suffering from mildew and other weather- related deterioration. One wing is brightly painted, though, so we hope that this is the beginning of a restoration.
The Golf Marine hotel (we are even sorrier to report) has also aged gracelessly. Formerly the hotel had an excellent restaurant, but now it serves only breakfast. The breakfast was so bad we resorted to buying pan au chocolat from the store next door to have something good to eat. Our room had a note in it telling us to keep our slidiing glass door double- locked (we were on the ground floor) and advising us never to leave anything on our room's patio. We had two large plastic pipes coming down the corner in the bathroom next to the toilet. We heard every flush and every shower from what seemed to be every room in the hotel. We even heard the guy who sang in his shower.
There were bright spots still (which we will get to here and here), but the better restaurants were closed or had changed hands (more on that, too), and more of the stores were aiming at T-shirt shoppers rather than higher end clientele.
Unhappy with our conclusions?
If you are unhappy with our conclusions, feel free to drop by The Travel Log and post a riposte. Or post a query seeking more information. To start a topic, go to the bottom of the page and click on "Create a new topic to add to the discussion group." (You must register to post; registration is not necessary to read the discussions.)
We also suggest a visit to the Table of Contents for links to pages on our appraisals of restaurants, beaches, rum distilleries, the volcano, naturist beaches, and the rain forest. Remember that all opinions are opinions and impressions from our visits.

---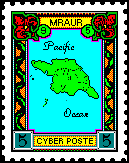 As always, if you have any objections, corrections, suggestions, or questions, drop us a line via Cyber Poste.
The Mraur Cyber Poste stamp is Copyright © 1995 by Jim Felter and is used with his kind permission. For more of his work, please drop by Jas' HomePage.

---
| The Civilized Explorer |

| Site Table of Contents
---
To view or print this page with your default settings, choose TEXT page at the top of this document.
SEARCH The Civilized Explorer Web Site.
Thanks for stopping by.
Copyright © 2005 The Civilized Explorer. ALL RIGHTS RESERVED.
---