[Site TOC]
---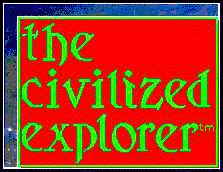 The Civilized Explorer
Guadeloupe Restaurants in 2005
Into each life some rain must fall.
---
The bad news.
First, let us reminisce about one of our all- time favorite restaurants, no longer with us. La Plantation was located near a marina in Gosier. This was a small restaurant up a flight of stairs. We ate there at least once every trip, and the owner began to remember us. He had two hostesses who worked with him, dressed in uniforms that reminded us of the way airline stewardesses had dressed in 1950s movies. The owner would take our orders, explaining any of the items we asked about. The room would fill up, and our orders would be brought out. Each dish was covered, and the hostesses and the owner (if it were a large table) would place the dishes so they were oriented correctly, then lift the covers all at once. We always had bottled water and a bottle of wine, and we never had to pour either of them. No matter how full the room, a hostess would always replenish our glasses without being asked and before it reached the point of temptation to pour for ourselves. It was a small room, but no matter how many diners were there, our host and hostesses never appeared rushed, and the service never faultered.
La Canne a Sucre in Pointe a Pitre and La Mahona in Bas du Fort were just below that level in quality of service, but absolutely world class. Chez du Gros was in a class by itself. The owners of Chez du Gros closed it and moved to the Auberge des Petites Saintes, La Plantation is now a brasserie, La Canne a Sucre a wharfside cafe, and La Mahona is now La Mahona Beach Restaurant where the servers no longer wear long- sleeved white shirts and ties over long aprons and the clientele now wear tank tops and shorts. La Louisiane has closed.
We are also sorry to take Kotésit off our list of recommended restaurants. The owner has opened an office managing real property and turned the restaurant over to his brother- in- law. Where before if you were not early for lunch or dinner, you had to wait for a seat, now we were the only ones there for lunch. (Well, another couple did come in, but they looked at the menu and left.) The menu is down to a couple of pages. The food and service were good, the view remains wonderful, but the limited menu is a killer.
So on to the good stuff.
Restaurant Iguane Cafe
The top restaurant of our time on Guadeloupe this year was the Restaurant Iguane Cafe. This restaurant has been on the island eight years, and we have let it sit there unnoticed all this time. It is on the way to Pointe Tarare, after the two ninety- degree turns after Saint François. Someone (we have no recollection who) recommended it to us after learning we would be staying at the Golf Marine Hotel -- it is a short distance away. We arrived at about 7:30 one evening without a reservation. Our hostess was the owner, and she seated us; there were perhaps another table or two occupied that early. The restaurant is large by Guadeloupean standards, with maybe two or three dozen tables. Our waiter was quite good. One of us ordered beef and the other fish, so we asked for suggestions for wine. At first he suggested a rosé, but then went to a listing of red wines, pointing to one that was the most expensive of the half- bottles. We decided to accept that suggestion.
Our courses began, and the room began to fill quickly. Service at first was excellent, but there were only two waiters, and they were swamped. We had two courses before our main dishes arrived, and the owner noticed our empty plates had been sitting for some time, so she had one of the waiters clear our table for us. The main courses were on dishes which were covered, then the covers whisked away to present the meals. The beef was the among best ever, and we've had some good beef; the only clearly better beef was kobe beef at a hotel in Kyoto. Our deserts were also heavenly.
It seems a shame to quibble about the service, but the owner needs either to hire more waiters or get busboys in to clear the tables, freeing the waiters to take orders and serve food.
Le Cocotier
We have eaten at this restaurant in Ste. Anne before, and we decided to try it again. It seems to have changed owners since our last visit there. There were four guys amiably tipsy at the bar, arguing some topic or other, and a few men at a table near the door to the kitchen (the dining area is outside on a patio). One of the men got up and sat us at a table -- our waiter. We ordered aperitifs, food, and a bottle of water. The wine menu had nothing but full bottles, and we asked if there were carafs of wine available, and the waiter apologized and said no. We asked about half-bottles, and again an apologetic no. We shrugged and decided the aperitifs would suffice. The waiter gave our order to the cook and returned. Would we have wanted a red wine? he asked. Yes. He went around to the side of the house and returned with a full bottle, presenting it to us. He offered to pour us a caraf of that, so we gladly accepted. It was an excellent wine (he told us later it was his favorite). The food was very good, as well. When we asked for our check, it took rather long to get it, but it was presented with a cane leaf that had been folded into the shape of a bird in flight.
La Toubana
We have eaten at this restaurant every time we've visited Guadeloupe, and it was a relief to find it unchanged in quality and service and improved in view. We had lunch so that we could enjoy gazing off over the ocean to some distant islands, and we found that the swimming pool had been enlarged and changed to an infinity pool, so that you looked over the pool to the ocean and horizon beyond. Our waiter's English was excellent, and we reminisced with him briefly on the changes over the years. The food and service were excellent.
Le Lagon
The food and service are fine, but the real draw here is the location. Le Lagon is located at the eastern side of the marina in St. François on the last bit of land there is. A fine sandy beach with lots of shade and much to do. You may rent a beach chaise (called a transat in the French West Indies) from the restaurant, along with your snacks, lunch, drinks, and dinner and have them all served to you on the beach or you may dine inside.
Restaurant St. François
Although listed as a gourmand restaurant, it is not. We called and made reservations on their answering machine the day we wanted to eat there. The restaurant is in a glorious older house on the road from St. Francois north along the Caribean coast. Parking is along the road as you find it. We went in the gate and up the steps to the front porch; the doors were open, but there was no one home. A quarter of an hour or so later, a car pulled up on the highway, and a man came to the gate to inquire about us. We explained to his surprise that we'd made reservations on the answering machine. He seated us in a room and offered us an aperitif, then excused himself. He had picked up a guest and had to see to his needs.

The owner checked in on us on occasion, bringing us our drinks, offering menus, asking if we had questions, but we were clearly a surprise and the guest clearly took precedence. The menu was quite interesting, but unfortunately only two items were actually available, so we took those. Neither of us finished our main course. We had desert, which was quite good, but not really worth the drive. The Saint Francois may have started its life as a gourmand- quality restaurant, but the owner's attention has strayed.
---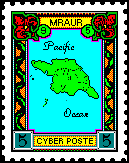 As always, if you have any objections, corrections, suggestions, or questions, drop us a line via Cyber Poste.
The Mraur Cyber Poste stamp is Copyright © 1995 by Jim Felter and is used with his kind permission. For more of his work, please drop by Jas' HomePage.

---
| The Civilized Explorer |

| Site Table of Contents
---
SEARCH The Civilized Explorer Web Site.
Thanks for stopping by.
Copyright © 2005 The Civilized Explorer. ALL RIGHTS RESERVED.
---