[Site TOC]
---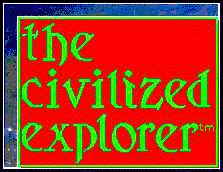 The Civilized Explorer
Guadeloupe Beaches in 2005
Into each life some rain must fall.
---
While service may be going downhill, the beaches definitely are not. We are very happy to report that Pointe Tarare is under the watchful eye of "the cleaner of the beach," a man who is also a member of an international naturism group. He has provided clean cans for cigarette butts and walks the beach to tell newcomers of the plans to keep the beach clean by having the people who use it take out their trash with them. It is very successful, we are happy to say. A ban on overt sexuality is also enforced, making the beach much more comfortable.
Unfortunately, the beach itself has been scoured. It appears to us that the reef offshore from the little bay was broken, so the waves from the Atlantic come right in now, instead of being stopped by the reef. The beach is considerably narrower, with some higher waves cresting onto our feet.
Anse Ste. Margueritè was recommended to us as a good place to snorkel. We dropped by, but we have some hesitation about the snorkeling. It is on the Atlantic Coast of Grande Terre, more or less protected from the waves by outlying reefs. There were lots of tide pools and shells. The beach is not wonderful, with no trees and lots of trash; not much sand, as the grass grows right up to the high tide line. There were a couple of people out snorkeling, but they looked like they were looking in the nooks and crannies of coral structures for octopuses and the like. As a result of the reefs there probably is good snorkeling, but we do not recommend Anse Ste. Margueritè for average swimmers.
Anse Maurice is within walking distance of Anse Ste. Margueritè, but it takes awhile longer to drive there along the coast. Anse Maurice has sandy beaches with shade, a small snack shop, and lots of shade. It appears to be better protected from wave action than Anse Ste. Margueritè, so we recommend it for sunbathing and dabbling in the water.
Back on the Caribbean side, we also dropped by Plage de Bois Jolan, a very long beach. Plage de Bois Jolan is between Ste. Anne and St. François. The end nearest Ste. Anne was less interesting that the end towards St. François. This is clearly a family beach much used by locals, with infants, toddlers, and children roaming the beach and waters.
Our comments on other beaches remain valid, so drop by our 1996 and 1998 reports for more information.
---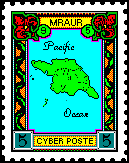 As always, if you have any objections, corrections, suggestions, or questions, drop us a line via Cyber Poste.
The Mraur Cyber Poste stamp is Copyright © 1995 by Jim Felter and is used with his kind permission. For more of his work, please drop by Jas' HomePage.

---
| The Civilized Explorer |

| Site Table of Contents
---
To view or print this page with your default settings, choose TEXT page at the top of this document.
SEARCH The Civilized Explorer Web Site.
Thanks for stopping by.
Copyright © 2005 The Civilized Explorer. ALL RIGHTS RESERVED.
---