The Civilized Explorer
---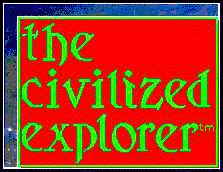 Getting Online in the French West Indies
Many of us like to stay in touch while we are on vacation. An easy and often inexpensive way to do this is through cybercafes. We have visited a few in the French West Indies, and we give you some information on their location and hours. We also provide a link to cybercafes.com, which provides links to cybercafes all over the world.

Martinique
We found a handful of cybercafes during our visit in April, 1999. Chez Gilles (Telephone: 66 11 07) is at the Marina at Pointe du Bout. Chez Gilles is open every day from 8:00 am to 10:00 pm. We had a nice lunch (salads, pizza, ice cream) and the 3 PCs were easily available. Fifteen minutes online cost 30 FF, 30 minutes costs 50 FF, and an hour costs 80 FF.
In Marin, access is available in the first floor office of the Harbormaster (Telephone: 74 91 21). Fifteen minutes costs 20 FF, 30 minutes is 35 FF.
In Forte de France, we passed Le Web Cyber Cafe, but it was closed. It is on Rue Blénac, about a half block off La Savane.
Guadeloupe
See Cyber Cafes. (Updated 2005)
St. Barth
Centre Alizés is not a cafe, but it has computers available for internet access. It is located on Rue de la République in Gustavia. You may sign up for an email account there, or use their computers to access your Web- based email account. If you have a laptop and you want your own account from your villa or room during your visit to St. Barth, drop by St. Barths Online for links to local service providers (weekly accounts are available), or check with your hotel to see if they offer access.
The new thing in St. Barth (well, as of February 2006) is WiFi. We were able to connect our iBook to the Internet at Le Square (no password), L'Oubli (no password), L'Entracte (get password from waiter), and Bacardi Café (no password). It made for a pleasant stop in the heat of the day to have a cool drink in the shade and upload photos to Flickr or to ZotoFoto which sends them out as postcards from Fort Worth, Texas. (For the ham radio operators reading this, ZotoFoto is the public arm of eQSL.cc, which we like to support.)
We have a list of other sites offering WiFi at the time of our visit; we did not try these others, so we cannot confirm that they work nor whether there is a password. We also cannot guarantee that even if they did work in February of 2006 that they will work when you arrive.
Guanahani
Le Toiny
Hotel Baie des Anges
Le Repaire
Le Taïno (at Hotel Christopher)
El Sereno
Do Brazil
Kiki e Mo
The parking lot at L'Oasis Shopping Center
Hot Stuff
Cybercafes
Internet cafes guide provides links to cybercafes all over the world. We have checked for accuracy, and as always, the changing face of the Web means no one can keep up. So check the page, but remember to follow links and confirm the cafe listed is still online, and remember that there are likely new cybercafes available and not yet listed. Help out and report new cybercafes as you find them.
The Internet Cafe Guide, not to be confused with the previous guide, also contains links to cybercafes but in handy book form you can take with you in your travels. Because of the frequent changes, we recommend checking online sources instead.
The CyberCafe Search Engine claims to be updated daily. It contains a searchable database for cyber cafes, kiosks, and other public internet access points.
Cybercafe World News has a site that is a little messy, but full of links: add your own cafe, news about cybercafes, search for cybercafes, rate cybercafes, and more.
Don't forget WiFi; see our links to wireless access.
Staying Online Abroad
For those who wish a more nearly permanent connection while abroad, the following Web sites provide information on points of presence, accessories, and other matters needed to get a connection to the Internet from places other than Cybercafes.
Help Us Keep This Page Current
If you find public Web access points in the French West Indies, please let us know. We will gladly add information to this page, giving credit to the intrepid explorers who report new finds and tell us of the disappearance of old finds. Doing business as a cybercafe is not easy.
Web-based calendar for your travels
We now offer a Web- based calendar that you can access from any Internet connection with a recent graphical browser. Drop by The Civilized Explorer Calendar and sign in.
Additional Resources
Access numbers to get English speaking operators and using your credit card from local telephones; web-based internet telephony for free calls.
Online assistance before you leave: locate ATMs, get weather reports, sign up for Web- based email and a personal calender, find out the conversion rate for your currency, and the inevitable more.
Wireless access to the Web around the world.
---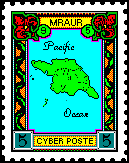 As always, if you have any objections, corrections, suggestions, or questions, drop us a line via Cyber Poste.
The Mraur Cyber Poste stamp is Copyright © 1995 by Jim Felter and is used with his kind permission. For more of his work, please drop by Jas' HomePage.

---
| The Civilized Explorer |

| Site Table of Contents | Portal |
| Help | Search the Site | Copyright, Privacy, and Warranty Information | About us |
---
Some of our pages are presented with light text on a dark background. This makes printing them difficult. If you wish to print a page with your default settings, see if the page has a link at the top called TEXT. If so, follow that link for a printable page.
Thanks for stopping by. Copyright © 1995, 1996, 1997, 1998, 1999, 2000, 2001, 2002, 2003, 2004, 2005, 2006, 2007 The Civilized Explorer. ALL RIGHTS RESERVED.
---