[Site TOC]
---
WELCOME TO

St. Barthélemy -- Additional Information
---
NOTE: Change in telephone numbers.
As of July 2001, international telephone numbers in St. Barth will change. The country code will remain 590, and all numbers will have another 590 added to them. This is confusing, so here is an example:
A telephone number which is listed below as (590) 27.71.90 will become (590) 590 27 71 90.

By Air: From the U.S., the principal gateway is Sint Maarten where connections are made with inter- island carriers who offer many flights daily. Other gateways are San Juan, St. Thomas, Antigua, and Guadeloupe. It is a 10- minute flight from Juliana Airport on Sint Maarten by Windward Islands Airways, Tel: (590) 27.61.01, or Air St. Barthélemy, Tel: (590) 27.71.90, which also has flights from San Juan, Guadeloupe, and Espérance Airport on French St. Martin. Air Guadeloupe, Tel: (590) 27.61.90, makes the flight from Espérance in 10 minutes, and from Guadeloupe in one hour. Air Guadeloupe also flies from St. Thomas a few days a week. It is 30 minutes from San Juan to St. Thomas where Air St. Thomas, Tel: (590) 27.71.75, has connecting flights to s, a 45- minute ride. Vacationers having difficulty getting daytime connections to or from the island should contact Air St. Barthélemy or Windward Island Airways for charters.
St. Barts' airport has a short landing strip that can now handle nothing larger than 20- seat STOL aircraft. It is not equipped for night landing. The delightful little terminal has car rental booths, shops, a bar and the like. Across the road is La Savane Commercial Center, with boutiques, a pharmacy, food market, etc.
By Catamaran: Several sleek catamarans leave the marinas on Dutch St. Maarten between 9 and 9:30 a.m. every day, arriving in Gustavia harbor less than 90 minutes later. These are usually one-day round-trip excursions but the skippers will take one-way passengers as well. The White Octopus, for example, a 75-ft. motor catamaran, charges $25 (plus $5 tax) for the one-way trip, open bar included. For reservations, contact the White Octopus, Tel: (599)-5 23170, at Bobby's Marina in Philipsburg.
By Ferryboat: One can also arrive on St. Barts by ferryboat from St. Martin on what in truth are the return trips of inter-island service. There are round-trips Monday through Saturday on the St. Barth Express III. The motorized catamaran leaves Gustavia at 7:30 a.m. and returns from Marina Porte la Royale in Marigot at 3:30 p.m. and Bobby's Marina in Philipsburg at 4:15 p.m., arriving in Gustavia 45 minutes later. One-way fare, $35; round-trip, $50. To reserve, Tel: (590) 27.77.24, Fax: (590) 27.77.23. The Voyageur I, a new ferryboat link between Gustavia and Marigot on French St. Martin, costs $60 round-trip. For schedules, Tel: (590) 27.84.38 or (590) 27.62.87. Last, Bateau Dakar, Tel: (590) 27.70.05, serves both St. Martin and Guadeloupe.
Private boat charters can be arranged through Sibarth in Gustavia, Tel: (590) 27.62.38, or at its U.S. affiliate, WIMCO, Newport,, RI., Tel: (800) 932-3222 or (401) 849-8012, or through Marine Service in Gustavia, Tel: (590) 27.70.34. By prearrangement, a luxury resort like the Guanahani will pick up guests at Juliana Airport on St. Maarten and transfer them by private speedboat to the hotel's dock. Cost: $80 per person.
By Cruise Ship: Cruise ships, particularly those with out- of- the- ordinary itineraries, have been making St. Barts a port of call in recent years. The island has also long been a popular destination with yachtsmen. By Car: Car rental can be done with a minimum of red tape, but reservations in advance through your hotel are suggested, especially in winter. The cars most in demand are VW beetles or little open Gurgels and Mini-Mokes. Considering the hilly roads, these are the cars that make most sense, but drivers must know how to operate a stick shift. The island is crisscrossed with about 25 miles of steep narrow and winding roads, so careful driving is advised. The speed limit is 45 km/h (28 m.p.h.).
In winter, car rentals go for up to $60 per day; in summer for about $35. Weekly rentals are more economical. Most car rental companies now take major credit cards, but request a two- or three- day minimum rental. Rates include unlimited mileage, collision-damage insurance (first $500 deductible) and free delivery. Gas is extra, and costs about $3.25 a gallon. There are two gas stations on the island, but neither one is open on Sunday. The one near the airport is open Monday through Saturday from 7:30 a.m. to noon and 2 to 5 p.m. The one in L'orient is open from 7:30 a.m. to 5 p.m., except form Thursday and Saturday afternoons, St. Barts' first all-night automatic gas pump recently opened at the airport station. It uses magnetically sensitized cards, on sale at the station for 50F minimum.
Car rentals are available through:


--  Mathieu Aubin Car Rental, Vitet (Tel: 27.73.03 or 27.71.98)
--  Avis (Robert Ledée). Airport (Tel: 27.71.43)
--  Odette Brin, Terre Neuve (Tel: 27.63.99)
--  Budget (Jean-Marc Gréaux), Airport and Town (Tel: 27.67.43)
--  Europcar (Alain Jeanney), Colombier (Tel: 27.73.33)
--  Charles Gréaux, Gustavia (Tel: 27.61.90)
--  Edmond Gumbs, Colombier (Tel: 27.75.32 or 27.61.93)
--  Hertz (Francine Gréaux), Airport (Tel: 27.71.14 or 27.64.05)
--  Ernest Ledée, Gustavia (Tel: 27.61.63)
--  Maurice Questel Car Rental, Airport (Tel: 27.73.22 or 27.64.05)
--  Soleil Caraibe, Airport (Tel: 27.67.18 or 27.65.06)
--  Guy Turbé, Airport and St. Barts Beach Hotel (Tel: 27.71.42 or 27.60.70)
--  U.S.A. (Jean-Claude Gréaux), Airport (Tel: 27.70.01 or 27.66.43)

A few hotels have their own fleet of cars. Because of limited parking space at their properties, these hotels may request that you book cars through them.
By Taxi: A flat taxi rate of 25F (about $5) has been established for taxi runs up to five minutes long. For each additional three minutes, the fare is increased by 20F (about $4). Night fares are higher, as are fares on Sundays and holidays.
There are two taxi stations on the island, one at the airport and one in Gustavia on rue de la Republic. If you wish to have a taxi come and pick you up, call 27.66.31. For taxis at night, call Jean-Paul Janin (Tel: 27.61.86), Raymond Gréaux (Tel: 27.66.32), Mathilde Laplace (Tel: 27.60.59), Robert Magras (Tel: 27.63.12) or Lina Bernier (Tel: 27.60.54).
By Motorbike or Scooter: Motorbikes, mopeds, and scooters are plentiful, but French law requires that you wear a helmet to ride one. Also, a motorbike or driver's license is required. Rental fees average about 140F a day, with a US$100 deposit. Rentals can be made at Denis Dufau's Rent Some Fun, which also carries 18- speed mountain bikes (Tel: 27.70.59), Ernest Ledée (Tel: 27.61.63), Frédéric Supligeau (Tel: 27.67.89) and Ouanalao (Tel: 27.81.27), all in Gustavia.
Further Information in the USA
Telephone: "France on Call" nationwide from 9 a.m. to 7 p.m., Eastern time at 1-900-990-0040.

Write or Visit:

       French Government Tourist Office
       444 Madison Avenue
       New York, NY   10022

or

       9454 Wilshire Blvd.
       Suite 715
       Beverly Hills, CA   90212
       Tel: (310) 271-6665

or

       676 N. Michigan Ave.
       Suite 3360
       Chicago, IL   60611
       Tel: (312) 751-7800

Further Information in Canada
Telephone, Write, or Visit:


       French Government Tourist Office
       1981 Ave. McGill College (490)
       Montreal, Que., H3A 2WO
       Tel: (514) 288-4264
       Fax: (514) 844-8901

or

       30 St. Patrick St.
       Suite 700
       Toronto, Ont., M5T 3A3
       Tel: (416) 593-6427
       Fax: (416) 979-7587

---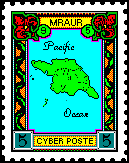 As always, if you have any objections, corrections, suggestions, or questions, drop us a line via Cyber Poste.
The Mraur Cyber Poste stamp is Copyright © 1995 by Jim Felter and is used with his kind permission. For more of his work, please drop by Jas' HomePage.

---
| The Civilized Explorer |

| Site Table of Contents | Portal |
| Help | Search the Site | Copyright, Privacy, and Warranty Information | About us |
---
Some of our pages are presented with light text on a dark background. This makes printing them difficult. If you wish to print a page with your default settings, see if the page has a link at the top called TEXT. If so, follow that link for a printable page.
Thanks for stopping by. Copyright © 1995, 1996, 1997, 1998, 1999, 2000, 2001 The Civilized Explorer. ALL RIGHTS RESERVED.
---