[Site TOC]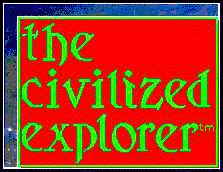 The Civilized Explorer
St. Barth Reborn -- 2001
St. Barth recovers from hurricanes and cruise ships and rebounds to its former delight.

---
On our visit to this little island in 1997, we were dismayed at the conditions. The island was overrun with cruise ship passengers on foot, in cars, and aboard taxis. T-shirts and fast food were the order of the day. We were assured by the people who lived there that this was a temporary fix for the devastation wrought to the entire tourist season by Hurricanes Luis and Marilyn. (See our report at An Island in Decline.)
It is with great relief that we report that our fears of St. Barth becoming another St. Martin were unjustified and that the locals were right -- the swarm was temporary.
This is not to say that the island is not growing. There are now about 7,000 residents, and traffic is congested in St. Jean, Gustavia, and Lorient. But we feel that this traffic is the result of growth in the business structure of the friendly island, not of growth in low-price cruise passengers. The side of Gustavia at Rue Jeanne d'Arc (where the Wall House is) reminds us more of Annapolis than St. Martin: very nice clothing shops, world-class yachting supplies, restaurants, wholesale foods, and the like. Around Rue du Centenaire and Rue du Général de Gaulle are shops with serious antiques and reproductions, good clothing, Cuban cigars, excellent flavored rums, and more.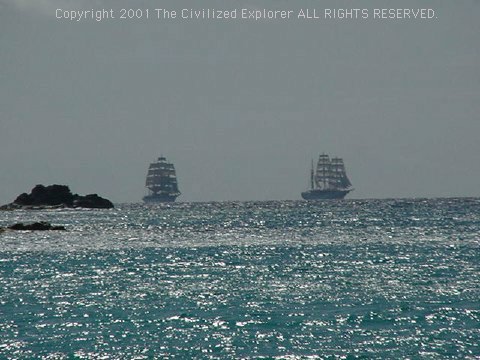 We spoke to several residents about the change, and we learned that St. Barth's government had increased the fee on tourists entering the island from cruise ships. This has not stopped cruises, but it has limited them. The two ships seen in this photograph carry cruise passengers, but in far fewer numbers than the large ships formerly overwhelming the harbor. We were in Gustavia when one of those big ships was in port with a large number of European passengers, so be aware that the big ships do still call.
We asked people at several businesses if the loss of cruise ships had hurt their business, and the answer was always no, perhaps T-shirt sellers had been hurt but not them. One waitress said the cruise ship passengers generally had their meals provided by the cruise line, resulting in much garbage left behind without much in the way of money for the restaurant or her. Although she worked in a restaurant in Gustavia, she had no desire to see the return of big ships.
In fact, some stores close when big ships anchor off the harbor and send their passengers ashore. The Hermes store, for example, was "Closed till 5" the day the Europeans were in town -- but it was open all afternoon on other days. We noticed another store which locked its door and limited the number of customers allowed in during the cruise visitation.

Since our visit in 1997, there have been additional businesses to open in St. Jean and Lorient, and we saw what appeared to be a shopping center under construction near Grand Cul de Sac. The news stores we saw offered a large selection of electronic wares (our portable radio broke, so we bought a new one while we were there), clothes in all price ranges, souvenirs in all price ranges, and home furnishings. We believe these stores provide the residents with a great many choices for their own comfort, not just support to tourists like us. This is the kind of growth that makes us happy.
The beaches have suffered from the hurricanes, with St. Jean and Lorient being so narrow in some places that you cannot walk their lengths and keep your feet dry. The waves at Lorient were rough enough for surfing, a significant change since our last visit. Sunbathers at Grand Saline and Gouverneur had to be careful, too, about waves lapping high enough onto the beach to wet towels and clothes. Shell Beach is now misnamed. Almost all the shells have been scoured from the beach. We managed, though, to suffer through and spend our mornings and afternoons on the beaches soaking up the sun and listening to the surf (this is a link to a 500K MPEG file of the waves at Lorient).
Our concerns about restaurants suffering in quality were also assuaged. In the past, the clientele of St. Barth was more likely to be long term visitors with perhaps more money than most tourists to the Caribbean. Quality of food, presentation, and service were very high. We have adjusted our expectations to suit the present, though. There are restaurants where one can receive the best food and service in the world, but there are also restaurants that are more affordable and where the values are different. In years past, one did not see restaurant patrons at dinner in shorts and T-shirts, but now many of the restaurants are geared to a casual crowd where shorts are the rule rather than the exception.
We heartily recommend St. Barth as a vacation destination.
The island is one of the easiest vacations spots in the world; for Americans who want a taste of a foreign country but who fear snafus with a foreign language and foreign currency, St. Barth is ideal. English and dollars are spoken everywhere. We will be updating our pages here with more information on restaurants we visited, places to go, and tons of photographs from our 2001 visit. Stay tuned.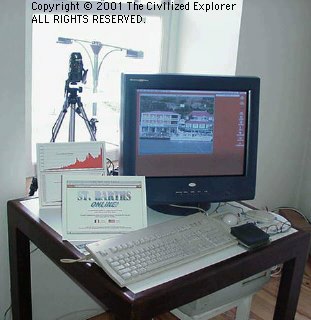 NOTE: Change in telephone numbers.
As of July 2001, international telephone numbers in St. Barth will change. The country code will remain 590, and all numbers will have another 590 added to them. This is confusing, so here is an example:
A telephone number which is listed below as (590) 27.71.90 will become (590) 590 27 71 90.
---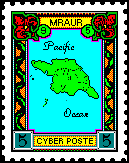 As always, if you have any objections, corrections, suggestions, or questions, drop us a line via Cyber Poste.
The Mraur Cyber Poste stamp is Copyright © 1995 by Jim Felter and is used with his kind permission. For more of his work, please drop by Jas' HomePage.

---
| The Civilized Explorer |

| Site Table of Contents | Portal |
| Help | Search the Site | Copyright, Privacy, and Warranty Information | About us |
---
Some of our pages are presented with light text on a dark background. This makes printing them difficult. If you wish to print a page with your default settings, see if the page has a link at the top called TEXT. If so, follow that link for a printable page.
Thanks for stopping by. Copyright © 1995, 1996, 1997, 1998, 1999, 2000, 2001, 2002, 2003, 2004, 2005, 2006, 2007 The Civilized Explorer. ALL RIGHTS RESERVED.
---