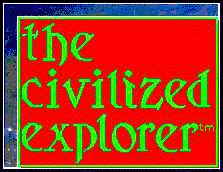 The Civilized Explorer
Restaurants in St. Barth (2001)
The Civilized Explorer team reviews restaurants on the island of St. Barthelemy.

---
We did a great deal of eating during our vacation, and we have decided to separate the restaurants into three categories: The first-rate restaurants where the food and service are world class, the value restaurants where the food and service are good values for a lesser price, and less expensive places where the premium is on low price, with less consideration on quality and service.
This being St. Barth, even the reasonably priced places are somewhat expensive, and the food is still well worth the price. Our ratings and reviews are subjective, so naturally there are differences of opinion to be expected. We also expect more from first-rate restaurants, so a good review of a cheap place does not mean it equals a restaurant of world class with a mediocre review.
At the time of our visit at the end of February and beginning of March 2001, the exchange rate was just about 7 FF per US dollar.
NOTE: As always, we remind you that prices change and so do restaurants. We have been surprised by the number of restaurants that have closed over the years we have been visiting the French West Indies, and sometimes dismayed to find that a favorite had changed hands and changed its style completely. We describe our experiences and prices at the time of our visit. While we hope our descriptions are a guide, be prepared for things to have changed by the time of your visit.
First-rate restaurants
Although dressing for dinner has been a casualty of general attitudes, we recommend dressing well for dinner at these restaurants. For gentlemen, this means slacks, a shirt with a collar, and shoes with socks. For ladies, a dress or slacks and nice blouse. We occasionally saw a man in shorts and flipflops, but the custom at these restaurants is better dress than that.
François Plantation
We ate at François Plantation years ago, and although we liked the food, we thought the service was too stiff. In 2001, we visited again, and the service was quite good, as was the food. Our bill was 855 FF. We had filet de boeuf and mignon de porc, along with two deserts. Cocktails and a bottle of water rounded out our evening.

We arrived early and sat in the bar area where there is plenty of seating for people who come for drinks. The staff was very attentive, with none of the wooden formality of our visit several years ago. When you are seated at your table, a waiter takes your order for food, but the sommelier takes your wine order, causing some confusion for most patrons. We heard another customer ask what had been grown on the plantation, causing some confusion for the waiter. We were there at night; while the veranda was pleasantly cool, there was no view other than the surrounding plantings.
Eden Rock
Eden Rock has three restaurants. The two restaurants on and near the beach are open for lunch, and the restaurant at the hotel is open for dinner. The Sand Bar is on the beach, and we were lucky to get a table for lunch. Only three had not been reserved. Many people were in their beach chairs as close to the Sand Bar as possible, being served all morning from the bar. Lunch was excellent, and our waiter was excellent, too. We arrived at noon and by 12:20 no one without a reservation was being seated. We had the chilled half- lobster with mayonnaise (which was great) and smoked salmon salad. The tarte au chocolat was also great. The Sand Bar is recommended, but so are reservations. This rather expensive lunch cost us 550 FF, and it also included two glasses of wine, a bottle of water, and a soft drink.

[While we were having lunch, a photographer came around offering his services. The couple at the table next to ours said they would like their photo taken, but they were leaving later in the day. No problem, said the photographer, I will pick the best portraits and mail them to you. A deal was struck, and a dozen or so pictures of them were taken as couple and then individually. The photographer handed the woman a form to fill out for the photos to be mailed, and she took pen in hand and looked at the man: "What's your address, honey?" she inquired.]
We had dinner at the hotel our last night on the island. The bar in the hotel overlooks the bay toward the airport, and we enjoyed the lights on shore being reflected on the water. The service and food at the restaurant were world class. The several waiters kept our water glasses full, and our wine by the glass was looked after as well by the sommelier. We made our reservations on Saturday evening -- Saturday was already booked, and much of Sunday's service was, too. The tables were all taken during our meal, and as people left, new diners were ushered in. At no time was the service rushed, and the waiters kept all our needs met without having to be asked.
We had the filet de boeuf and a filet of duck. Although the beef was excellent, as sometimes happens the duck was not -- it was cut so that it contained too much fat, and in the darkness it was not possible to trim it from the meat. The deserts were very good. Our bill for the meals, water, and two glasses of wine totalled 825 FF.
Isle de France
This is a very good hotel at Anse des Flamands. Our dinner at the restaurant was excellent as was our service. It was Friday night, and one couple was observing the Sabbath. They had quite strict requirements, brought some of their own food, and were specific about what was set on the table. The waiters handled everything with complete aplomb, without any indication at all of being put upon in meeting the needs of the customers.

We had fish and veal for our main courses, a couple of chocolate tartes for desert, water, and two glasses of wine. The dining room had large windows overlooking the beach, which was floodlighted for our enjoyment. Our bill for the evening was 683 FF.
Le Gaïac
We had Sunday brunch during our visit this year. We have had lunch and dinner there before, and we have found the food and service to be excellent. That does not seem to have changed.

We had reservations for noon, and we needed them. The dining room was filled, and people were waiting for tables out at the gazebos around the pool. The crowd appeared to us to be predominantly well- dressed local people, with visitors sprinkled in among the tables. (Even though this was brunch, the dress was not casual at all -- Manual Canova was well represented; clearly it is a place to be seen.) The brunch is buffet, but you may order scrambled eggs or french toast from the kitchen in addition to the food available on the serving tables. We got a bottle of water and our own pot of coffee. The waiters kept watch over us, removing empty plates, replacing our flatware, and keeping our water glasses replenished. Even though the restaurant was full, the attention of the staff never waivered. The restaurant has a view of the beach at Toiny over its infinity pool. Recommended.
The brunch buffet (which included our two items cooked to order) was 230 FF per person; a bottle of Evian was 30 FF, and champagne was 60 FF per glass.
L'Orchidée
L'Orchidée is the restaurant at Hotel Christophe. It is somewhat out of the way, but the hotel and its restaurant are excellent. We had lunch for four persons, and a couple of children who snacked occasionally. The staff took our orders and provided additional plates of fries and profitrolles for the children. Service was very good, with a waiter always nearby to provide whatever was needed. We had four main courses, two bottles of water, two glasses of wine, and coffees, bringing our bill to 640 FF. This is a very good price. Recommended.

Value restaurants
Le Sapotillier
Le Sapotillier is an excellent restaurant in Gustavia, just off the harbor on Rue du Centenaire, near Rue du Général de Gaulle. Service was excellent, and the food was very good.
We had veal and a fish for our main courses, and apple tarts for desert. We thought the apple tarts were great. With water and a cold soft drink, our bill was 750 FF. Recommended.

Le Repaire
We had lunch at Le Repaire at the suggestion of our host at Villa La Boheme. We had a bottle of water and a glass of wine. Our main courses were fish and stuffed crab, and the total price was 244 FF. Le Repaire is across from the harbor on Rue Republique and offers a good view, especially at sunset. The food and service were competent.

La Gloriette
We cannot remember our meal at La Gloriette; our bill indicates one of us had red snapper, but that is all we can read of our waitresses writing. We were seated at a table near another couple, and the staff had some confusion of our orders. Our bill for drinks, two main courses, and two deserts was 430 FF. We had reservations, and the place filled shortly after our arrival. There is little atmosphere, but the food and prices were good values, if not memorable.

Cafe do Brazil
We had drinks there at sunset, then stayed for dinner. We ordered a Brazillian drink called a caipirinha (Portugese for piranha) -- well, we ordered several. Our bar tab was 190 FF. Our food totalled 300 FF. Cafe do Brazil is right on shell beach, and parking is somewhat of a problem -- we parked down the street and around the corner. They offer valet parking if you wish. (Several groups avoided the issue by motoring up to the beach in their dinghies.) Although the food and service did not knock us out, it was fine. The view was certainly the draw for us.

K'fe Massai
This is a very popular restaurant. We had reservations, and we needed them; the place was filled before we had finished our meal. We were shown our table for dinner, but it was too dark to read the menu. There was a couch with a lamp near our table, so we moved there and ordered a couple of drinks. After we made our selection, we went back to our table to order. Our waiter convinced us that we knew nothing of French and that we should order in English, so we did. However, each time he returned, he spoke to us in French which was incomprehensible to us, forcing us to ask him what he said; he would then repeat one word in French. C'est la vie. Other diners were not lucky enough to be seated near the couch and lamp, and we saw that all the waiters carried flashlights so the patrons could read the menus in the dark restaurant. As sometimes happens, one of our meals was excellent, but the other, a filet of pork, was overcooked and so dry and tough as not to be edible. Our waiter noticed the unfinished portion and asked something unintelligible; What, we asked. He switched to English after a couple of tries, and we said everything was fine.

As the restaurant filled, we saw less and less of our waiter. Because of the positioning of tables, when someone ordered a fish which was fileted at their table, the cart used for the fileting blocked access to many customers for the entire process. The staff was clearly hurried. Eventually our waiter reappeared and mumbled something. What, we asked. "Désert?" he hissed. We ordered a fresh fruit cup and an apple tart. They were both excellent. After we finished, he appeared sometime later and removed our plates. After another wait, he stood by our table and gargled. What, we asked. "Café?" he snarled. We declined. Our cocktails were 50 FF each, and our total bill for the evening was 575 FF.
La Langouste
La Langouste is at Anse des Flamands. We had spicy chicken and a lobster salad with grapefruit for lunch. Both were good.

Marigot Bay Club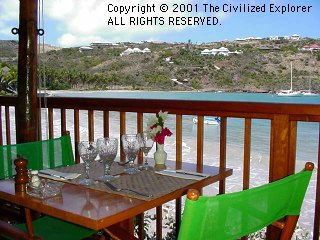 We have eaten at this restaurant before; it is out of the way, but there were other customers there when we had lunch. The decor revolves around boats and sailing, and there were several yachts moored in the bay which bore flags from several countries. This is the view from the dining room. We had two main courses, two deserts, a piña colada, and a Coca Cola. We also ordered a half carafe of red wine; the waiter brought the carafe, but would not serve it until we had finished our cola, as the tastes would clash. The food and service were good, and the price was 510 FF.
Le Gommier
This restaurant is within walking distance of the parking lot at Saline Beach. Of the three along that road, it is the best, beating out L'Esprit by a slim margin. We had lunch there, and we were seated in a very pleasant area with a canvas roof and open windows. The service and the food were good. We asked about the Chicken Tex Mex salad, and the waiter described its contents for us, but snapped his fingers several times and could not remember the English word for one of the ingredients. What is it in French, we asked. Tortilla, he said. (The salad was delicious.)

We had the chicken salad, a turkey club sandwich, both of which were quite good, a bottle of water, two soft drinks, and a glass of wine. Our bill for lunch was 255 FF.
L'Esprit Salines
This is the middle of three restaurants within walking distance from the parking lot at Saline Beach. Lunch is not served until 12:30, although we were served drinks. It happened that ice had not yet been delivered; drinks from the refrigerator were cold, but nothing could be served over ice or chilled on ice. The delivery was made a little before 1:00. The food was good, although there was an unexplained delay in serving all the customers. Apologies were made, and the waiter offered to juggle while we waited. The grilled chicken in cinnamon honey sauce was very good, and the Moroccan salad was good but rather too small for a meal. There were three pieces of grilled chicken, so one was contributed to the salad, making for a meal for both of us. We also ordered a dish of steamed broccoli, a glass of wine, a soft drink, and a fruit juice cocktail (without alcohol). The price was 360 FF.

Pelican
The Pelican is on the beach at St. Jean on the far side of Eden Rock from the airport. It serves lunch and dinner, and you can eat in or on the beach (if you are lucky enough). We had dinner there, and the portions were huge. The food is good, and the service is friendly. We had a couple of cocktails, entrecote (which had its share of fat and gristle as entrecote sometimes does), another course, wine, and espresso, bringing our bill for dinner to 430 FF.

Less expensive restaurants
La Route des Boucaniers
This restaurant is right on the harbor. We liked its appearance, and we were seated inside for our meal -- the tables outside had already been taken. The food was not memorable, and the service was not really up to par. We ordered bottled water, a salad, beef bourgignon, and two deserts, and our bill was 350 FF.

L'Entr'Acte
In America, this place would be called a dive. It has what appears to be the body of an old pickup truck installed as part of the decor, and lots of junk hangs from the walls and rafters. It is, though, a great dive. We had hamburgers that could be the best on the island. It's a great place for drinks and sandwiches, right on the harbor.

We had lunch there a couple of times, the first one being the day of Carneval. The waiters and waitresses were in costumes, and many revelers in costumes came by to drink up before they joined the parade. L'Entr'Acte appears to catch a lot of customers from their sailboats anchored out in the harbor, and the dress is very casual (i.e., people who have all their clothes in a live- aboard yacht they are sailing around the world).
The Hideaway
The Hideaway is a very basic restaurant that also has a large take out business. We ordered a pizza each, but we should have shared one -- they were way too big for us to eat a whole pizza each. Not much in the way of ambience, but centrally located in St. Jean. For two pizzas, a glass of wine, and a soft drink, our bill was 198 FF; next time we will share a pizza and cut even that modest bill substantially.

La Plage
We had lunch twice at La Plage and drinks on another afternoon. Our first lunch was without reservations, and we were admonished that it was not yet time to serve. Drinks were no problem while we waited, though, and we were seated a few feet from where the staff was being served lunch before they got to work for the customers. La Plage's decorations are not to everyone's tastes, but we enjoyed it. Our St. Barths Alive! book refers to the hotel as nondescript, but it has been repainted in primary colors; the restaurant is decorated in airy, colorful fabric with lots of lamps in gorgeous shades. It is right on the beach on the airport side of Eden Rock. Once we got past the "not serving" admonition service was pleasant and prompt, and the food was good. Two main courses, two glasses of wine, and a couple of soft drinks brought us a bill of 410 FF.

La Plage is at the Tom Beach Hotel, and they have a little kiosk out on the beach where you can rent beach lounges and towels, and the bar serves drinks to anyone laying in the vicinity, as well as providing tables and chairs for customers. We had a good time in the late afternoon sitting in the thatched shade on a couch watching people stroll by and watching people watching people. We ordered two rounds of drinks, but we were never pushed to keep our glasses full.
We had lunch for four on one of our occasions; we all had cocktails, and two had deserts, in addition to the main courses. The bill was 860 FF, but it was charged to us as US$133. For some reason that day we had trouble with our credit cards. We had tried to buy gas at the station by the airport, but the machine rejected our Visa and MasterCards, accepting those of French patrons. The machine at La Plage rejected them, too, but it accepted our American Express. We have no idea what the trouble was, and that was the only day our cards were not accepted.
Grain de Sel
This restaurant is closest to the parking lot at Saline Beach. It is not enclosed and has no decoration at all -- tables, chairs, and a kitchen. The food was not the best of the three restaurants, but it had the advantage of being open and serving when we arrived a little before noon. If you are hungry before Le Gommier and L'Esprit Salines are serving, Grain de Sel is your only choice. We had a hamburger (nothing to write home about), and a salad (good), along with soft drinks, for a total bill of US$24. We paid with US$30, and received our change in US dollars.

Note: While we were there, several couples came in and ordered a lunch to take to the beach with them. Keep that in mind if you are heading to Saline Beach before lunch.
A collection of restaurants in Gustavia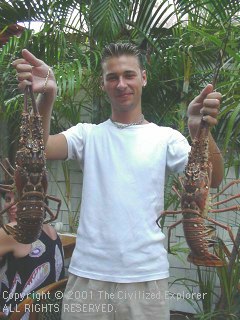 Gustavia has a larger number of restaurants than in years past, many of them along the harbor in Gustavia. La Bête à Z'ailes (beast with wings, the local name for all us tourists who fly in) is on the harbor near the post office. Lunch was competently prepared and served, costing us 200 FF for salad, sandwich, drinks, and water. There is an admonition on the menu that the food takes awhile to prepare -- notice to the people from cruise ships who expect fast food.
We have eaten at Eddy's before, and it was as we recalled, a large open room with paintings and wooden furnishings. Our dinner was 340 FF, consisting of a salad, curried chicken, filet of pork, wine, and water.
Le Palace was new to us. We had a nice lunch of a mixed grill and chicken brochette. With wine, water, and soft drinks, our bill was 256 FF. Our waiter was friendly and good. Here he shows lunch to a foursome at a table near ours.

---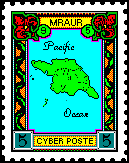 As always, if you have any objections, corrections, suggestions, or questions, drop us a line via Cyber Poste.
The Mraur Cyber Poste stamp is Copyright © 1995 by Jim Felter and is used with his kind permission. For more of his work, please drop by Jas' HomePage.

---
| The Civilized Explorer |

| Site Table of Contents | Portal |
| Help | Search the Site | Copyright, Privacy, and Warranty Information | About us |
---
Some of our pages are presented with light text on a dark background. This makes printing them difficult. If you wish to print a page with your default settings, see if the page has a link at the top called TEXT. If so, follow that link for a printable page.
Thanks for stopping by. Copyright © 1995, 1996, 1997, 1998, 1999, 2000, 2001, 2002, 2003, 2004, 2005, 2006, 2007 The Civilized Explorer. ALL RIGHTS RESERVED.
---