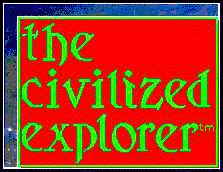 The Civilized Explorer
Soualiga Lounge
The Princess Juliana Airport at St. Maarten offers a business class lounge.

---
We have on occasion been stuck for several hours in the airport at St. Maarten because of a variety of reasons. In the past we have had the option of wandering in the open area and browsing the shops or passing through security and sitting in the boarding area with only the bar for company. On our transit through Juliana in 2003, we found the Soualiga Lounge in the boarding area.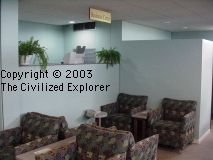 It is a lounge geared for business users with, at the time of our visit, an annual fee of US$150 for one person; annual members are entitled to the use of the lounge with one guest or an unlimited number of family members (as defined in the terms and conditions). However, for those who are stranded for some period of time, Soualiga Lounge offers a daily membership for US$20 per person (no guests are premitted with the one- day membership).
In addition to complementary non-alcoholic beverages and light snacks, members may watch television, read selected newspapers and magazines, and work in a much more serene environment than the boarding area. Alcoholic beverages are also available at a fee, as is internet access, the use of fax machines, and telephones.
The use of the lounge requires appropriate attire, so some of us may need to change clothes: "T-shirts, thong sandals, and other inappropriate attire will not be permitted." You may not bring outside food into the area, nor may you leave with an alcoholic beverage.
On the day of our visit, there were no members in the lounge, and there were three staff on duty. As you may be able to tell from the photos, this is a very nice lounge, and it will come in very handy on longer layovers than we had planned. Our chat with the hostess was a pleasure, and she was very helpful in explaining the amenities and showing us around.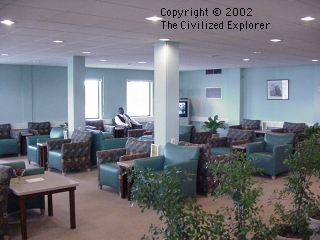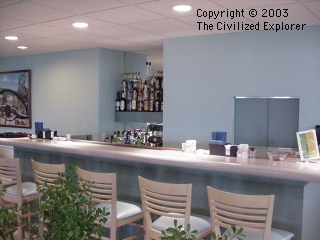 These photos are shown in larger size (640 x 480 pixels) at our People and Places II photo page.
---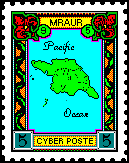 As always, if you have any objections, corrections, suggestions, or questions, drop us a line via Cyber Poste.
The Mraur Cyber Poste stamp is Copyright © 1995 by Jim Felter and is used with his kind permission. For more of his work, please drop by Jas' HomePage.

---
| The Civilized Explorer |

| Site Table of Contents | Portal |
| Help | Search the Site | Copyright, Privacy, and Warranty Information | About us |
---
Some of our pages are presented with light text on a dark background. This makes printing them difficult. If you wish to print a page with your default settings, see if the page has a link at the top called TEXT. If so, follow that link for a printable page.
Thanks for stopping by. Copyright © 1995, 1996, 1997, 1998, 1999, 2000, 2001, 2002, 2003, 2004, 2005, 2006, 2007 The Civilized Explorer. ALL RIGHTS RESERVED.
---