[Site TOC] [Text]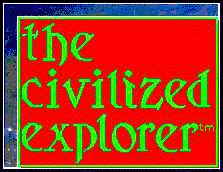 The Civilized Explorer
Restaurant Reviews, 2006
---
St. Barth continues to offer some of the best restaurants in the Caribbean. Restaurants come and go, and so do chefs, so be aware that our reviews are as of the date of our visit in February 2006 and that they may not be valid when you stop by. Sorry.
The exchange rate was 1 Euro for $1.25. We have a complaint for almost all our restaurants: slow service. They appear to be understaffed. On several occasions, our bill was wrong. Be sure to read it line by line, as the errors were usually in the restaurants favor (but not always).

---
Top rated restaurants
El Sereno
We had dinner here after a week on the island, and it was our best meal to that time. We had a duck filet and a beef filet, wine, water, and deserts for 140 Euros.
Service was good, but tended to be slow. The location of the restaurant is on the beach at Grand Cul de Sac, and we got to hear the waves lapping on the beach (as well as rain tapping on the roof and decking, but that's another story). The view is very nice, and we would recommend this restaurant for lunch as well.

Carl Gustav Restaurant
We had not eaten here in several visits, so we made reservations after having sunset drinks on their patio overlooking Gustavia. Service was formal without being unfriendly or stiff; our waiter suggested wines for our meals that hit the spot. We had beef, fish, three glasses of wine, water, and a dessert for a total of 129 Euros. The view overlooking the harbor and downtown Gustavia was nice (we were right on the railing, so we had a good view). There appeared to be sufficient staff to keep up with the customers, and we never felt that we were kept waiting.

Good restaurants
Eddy's
We both had the porc medallion, which was very good, and a salad. Service was attentive, and we enjoyed our visit. With water and two planteurs, we paid 57.50 Euros.

Le Repaire
We had lunch there on the day we arrived, and it was four in the afternoon, so we wanted quick service and almost got it. We ordered a salad, club sandwich, fries, and four soft drinks, for which we paid 39.80 Euros.

Eden Rock
We had lunch on the beach at Eden Rock. We ordered planteurs for aperitifs and got one planteur and one glass of port, which was promptly exchanged. We both had salads which were good, and a bottle of water brought our bill to 78 Euros. We arrived before the crowd, and service suffered markedly as more people arrived. It is a nice location, and we like the food, but service suffered this year.

Wall House
Service has not suffered at the Wall House; the owner greeted us upon arrival and made sure to wish us well upon our departure. We had the fish brochette (spitted in the rotisserie) and beef, a couple of glasses of wine, and water; our bill was a very reasonable 64 Euros. The fish was brought to the table and fileted. Our waiters were there when we needed them, and the view across the harbor was pleasant.

Do Brazil
We ate here for dinner once and for lunch a couple of times. There is no longer any Brazilian cuisine at all, we are sorry to note; Asian was the in theme this year, it seems. We had sandwiches and salads for our lunches and a couple of chicken dishes for dinner. Our dinner price was 66 Euros for the two main courses, water, and the bar tab.
Our waiter told us there are few customers for dinner because they offer no entertainment (he mentioned that nearby residents always complained of the noise), and we were the only ones there that night (it was raining, though). The restaurant offers a nice view of the ocean over Shell Beach, and we did not mind being the only customers. As he said, lunches were much more crowded and noisy, but the view remained the same, and we thought the food better (although it was the same chef).

Tom Beach
We review Tom Beach elsewhere, and we found ourselves there for dinner, lunch, and drinks more often this year. They had live entertainment at dinner and a good DJ at lunch, and the location is hard to top. Service was hectic, with the staff sometimes yelling at each other for being in the way, and the customers seemed to be mostly Americans, who were also yelling at each other. C'est la vie.

Au Port
We were happy to find that service has not suffered at Au Port. Two women covered the entire room without rush and without delay. We had beef, chicken, water, and two glasses of wine for 59.50 Euros.

Less expensive meals
We review a couple of dozen restaurants briefly at our St. Barth Restaurant Reviews page. You may add your own reviews, upgrade or downgrade ours, and locate the restaurants by geotags on a satellite picture of the island.

Less interesting restaurants
Nikki Beach
Still too trendy for us. For whatever reason, we preferred Le Plage at Tom Beach.

Maya's
We still don't get Maya's. The vegetables were just what we used to get at every diner from Philly to Manhattan, the main courses were not good, and the dessert was not worth finishing.
We had roast chicken, grilled dourade, a couple of glasses of wine, water, and two desserts for a total of 119 Euros. As with most other restaurants this trip, service started out okay, then ground to a halt as the place filled with customers.

La Gloriette
Another restaurant whose popularity we fail to see. We ordered from the fixed price menu which offered us each an entree, a main course, and dessert. The entrees were good, accras and a salad. We both ordered the grilled dourade for our main course. It arrived on a large dish, the fish surrounded by an artfully arranged arc of various vegetables and rice. The fish reminded us of left-over chicken that was microwaved too long: kind of yellow, dry, tough, and rubbery. We could not cut it with our fork, needing the knife to get through the flesh. The sauce chien was good, but there was too little to make the fish edible. We both left about half our meal on the plates. The service was good, though -- the waitress noticed our eating utensils in the 'rest' position and asked if we were finished. We said yes and asked for the check, foregoing dessert. They brought our check, we paid, and left.
Apparently, having half the meal go back to garbage was not unusual enough for comment. We walked around the corner to their outdoor bar and had rhum vanille as our digestif and consolation, enjoying the waves lapping on the beach and the starlit view of the hills around the bay.

Le Gaïac
We used to really like this restaurant; perhaps dinners there are still the remarkable experience we fondly remember. We hope so.
For Sunday brunch, though, the staff is stretched to the breaking point. We arrived about 11:00 am, and there were a couple of other couples there. The buffet was not quite ready, so we had aperitifs (13 Euros each) and a bottle of water (5 Euros). Our meals included coffee (the buffet was 43 Euros apiece). The buffet itself was mountainous and gorgeous, and it was soon demolished as the starting gate was lifted. Most people arrived after noon, and there was no hope of replenishing the buffet as the staff seated and served beverages to the arriving customers. We had all we could eat, some of the food being cooked to order, and enjoyed watching the customers chow down as we waited for our check.

For additional reviews and the locations of these and other restaurants, see our St. Barth Restaurant Reviews page. You may add your own reviews, if you wish. Also see the St. Barth section of our Tag Cloud page for locations of beaches, hotels, and restaurants on a satellite image of the island.
---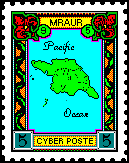 As always, if you have any objections, corrections, suggestions, or questions, drop us a line via Cyber Poste.
The Mraur Cyber Poste stamp is Copyright © 1995 by Jim Felter and is used with his kind permission. For more of his work, please drop by Jas' HomePage.

---
| The Civilized Explorer |

| Site Table of Contents | Portal |
| Help | Search the Site | Copyright, Privacy, and Warranty Information | About us |
---
Some of our pages are presented with light text on a dark background. This makes printing them difficult. If you wish to print a page with your default settings, see if the page has a link at the top called TEXT. If so, follow that link for a printable page.
Thanks for stopping by. Copyright © 1995, 1996, 1997, 1998, 1999, 2000, 2001, 2002, 2003, 2004, 2005, 2006 The Civilized Explorer. ALL RIGHTS RESERVED.
---