The Civilized Explorer
---
St. Barth in 1997
Les Mouettes

Les Mouettes is right on the beach at Lorient, ideal for vacationers who require no more than stepping off their patio to be at the water's edge. The duplex bungalows are brightly painted, air conditioned, and snuggled between the highway and the beach.
The reception area has a fully stocked souvenir shop, and the proprietors are fully conversant in English. There are 7 units, each in a bungalow. Three bungalows are duplex. Parking is available next to the shop. The souvenir shop is called the Boutique Les Mouettes, and in addition to souvenirs, it has works of local artisans, toys, and beach necessities.
The listed rates are 700 francs per night during the season, with additional beds for children at 100 francs; off season rates are 450 francs, with 70 francs for additional beds. Maid service is daily. Each unit has a shower, kitchenette, and balcony. A 30% deposit is required. Telephone +(590) 27.77.91; fax +(590) 27.68.19. No mention is made of acceptable methods of payment.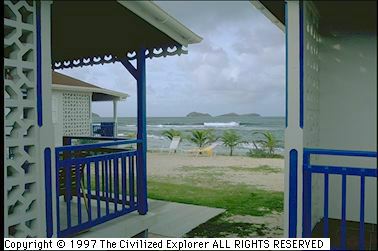 The location can be described in two ways. It is on the beach and very close to supermarkets, a bakery, and restaurants -- handy to everything. Or, you can say the Les Mouettes is right in the middle of everything. It is directly on the road, at an intersection where we were held up in traffic jams, everyone is using the supermarkets, bakery, and restaurants. One of the traffic delays was because of a funeral in the cemetery across the street, and it was difficult getting out of the parking lot onto the street. One of the 7 bungalows backs onto the street; you may want to specifically request one of the others that are directly on the beach. Having said that, however, we liked it and would stay there in one of our future trips to St. Barth. After all, Les Mouettes offers bungalows on the beach, with air conditioning, at a very reasonable rate. And you will always have easy access to fresh chocolate croissants, one of the more important things in life! And remember, even with all the traffic, St. Barth is still very quiet at night.
---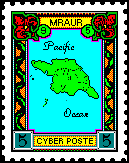 As always, if you have any objections, corrections, suggestions, or questions, drop us a line via Cyber Poste.

The Mraur Cyber Poste stamp is Copyright © 1995 by Jim Felter and is used with his kind permission. For more of his work, please drop by Jas' HomePage.

---
| The Civilized Explorer |

| Site Table of Contents | Portal |

| Help | Search the Site | Copyright, Privacy, and Warranty Information | About us |
---
Some of our pages are presented with light text on a dark background. This makes printing them difficult. If you wish to print a page with your default settings, see if the page has a link at the top called TEXT. If so, follow that link for a printable page.

Thanks for stopping by. Copyright © 1995, 1996, 1997, 1998, 1999, 2000, 2001, 2002, 2003, 2004, 2005, 2006, 2007 The Civilized Explorer. ALL RIGHTS RESERVED.
---