The Civilized Explorer
---
St. Barth in 1997
Le Manoir de Saint Barthelemy
Le Manoir is a guest house on the road from Lorient to Grand Fond. Its sign is easy to miss (you'll need to turn right immediately- as in 1 foot - before the building that houses La Ligne de St. Barth), and it is off the road, down a very narrow way. Parking is at a premium in its lot. The building with the reception area was transported to St. Barth from France, and it was said to have been built in the 17th Century. The bungalows around the garden are all in the same style. Each cottage has a kitchen and a private garden, and the price we were quoted was 600 francs per day for two persons. The staff is courteous, and English is excellent. The beach at Lorient is a few minutes' walk along the road.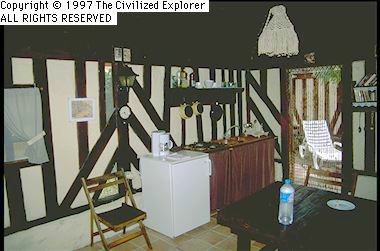 The cottages are very large. There are ceiling fans, but no air conditioning, and all the beds have mosquito nets. We are informed by residents of St. Barth that Le Manoir is in an area known for mosquitoes. Each cottage has a fully equipped kitchen and private bath.
We had the opportunity to see several of the cottages, and their size varied from enormous to merely large. Some were on two floors, all were furnished with large wooden chairs, couches, beds, and tables. The construction appeared to be without a plan, so some units had the bath in the unit itself, some had the bath in a separate cottage, open to the unit's private garden. One unit had a separate shaded area with a hammock. The overall effect was charming, and we intend to stay at Le Manoir when we visit St. Barth again.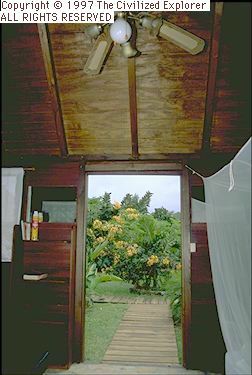 The gardens are lush and beautiful. This is a lovely, tranquil setting. What makes Le Manoir even nicer is that it truly is within an easy walk of the beach, 2 small grocery stores, a great place for hamburgers, and a restaurant. Taking a shower outside in a tropical garden is a special treat; our favorite cottages were those with a separate bath cottage. We plan to ask for Nicolas cottage on our next visit; it has a private garden with table and chairs, a kitchen on the porch, an outdoor shower for rinsing off sand, and a separate bath with a shower looking onto another private garden corner. The room itself is relatively small, but has 2 doors opposite each other that each open onto the garden. Pure delight!
No meals are included in the price. Cleaning is offered every four days. Let them know when you arrive, and you will be picked up at the airport, although you will have to arrange for your own transportation while on St. Barth. A 25% deposit is required, and it seems that credit cards are not accepted: checks, travellers checks, and cash are listed as means of payment. The listed rates are 200 to 350 francs, single, 400 to 600 francs double in season; 150 to 250 francs, single, 300 to 500 francs double, in the low season (15 April to 15 December). Telephone +((590) 27.79.27; fax +(590) 27.65.75. Email is lemanoir@wanadoo.fr.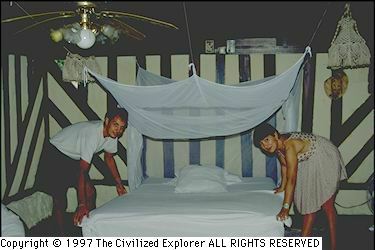 ---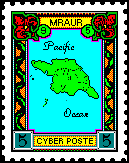 As always, if you have any objections, corrections, suggestions, or questions, drop us a line via Cyber Poste.

The Mraur Cyber Poste stamp is Copyright © 1995 by Jim Felter and is used with his kind permission. For more of his work, please drop by Jas' HomePage.

---
| The Civilized Explorer |

| Site Table of Contents | Portal |

| Help | Search the Site | Copyright, Privacy, and Warranty Information | About us |
---
Some of our pages are presented with light text on a dark background. This makes printing them difficult. If you wish to print a page with your default settings, see if the page has a link at the top called TEXT. If so, follow that link for a printable page.

Thanks for stopping by. Copyright © 1995, 1996, 1997, 1998, 1999, 2000, 2001, 2002, 2003, 2004, 2005, 2006, 2007 The Civilized Explorer. ALL RIGHTS RESERVED.
---