The Civilized Explorer
---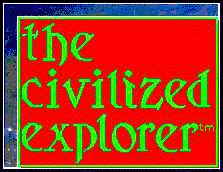 Fantasy Weekend in St. Barth
part deux
---

The fantasy continues, with information on restaurants, shopping, and beaches.
Restaurants
Please note that longer restaurant reviews are available for reasonable meals and costly meals.
Gustavia
Use the Carl Gustaf for room service, but don't eat in the restaurant; you can find better service elsewhere. Our favorite restaurants in Gustavia are:
The Wall House
Telephone: 27 71 83
dinner from 6:30-10:00 pm
VISA, MasterCard, Amex
Excellent service, wonderful view of the harbor. This restaurant provides quiet, attentive service with wonderful presentation of the meal. This is the only restaurant we make a point to eat at on every trip.
Au Port
Telephone: 27 62 36
dinner
VISA, MasterCard, Amex
A great French and Creole restaurant within walking distance of the Carl Gustaf (although you may want to call a cab for the uphill, return trip). This restaurant used to have a great view of the harbor until the Post Office was built, blocking the view. Go figure.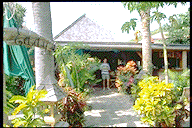 Eddy's Restaurant
Telephone: not listed
lunch and dinner
VISA
This restaurant is in a delightful garden setting and does not publicize itself too much. French and Creole food and good service. Many clientele from sailboat charters (not cruise ships!!!). It is not well labeled, but it is directly across the street from Le Sapotillier, near the anchor and the church.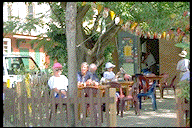 Le Select
Lunch and dinner in an alcoholic haze
We have not eaten here; but many, many people do. It is popular, legend has it that it was started by Jimmy Buffett. He still performs impromptu concerts here, on occasion. Le Select can be considered the center of town; it is certainly one of the busiest places, close to the docks for the yachts and many shops, including Little Switzerland. Beer and cheeseburgers are the meal of choice. We guess they probably have Coca Cola too, but we've never seen people consume it.

La Cremaillere
Telephone: 27 82 95 (but you probably won't need reservations for lunch)
lunch and dinner
VISA, Amex
This is a courtyard restaurant tucked away behind shops. It is a cool, shady place for lunch that has superb chocolate fondue for dessert. (We had it twice on our last trip) La Cremaillere also sells flavored rums (soaked with vanilla beans, coconut, oranges, mangoes, etc. that are delightful) for about $20 a bottle. Very good. It is very close to the La Perla shop, if you have been busy buying lingerie.
Le Saladerie
Telephone: 27 52 48
lunch and dinner
VISA, Mastercard
This restaurant is popular among locals. It is on water's edge on the harbor and is actually not one of the more expensive places on the island. However, the food is good, the view is nice, and it's a good place to hear more French spoken than English!
Grand Cul de Sac
Your primary choices are hotel restaurants. We have enjoyed L'Indigo at the beach of Guanahani, the West Indies Cafe (27 64 80) at the Sereno Beach Hotel, and the Marigot Bay Club (27 75 45) on the beach of Marigot Bay. In the hills behind Grand Cul de Sac is L'Hostellerie des 3 Forces (27 61 25) , a small hotel with a delightful restaurant. Good service and food, with a nice view.
Shopping
Gustavia
Ooh, you have delivered yourself into a French, duty-free shopping paradise. Since this is a fantasy weekend, we will not burden ourselves with the mundane, but only the truly magnificent purchases that can be made. Designers include Dior, Rolex, and so on.
Jewelry - Little Switzerland, Oro del Sol, Donna del Sol, Cartier, Fabienne Miot, a designer of custom pieces
Watches - Little Switzerland, Carat, Fabienne Miot
Clothes - Stephane and Bernard (they carry Emmanuel Ungaro, Yves Saint Laurent, Louis Feraud, Kenzo, Sonia Rykiel, Giorgio, Thierry Mugler, Escada, and others), Hermes.
Lingerie - Sorelina (They carry La Perla; stop by just to look. It's gorgeous stuff!)
Perfume and Cosmetics - Privilege
Cigars (including Cuban) - Le Comptoir du Cigare
Beaches
We also have a longer discussion of beaches.
Gustavia
From the Carl Gustaf, the best beaches close by are Baie de Saint Jean and Anse de Gouverneur. Take a taxi to either (be sure to arrange for your return beforehand). In Saint Jean, you can easily get lunch on the beach (at the Eden Rock Hotel or the Tom Beach Hotel). This beach is topless and can feel crowded if there are cruise ships are in port. In Gouverneur, bring along a box lunch that you have thoughtfully requested from the Carl Gustaf the day before. There are no facilities at Gouverneur, fewer people, and there is some nudism on the beach.
Grand Cul de Sac
Get real, Grand Cul de Sac is nothing but beach! Enjoy, you don't need to travel at all.
---
|The French West Indies|

|The Civilized Explorer|
---
Copyright © 1997 The Civilized Explorer. ALL RIGHTS RESERVED.