---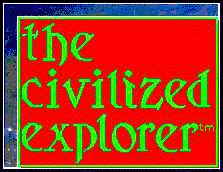 The Civilized Explorer
Fantasy Weekend in St. Barth
---

Surprise your significant other with an escape from reality in St. Barth. Something to celebrate? Looking for a unique way to propose marriage? Simply need to get away? We've worked out all the details for you. Just follow this recipe to create a wonderful memory for both of you:
Reserve a flight to St. Maarten via American and then to St. Barth via Trans Helico.
Reserve a suite at the Carl Gustaf Hotel or the Guanahani Hotel.
Go and enjoy fine food and wine, exquisite duty- free shopping in Gustavia or beach lounging in Grand Cul de Sac.
Return home and gloat to all your friends!
Reserve flights
Get thee to New York (JFK), Miami or San Juan; these are the gateway cities to the Caribbean for most travelers. American Airlines is the carrier to St. Maarten; use them. American has daily flights from JFK (about 9:00 am), Miami (about 11:30 am) and San Juan (about 10:00 am and 1:30 pm). Because the airport is so small on St. Barth, you must fly there from San Juan or St. Maarten.
You will most likely arrive on St. Barth just at dusk. Talk to your driver to learn his or her view of the island and unwind in your room with room service for dinner and Ti Gourmet, Discover St. Barth, and Tropical to plan your activities on the island. These are all free publications available at the airport and your hotel.
(Prices are as of 1997.)
American Airlines 800-433-7300
AirCharter.com offers charters, but unfortunately not to St. Barth -- their aircraft are too large. From San Juan to Queen Juliana Airport, charters for two persons with "heavy" luggage range from US$3,715 for their smallest jet to US$26,259 for something a little more luxe.
Reserve Hotel
We recommend you stay at the Carl Gustaf in Gustavia or the Guanahani in Grand Cul de Sac. The choice depends on your goal. Gustavia offers superb duty-free shopping, marine excursions, and wonderful restaurants. Grand Cul de Sac offers hotels on the beach, quiet, and wind surfing. If this trip involves purchasing an engagement ring, stay in Gustavia.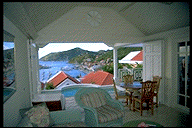 Carl Gustaf
800 9-GUSTAF in the US
Telephone: +590 27 82 83
FAX: +590 27 82 37
The Carl Gustaf offers packages and they have a honeymoon suite (hey, it's not required that this be your actual honeymoon, is it?). Off season (15 April - 19 December ), a three night stay is US$1500 per couple; in season, the rate is US$2310 (8 January - 14 April) - don't ask about Christmas rates. Trust us, you don't want to know. The package includes transportation from and to the airport, a bottle of champagne, basket of fresh fruit and tropical flowers upon arrival, daily continental breakfast in your room, a candlelight dinner served with champagne in your suite, and a cake for your honeymoon or wedding anniversary. How can you go wrong? Oh, by the way, the Carl Gustaf offers a private swimming pool with your suite at this rate and one of the most romantic views of Gustavia (and the Caribbean, for that matter). It is a magical place. You must have an aperitif in the bar at sunset at least one night of your stay. Direct telephone lines and television are available in your room if you must stay in touch with someone else. We will have several photographs of a typical room and view. We also discuss the restaurant.

Guanahani
Telephone: +590 27 66 60
FAX: +590 27 70 70
The Guanahani has both suites (with and without private pools) and deluxe rooms. Rates in US dollars vary between $230 - $635 a night off- season (22 April - 31 October) and $385 - $810 a night in season (8 January - 21 April). At Christmas, rates are $100 - $150 more per night. This is the perfect place to do nothing, relax, sunbathe, and eat. Guanahani sits right between 2 beaches; if you want a beach hotel, this is the place for you. If you like, you can go windsurfing, walk to wonderful restaurants at nearby hotels, or play tennis. Pets are permitted. No television and no direct telephone lines for those of us wise enough to choose to be unreachable for a few days.
We have more information on restaurants, shopping, and beaches for your fantasy vacation.
---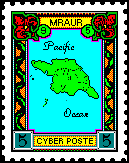 As always, if you have any objections, corrections, suggestions, or questions, drop us a line via Cyber Poste.
The Mraur Cyber Poste stamp is Copyright © 1995 by Jim Felter and is used with his kind permission. For more of his work, please drop by Jas' HomePage.

---
|The French West Indies|

|The Civilized Explorer| Table of Contents |
---
Copyright © 1997 The Civilized Explorer. ALL RIGHTS RESERVED.