[Site TOC]
---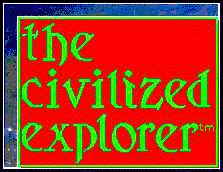 The Civilized Explorer
The Decline of St. Barth
---
Outdated
See St. Barthelemy for current information.

We point out in other pages that we think St. Barth is not the island paradise it used to be. Let us give a specific example. We had dinner at Le Rivage Restaurant one night. We were seated without a reservation at about 7:30 in the evening. Our waiter asked if we would like an aperitif; we declined, and he gave us our menus. We decided on our orders. Louise asked for a salad only as her meal, while I asked for lobster bisque then stuffed crab. Things went downhill from there.
Our waiter brought Louise's salad at the same time he brought me a green soup with a very fishy smell. I was expecting a light creamy bisque with chunks of lobster. I stirred the soup and found no lumps. We tried to remember what else was on the menu, and we decided he had brought the fish soup. I pushed it aside, while Louise commenced her salad. The waiter noticed promptly that I was not eating the soup. "You don't like it?" he asked. I made a mistake here -- I did not specify the problem, I just apologized for not liking it. He whisked it away. Louise mentioned that she would have liked some bread. I could not catch his eye as he rushed from table to kitchen with other orders. The waiter came by on his own within a short while and said that the stuffed crab would be coming from the kitchen shortly. "May we have some bread?" I asked. He repeated, "Your stuffed crab will be coming from the kitchen shortly." Assuming a language problem (perhaps that was why I got soup instead of bisque?), I said, "Du pan?" He leaned on the table with both fists and said, "Sir. I know you are asking for bread. I am telling you your stuffed crab will be coming from the kitchen shortly."
Things were not going well.
He brought bread to the table. Shortly, my stuffed crab came from the kitchen. It had a scoop of white rice molded into a cup-shape along side it. I tried the rice first. It was almost warm, but not quite. Then I tried the stuffed crab. It was cold. The shell was broken. I ate it anyway. The waiter came back. "Is everything all right?" Yes, I nodded. We finished our water, and the waiter brought us another bottle without charge.
The desert menu had looked good, so we decided to chance it. I ordered the chocolate cake with vanilla icing, and Louise ordered a Charlotte du Rivage. The waiter also asked if we would like coffee. We asked for coffee with milk, cafe au lait -- we said it twice. In a short while, a woman came by our table with creme brulee and asked if we had ordered it. No. Then she came to the table next to ours with our desert and asked the couple there if they had ordered it. We raised our hands. The desert was remarkable -- absolutely delicious. The cake was fresh and the icing was along side it in the plate, swirled prettily. When we had finished, the waiter whisked the plates away and brought us two espressos. Louise and I looked at each other -- we decided to drink up and depart.
We asked for our check, noted that we were not charged for the bisque, and gave the waiter a credit card for payment. A man we had not seen before came back with the receipt for me to sign. He gave me the pen, put the receipt on the table, and thumped it with his finger, leaving his finger on the receipt. He stood over me, waiting for me to sign. I did so, and he immediately jerked the pen from my hand, jerked the receipt out from under my other hand, ripped off his copy, and stalked off.
We left and discussed what had happened. This was the worst service we have had in almost ten years of eating in the French West Indies. The cold food was unacceptable. The waiter was worse than incompetent, he was mean- spirited. We decided to complain the next day to the owners, Herve and Jean-Yves. We went by Le Rivage on our way to lunch at Le Toiny and spoke with Herve. We recounted what had happened. He asked if we knew who the waiter was, and he was within sight, so I pointed him out. Herve asked if we would care to have lunch on the restaurant, but we declined, saying we were on our way to Le Toiny. I told Herve that I would write about this experience and recommend that people at Grand Cul de Sac eat elsewhere than at his restaurant, that Le Rivage was a symbol of the decline of St. Barth.
When we got to the restaurant at Toiny, Le Gaïac, the maitre d' asked if I was Mr. Stripling. Surprised, I admitted it. He said someone from Le Rivage had called and would be paying for our lunch.
---
Now let us tell you how service should be provided: Le Gaïac does it correctly.
We were seated by the maitre d'. He asked if we wished an aperitif. We ordered a glass of wine each. Another waiter took our order. Yet another person came by and asked if we had ordered water. Yes, we said, San Pellegrino. He brought it promptly, opened it, poured our glasses, and placed the resealed bottle in a cooler. Our wine was brought to the table on a tray, and the glasses were placed beside us. We asked if the waiter (he appeared to be about the same age as our waiter at Le Rivage, by the way -- early twenties) would take our picture. He suggested that it was better taking our picture outside with the lovely view, directed us to a good spot, photographed us, then escorted us back to our table, and seated us. He came back by shortly with bread and offered us rolls of several varieties. We had drunk some of our water, so he refilled our glasses. Our lunches were served to us. As we ate, our glasses of water were replenished without our asking. Bread was brought round again and offered. Was everything satisfactory? Yes, we admitted that it was. When we finished, our dishes were removed. A waiter came by with desert menus. Would we care to see them? Any coffee? Because we were dining on the graces of Le Rivage, we declined desert and coffee. We asked for the bill; after a short delay we were reminded that it would be paid by Le Rivage.
There were other people in the restaurant with us. Each table was given the same cordial treatment. There were enough waiters that we all received prompt, gracious service without any waiters even walking fast. We chatted with one of the waiters and discovered that he was from Paris, that he liked working at Le Toiny in part because he could see the surfing conditions while serving lunches and could plan his afternoon accordingly, that his girlfriend lived in New York, and that while St. Barth is a pleasant experience for a few months, it does not take long to see and do everything and then be just a little bored. (Remember the age.) We asked another waiter about the pronunciation of the restaurant's name, Le Gaïac. He pronounced it for us (the "g" is a hard g as in "gone," and the pronunciation rhymes with "kayak.") It is the name of a tree; he pointed out the artful illustration of blooming branches around the border of the menu, saying that they were what the tree looked like, and that there was one on the grounds somewhere, but he could not tell us just exactly where.
It was the way things used to be at almost every restaurant on St. Barth.
---
We told the story of our dinner at Le Rivage separately to two residents of St. Barth. Both were very surprised with our story; they have had only good experiences at Le Rivage. The man said I must have reminded the waiter or the cook of someone who had seduced his wife; it was just a bad night. The woman said she only had lunch there, and then only salads, which were hard to mess up. She said it was clear that they were using frozen stuffed crab (without lowering the price, she noted) and that it had not been in the microwave long enough. We believe this latter statement to be correct. It is a sad commentary indeed that a restaurant on St. Barth is serving frozen stuffed crab (and not doing even that well).
---
|The French West Indies|

|The Civilized Explorer |Table of Contents|
---
Copyright © 1997 The Civilized Explorer. ALL RIGHTS RESERVED.