---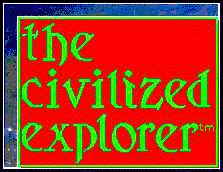 The Civilized Explorer
Martinique -- 2008
---
Overview of Martinique
Our visit in 2008 was not unalloyed happiness. For the first time, we both got sick - an intestinal virus, according to the doctor. The bill for my visit was under 40 euros. (We paid $1.50 for each euro this year.) My symptoms lasted for two days, then Louise was sick for a couple of days. Since we knew what to expect, Louise did not go to the doctor - the treatment is the usual fluids and bed rest.

Quickly Rental Car Aggravates Us
We seem to have a love/hate relationship with rental agencies. The woman we rented our villa from suggested Quickly as a car rental, and its rates were the cheapest. Their booth is in the airport, and we'd arranged for a Peugeot 407 because we had family arriving in a few days and needed the size. We were given a 307; there were no 407s, so call Monday, we were told on Saturday. Nothing more could be done, so we called on Monday and were told to return at 3:00 for our 407. As with all things Caribbean, the car was not ready at 3:00. although it was there. Between the drive from Diamant to the airport, waiting for the car, and driving back, we lost a couple of hours. However, we were charged for the 307 for our entire trip instead of for the 407, a savings of several hundred euros, so we were mollified. Unfortunately, we did not notice till our return to the villa that a lugbolt was missing - the tire is held on by bolts that come out, not by lugnuts that tighten the tire to the wheel as is customary in the U.S. We were told to return for a replacement. Naturally, the agency has no replacement, so someone went for a new bolt. She returned, though, with the wrench for removing the bolts, not the bolt. She made a call to a colleague. After another couple of hours, we were told it is fine as is and to drive it without the bolt. Sigh.

The Weather in Martinique
It rains every day on Martinique. Sometimes a lot. We happen to hit a stormy week, and we had rain several times a day, sometimes torrential and sometimes just sprinkles. As we have noted before, plan for rainy days.

Food in Martinique
Food in Martinique is good; it used to be reasonably priced when the dollar was worth five francs, but this year the exchange rate disfavored us. Most of our favorite restaurants have closed, I'm sorry to say. We recommend Fleur de Sel in Trois Ilets, but be prepared for changes in chefs and owners when you go.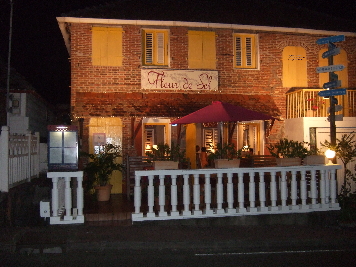 In addition to being sick, our vacation was impacted by an unfortunate incident at Cap Est. This was a totally shocking bit of abuse that wrecked our dinner for me. We have eaten at Le Belem before and enjoyed it. This year, however, was completely different.
Cap Est is difficult to find, so we drove by on a Sunday afternoon to make sure we still had our bearings. There were three women at the desk, and we made our reservation in English for dinner at Le Belem on Tuesday evening at 7:30. We went back on Tuesday; if you have been to Cap Est, you will know that you buzz at the gate and identify yourself before you can enter the property. Louise and I were admitted, parked the car, and went into the reception area. Before we even got all the way in, Madam Ajax commenced her attack on us for not having a reservation at Le Belem. I was shocked. I was not allowed to get in a word of question, because I had no idea what the problem was. Madam Ajax assured us several times that we had no reservation and that the could not dine there because the restaurant was fully booked. I attempted to get a fuller explanation - I assumed our reservation was for another night, perhaps, in a mistranslation of Tuesday.
Madam Ajax assured me that we had no reservation for Le Belem at all, she told us we were outsiders (we were not registered guests of Cap Ests), and that we could not eat at the restaurant. She demanded to know who took our reservation - it turned out on further abuse that the reservation had been written down with our name and the time, but not the day. I had no idea of the names of any of the three women. Madam Ajax continued her harangue that we had no reservation and could not eat at Le Belem. It was clear that she blamed us for the misfortune of not having the day, and she was seeking the name of a staff member for her wrath. Any employee of Cap Est has my deepest sympathy.
Since Madam Ajax had made it clear that we were not going to be eating there that night (or any other), I turned to Louise to ask where she would like to go for dinner, when Madam Ajax asked if we would care to start in the bar or the restaurant. I was dumbfounded. I turned back to her and said something along the lines of 'what?' She smiled and repeated her request: "Would you care to start in the bar or the restaurant." I stutttered a bit, and Louise said the restaurant, and Madam Ajax had a staff person show us downstairs. I was still in a stupor. We had been assured most visciously and repeatedly that the restaurant was fully booked and that we would not be eating there, yet the tables were not full, and the maitre d' smiled graciously and welcomed us to Le Belem and took us to our table.
I asked what was going on. He knew our name and said that when he found he had only a name and time, he reserved at table for us on Monday and Tuesday nights, and that if we had not arrived tonight, he would have reserved a table for Wednesday and Thursday. "There is not problem," he assured us. I have never been attacked with the rage of Madam Ajax upon walking into a restaurant, and I am sorry to say that the memory of it lasted the entire meal.
I got the name of the manager of Cap Est from the maitre d', and I called him later that week. He assured me that he had worked with Madam Ajax for six years without complaint and that if we got our meal, there was no problem. I am very sorry to differ on that. I asked him for the name of the owner of Cap Est, but he declined to tell me, saying that the owner should not be bothered on this matter.
---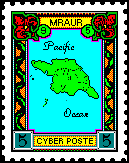 As always, if you have any objections, corrections, suggestions, or questions, drop us a line via Cyber Poste.
The Mraur Cyber Poste stamp is Copyright © 1995 by Jim Felter and is used with his kind permission. For more of his work, please drop by Jas' HomePage.

---
Copyright © 2008, The Civilized Explorer. ALL RIGHTS RESERVED. To print this page from your browser with black text on white, choose TEXT page from the top of this document. NOTE: We use small GIF images on these pages. Larger JPGs are available in thousands and millions of colors from the Photo Pages.
| The French West Indies | The Civilized Explorer | Table of Contents | Search the Site |
---