[Site TOC] [Martinique Table of Contents]
---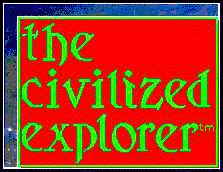 The Civilized Explorer
Martinique Restaurants 2007
We at at lots of restaurants on our 2007 trip, and we list a few of them here. Most restaurants on the island are creole, and we miss the gastonomique restaurants of previous trips.
As we re-learn every year, restaurants change without notice. Not only do they disappear, but the ones we liked change for the worse. Keep this in mind when you visit a restaurant that we liked and that you hate.
Gastronomique Restaurants
On our other trips to Martinique, we were able to locate several gastronomique restaurants, which excel in both food and service. This year, we found only one remained that we could contact by phone - La Plantation. As we mentioned on our last trip, it is very difficult to find, and we recommend getting them to fax the map to your hotel for you. If you are arriving after dark, drive carefully and safely. Our food was good, as was the service, and the chocolat fondant was excellent. [PUT PHOTOS HERE] We had a bottle of wine, filet of sole, coquille St. Jacques, water, and dessert for 142 euros.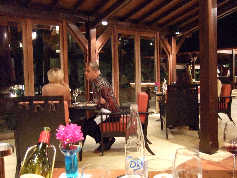 Our other gastronomique excursion was to Cap Est in Le François. This is an all- inclusive resort and spa which is outside the town, so be sure to get directions. It is rather easy to find, but you need the directions not to miss the turn-off. There are a couple of restaurants, and you want Le Belem. You will need to be buzzed in, and you will need reservations. It was a memorable evening, but not for reasons the staff would have wanted. We had a bottle of wine, a bottle of water, with one dessert. Louise had the full menu, and I had separate dishes, both beef, which was quite good. Our price was 194.50 euros. This was our best meal of the trip. The service started out excellent. We always arrive earlier than most of the people, and we had three people attending us, all fluent in English. As time passed, the restaurant filled, and three staff were no longer enough, sad to say.
One of the waiters was comical in his earnest incompetence, reminding us of Basil Fawlty, without the anger and meanness. There was a large family across from us, maybe a dozen people, and they all ordered dessert. This waiter served them, and knocked over an ice cream parfait into the lap of one of the women. He apologized profusely, and he and another waiter cleaned up the mess. Unfortunately, he knocked over another customer's glass of water while cleaning up the ice cream. Generally, he rushed around at high speed ineffectively. When he brought our desert, he came from our left, glanced at our table, and walked right on by. He came back again from our left a minute later with our desert and the silverware he'd forgotten the first time. The other two staff members, a man and a woman, appeared to have no problems.

We recommend both La Plantation and Le Belem if you go. At Le Belem, we had a bottle of wine for 70 euros, and the full menu was 70 euros; if you order a la carte, you can lower the cost of the food by half.
Good Restaurants
We found some restaurants we thought were good. Ti Paradis in Ste. Luce was a short walk from our bungalow, and we ate there several times because it was good. A typical meal was an alcohol-free juice cocktail, glass of wine, and bottled water, along with a goat cheese salad and poulet coco for 49 euros. We recommend Ti Paradis.

As we have mentioned before, we enjoy eating in foreign restaurants in foreign countries, and this year we dined at La Case Thaï. The restaurant is in the Poterie Quartier outside Anse Mitan. Even though we knew where the Poterie was, we still had difficulty finding the restaurant, driving over very rough dirt roads a few times as we searched. The restaurant is in a house, with dining on the veranda. Lots of scented candles (ours was full of cigarette butts) and statues of Buddha; lots of well- dressed diners. We each had a cocktail, bottled water, two main courses, and one dessert, totalling 61 euros. The dishes, as we recall, were traditional Thai dishes, and we can't recall them now. Good, but not memorable. Not as memorable as the horrible roads and the well-to- do clientele.
La Vague du Sud was a confusing restauant in Ste. Luce. It is a seafood restaurant on the street that faces the beach. But on the other side of the building, on the main street of Ste. Luce, the restaurant is the Steakhouse. Both sides of the building have steps up to the second floor, and you end up in the same room. One of us was given the menu for La Vague du Sud and the other received the Steakhouse menu. One of us ordered steak, and we originally thought it was enough for three persons. The cut of beef had bone and fat still attached, though, and it was enough only for two. Seriously. It came with tomate du four, tomato slices broiled with cheese. The steak and the tomatoes were excellent. We recommend this restaurant. We had two small pitchers of wine, a bottle of water, the steak, and a goat cheese salad for 46 euros.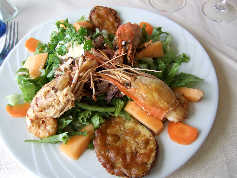 We asked for recommendations, and Coté Sud was high on the list. We ended up having lunch there. It is rather out of the way in Trois Rivieres, with a view of the Caribbean. We had a lobster salad and a Salade Coté Sud, water, and a half-bottle of wine for 42.05 euros (yes, that .05 was from the water at 3.05 euros). The Salade Coté Sud was memorable more for its appearance, and as a whole, the meal was overshadowed by the guy who lived across the street accusing us of dinging his car. If you go, be careful where you park.

Pointe du Boute
Generally, do not eat at the restaurants there. We had dinner at La Marine, a restaurant we have been happy with in times past. Our waiter took our order, came back to confirm it, and had it completely wrong. He brought the wrong wine. We had dourade (bad) and a pizza (not good), but the service was not bad. Dinner at Nuevo Mejico, a purported Mexican restaurant was also not good, although better than La Marine, and the service was not good. We did like La Grange, though, so keep in mind our generalization is just that.
Les Anses d'Arlet
Anses d'Arlet is a nice beach-side town with several restaurants on the street facing the beach and on the beach itself. Quality varies widely. The Havana Club and Restaurant Bidjoul had reasonable food at reasonable prices. Le Mangeuer and Chez Fab and Claude are two restaurants right on the beach. Le Mangeuer was a house with utilities, while Chez Fab and Claude was in a shed with dishes made ahead of time and heated in the shed. Claude was a great guy. He gave us "the" menu (there is only one, and you will see why), which had a clear plastic overlay with red marks in grease pencil. Each mark represents the number of dishes remaining of each item. When you order, he removes a mark with his finger. Serge ran around taking orders and delivering the food. Fab was in the shed heating the clingwrap- wrapped dishes in an oven. An elderly lady stood at a sink behind the shed washing dishes. Claude accepted cash only.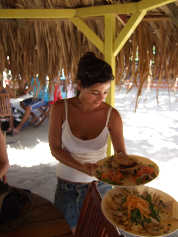 Ti Sable was a nicer restaurant with tables inside or out by the beach; they provide transats (chaises) and umbrellas for their customers and serve right on the beach all day. We had a couple of planteurs, a bottle of water, salads for lunch, and a couple of deserts for a total of 51 euros.
All the restaurants were empty at noon when we arrived, and filled completely by about 1:00.

---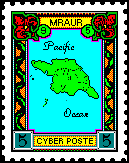 As always, if you have any objections, corrections, suggestions, or questions, drop us a line via Cyber Poste.
The Mraur Cyber Poste stamp is Copyright © 1995 by Jim Felter and is used with his kind permission. For more of his work, please drop by Jas' HomePage.

---
Copyright © 2007 The Civilized Explorer. ALL RIGHTS RESERVED.
| The French West Indies | The Civilized Explorer | Table of Contents | Search the Site |
---