[Site TOC] [TEXT page] [Martinique Table of Contents]
---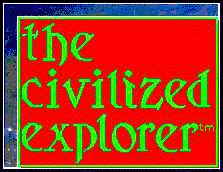 The Civilized Explorer
Martinique 2002 - Restaurants
---
2007 UPDATE: We could not reach La Mouïna by phone, it was not listed in the current directory, and no one we talked to had heard of it. The restaurant formerly at Anse Noire no longer exists; the structure has been removed. Le Regal de la Mer was closed on the several days we went by it; it was Carneval, so we don't know if it will be open at some time. See our Table of Contents for updates for 2007.
NOTES: At the time of our visit, the euro was floating around 0.90 per dollar. We give telephone numbers, but confirm them at the time of your visit; France Telecom has changed numbers in the past. Although our credit card worked almost all the time, sometimes it was only with repeated attempts and much sighing. On occasion, nothing would work -- not any of our credit cards. We suggest that you presume you can pay with plastic, but be prepared to pay in cash if you have bad luck with the machine. Finally, we hope the restaurants still bear some resemblance to our experience when you visit, but that may not be the case. Restaurants close, get sold, and hire new chefs with distressing frequency. If you are in a hotel or have access to local opinion, ask before you plan a special evening -- we have gone to favorite restaurants all too often to find them closed or -- worse -- under new and horrible management since our last visit a year or two earlier.
---
World-class restaurants
Although most restaurants on Martinique are creole and geared toward local tastes and prices, there are several world-class restaurants with prices to match.

La Mouïna
La Mouïna is truly world-class, having played host to an American president in addition to presidents of France. It is located on the Route de Redoute, and it is difficult to find. The restaurant is behind a fence in a home in a residential area; our best advice is to get directions and to know that at the time of our visit, it was across the street from a pharmacy. Parking is in the yard, and you walk through the house to the back porch to dine. The porch is surrounded by gardens, although we could not see much in the night.
Our hostess was the very refined and elderly owner, Madame Magdeleine Karchesz. She spoke English and offered us menus in both English and French. We had entrees for 10 euros each, the entrecote for 23.50 euros, and the cote de boeuf for 36.75 euros. With a bottle of wine and a dessert, the total was 120 euros. There were a couple of business men and two couples other than us on the night of our visit in mid-week. In addition to our hostess, a waitress kept an eye on all of us quite competently, never letting any wine or water glass go unfilled, and promptly appearing to take care of any needs without being called.
The portions were huge, and neither of us managed to eat more than half of our servings of meat. Madame Karchesz came by when we had put our eating utensils in the "finished" position (cued by a nod from the waitress); when she saw our leftovers, she gasped and looked terribly grieved. We apologized profusely and hastened to assure her that everything was wonderful but too much. We spoke to the waitress later about the portions, saying one order for two persons would have sufficed, and we chuckled over Madame's performance -- apparently it happens quite often. Although tips are included in the prices of meals in France, we left a separate tip for the excellent service our waitress provided, and she thanked us.
At the time of our visit, the telephone number was 79 34 57. The restaurant was not anywhere near full on our visit, but if you are going on a weekend, we would advise reservations.

Le Chateaubriand
Le Chateaubriand is the restaurant in the Sofitel Bakoua in Trois Islet. This resort hotel seems to be very popular with the French, and it was clear why. Although we will not review the hotel here, it appeared to us to be an excellent value if you want a resort lodging in a resort town with all your cares tended by an attentive staff. We had dinner reservations, and they were necessary even though we ate during mid-week. All other customers appeared to be guests, and we were presumed to be as well. We received menus in French, but the staff spoke English well enough that we do not think non-French readers will be left in the dark.
One of us thinks the service was not bad, the other thinks it was bad. (This means we did not think the service was good, by the way.) The restaurant is set up to serve all its guests more or less at once, and the staff is rather more oriented towards efficiency than service. We ordered a bottle of wine and tried to wave off the tasting, saying we were sure it was fine, but the waitress refused to budge until it was sipped and accepted. Our table (and several others) had one leg that was remarkably short, and our waitress folded a card over several times until the table was less unsteady. We arrived about 7:30 and were alone in the restaurant section of a large open area. Soon the guests of the hotel surrounded the bar and began having aperitifs and chatting before moving all at once to the dining area about 8:00. All of the tables had cards on them denoting who they were reserved for. Most of the guests seemed to be families with teen-aged children, all well-behaved; there were some couples at tables, appearing to be in their forties and older. Our surmise is that this is a hotel for successful families, but some couples are going off on a trip to have some time alone together. About a quarter to eight, a couple of men arrived and set up their equipment and began performing during the meal. A dance area was empty in front of them throughout the time we were there; perhaps after the others had eaten, some danced.
The food was excellent, gazpacho soup and a filet mignon for each of us. The sauce for the beef was marvellous. We also had a half bottle of Cote du Rhone, sparkling water, and dessert for a total bill of 91.47 euros. The restaurant overlooks the harbor of Forte de France and that city's lights sparkle across the water quite nicely. There is an infinity pool outside the restaurant for a (short) romantic stroll before or after dinner. At the time of our visit the telephone number was 66 02 02, and we do recommend reservations regardless of the day of the week -- all the guests seem to eat there every night.

La Plantation
La Plantation is in Le Lamentin, and it too is difficult to find. If you have access to a fax machine (at your hotel for example), ask to have a map with directions faxed to you. Although a sign at the last turn says "400 m," we thought it much further -- you will climb a hill and bear right to the restaurant. We ate mid-week and were the only ones there for most of the time; eventually, another couple came in.
The restaurant is part of a small hotel located in a residential area. You will be seated on a porch surrounded by manicured lawns and a garden with a small stream meandering through the grounds.
The food is quite good. We had salmon and what was described as pork lasagna. This latter dish was pork medallions and sausage under several layers of the pasta used in lasagna, with an excellent sauce -- somewhat spicy, but not overly so. We ordered desserts as well, which were also good. Our total cost was 97.65 euros, but 40 euros of that was for a bottle of wine. Our waiter spoke English well enough to help us with a couple of questions. The telephone number was 50 16 08.

Moderately priced restaurants
There are perhaps a dozen outdoor restaurants at Saline Beach, which may be Martinique's most popular weekend destination. The restaurants are run from large vans with kitchens in the cargo area. The owners may tie a tarp to surrounding trees, and they will set up tables and chairs for their customers. The food is good, but rather lower in quality than in the restaurants we list below. Given the convenience of a full meal with wine or beer at the beach, we think we got value for our money. Expect to pay cash, as these businesses are unlikely to accept credit cards.

Sable d'Or
The Sable d'Or is a good restaurant on the hill near parking for Anse Dufour. The owner is anxious to please, and the food and view are rewarding. We had chicken, entrecote, a soda, a juice, and bottled water for 26.53 euros. If you want a table at the front of the serving porch, make a reservation for lunch ahead of time; telephone 68 62 97.

Anse Noire
We do not really know the name of this restaurant. It is on the beach at Anse Noire, and the owner is fluent in English. He also seems to be a wood engineer at heart. The menus are crafted from bamboo, each a different motif. If you have a large table of people ordering drinks, they are served in a bamboo cart with wheels, so you can roll everyone's order to them. The restaurant is under a thatched roof made by the owner, and the ground is the volcanic sand. We had a dog or two snoozing under the table, and a cat wandering around. The food is good, but not as memorable as the woodwork (see the toilets especially) and the owner.

La Villa Créole
This restaurant is in Anse Mitan, near several other restaurants. The claim to fame of La Villa Créole is that its owner plays guitar and sings most evenings about 9:00 o'clock. We regret to say that we missed his performance on the night of our visit. We suggest reservations (66 08 56), as he draws quite a crowd as performance time nears, with several large groups. We had lobster ravioli and a seafood casserole, four glasses of champagne (40 euros), a bottle of water, and desserts. Our bill was 87.66 euros, counting the champagne. The food and service were good, but we have some hesitation about what it is like when the place gets really full.

La Regal de la Mer
This restaurant is across the street from La Villa Créole, and we preferred their dining. We had an excellent breakfast there as well. We ordered three eggs scrambled to be shared between us, coffee, and fresh juice. We were served bread along with it. It was an excellent eye-opener on our first morning at Anse Mitan before we had a chance to buy our makings for breakfast in our kitchenette. We had dinner there twice, once for 21.79 euros (two salads and a bottle of water), and once for 30.19 euros (a soda, a pitcher of wine, and two main courses). The food is good, and it is beautifully served with plant leaves and other dressing in addition to the food.

Grill Palm Beach
This is at the Palm Beach Hotel, and it turned out to be our favorite restaurant in Diamant. We ate supper there twice, in fact, and thanked the chef both times. The owner speaks some English, but the waitress was very limited, so we suggest bringing your menu translator if you need one. With a couple of drinks, a bottle of water, and dessert, one meal came tot 45.85 euros, and the other was 32 euros. Our main courses included dishes of chicken, seafood, and beef, and we enjoyed every bite.

Poï et Virginie
We like to eat in foreign restaurants. Poï et Virginie holds itself out as a Mexican restaurant in Ste. Anne. It is a treat to order Fajitas Poulet and Fajitas de Boeuf. Along with a half bottle of Cote du Rhone, a bottle of water, and dessert, our bill was 35.51 euros. The meal was okay, and the service was almost okay (slow and the waiter brought the wrong wine and opened it before we saw the label). We know of others who recommend the restaurant; we do not think it is the best restaurant in Ste. Anne.

Diamant Les Bains
Our hotel in Diamant had a restaurant that obviously was in favor with the locals. We had lunch there for 35.37 euros; we had a soda, a salad, vivanneau, and beef. The staff speaks English, but there is a definite limit on parking spaces, even for guests of the hotel.

Quai Sud
This restaurant is at the northern end of the beach at Les Anses d'Arlets, so why it is called Quai Sud is left as a mystery. We went there for the beach chairs (transats), which the beach boy said were available for customers of the restaurant. "No problem," we said; "put us down for lunch for two." Although he said his English was not good, it was. He brought us coffee, an umbrella, and did the same service for others. When noontime came around, we went onto the porch and were seated near the rail where we could see the beach. Our chairs were billed to us at 60 centimes (0.60 euros). We ordered seafood and a sandwich ("East Coast," it was called). Our meal was good, although the service was rather slow because of the influx of people from the beach with children and in-laws in tow, taking forever to get organized and ready to order. With a soft drink and dessert, along with beach service, the total was 51.68 euros.

---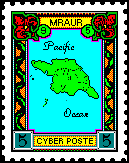 As always, if you have any objections, corrections, suggestions, or questions, drop us a line via Cyber Poste.
The Mraur Cyber Poste stamp is Copyright © 1995 by Jim Felter and is used with his kind permission. For more of his work, please drop by Jas' HomePage.

---
| The Civilized Explorer |

| Site Table of Contents | Portal |
| Help | Search the Site | Copyright, Privacy, and Warranty Information | About us |
---
Some of our pages are presented with light text on a dark background. This makes printing them difficult. If you wish to print a page with your default settings, see if the page has a link at the top called TEXT. If so, follow that link for a printable page.
Thanks for stopping by. Copyright © 1995, 1996, 1997, 1998, 1999, 2000, 2001, 2002, 2003, 2004, 2005, 2006, 2007 The Civilized Explorer. ALL RIGHTS RESERVED.
---