[Site TOC] [TEXT page] [Martinique Table of Contents]
---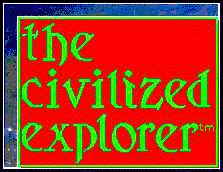 The Civilized Explorer
Martinique 2007
---
Overview of Martinique
We were pleased with our trip to Martinique this year. We had been disappointed with our experiences on Guadeloupe in 2005, and Martinique seems to have avoided the problems of its sister island in the French West Indies. We did have a problem with lost luggage this year. We flew down on Delta's new non-stop jet from Atlanta, and all the bugs are not yet ironed out. This is not a problem related to the island, of course, but it aggravates nonetheless. We planned our arrival for Carneval, and we enjoyed the parades immensely. See the Table of Contents for links to photos and videos, which we still (as of March 6) are getting together and put online.

Our weather
We have noted before that it rains every day on Martinique. We were not as troubled this year by mosquitos, though. Our first lodging did not have air conditioning, and we slept with the windows open. We used mosquito coils at night, but we are not sure they were necesssary. We did get a few bites over our two-week stay, but we were not troubled by the bugs. We tried to climb Mont Pelee, but we gave it up. It was completely clouded over, so there would have been no view if it were not raining, but it did rain with great frequency. We would think the rain had stopped -- it had stopped, but in ten or fifteen minutes, it would start pouring again. We retired to the snack bar and dried out before driving back to our hotel.

English speakers on Martinique
We ran into a couple at a restaurant in Le Marin who were from Florida, and one of our waitresses was an expatriate from Texas, but we heard no other native English speakers on this trip. Our limited French and the limited English of whoever we spoke with got us by just fine. Both our lodging places were hosted by people who were as fluent in English as one could hope. We still recommend taking a Berlitz French/ English Dictionary or similar guide with a good menu translator with you, but we think it is probable that you will be accommodated at most restaurants and hotels with someone who has some knowledge of English.

Food and lodging
There were fewer gastronomique restaurants this year. More and more, the restaurants are creole, with some French dishes on the menu.

Our first stay was at Domaine De L'Anse Ramier near Anse a l'Ane. We had basically a large room with a small kitchen room and a small bathroom. The bath had a shower in a tub. The kitchen had a stove top and a real oven, with no microwave, and a refrigerator.
There was a pleasant patio with great views over the Caribbean for sunsets. See our photos on Smugmug. The large room had a table with four chairs (and the patio did, too), a sofa, a few lamps, a wardrobe, and a TV. There was no air conditioning, but the room was open to the all-day breezes on the hillside, and we never felt the need for air conditioning. The staff was fluent in English and very helpful as we tried to track down our lost luggage.
We received no service, though, during our week's stay. We do not remember if this was promised in our agreement, but no one cleaned the room or changed our towels and sheets while we were there.
The lodgings were a short drive from a Huit-a-Huit (small convenience store) and the beach with a couple of restaurants.
Next we stayed at Brise Marine in Ste. Luce. Tis is a group of bungalows literally a few steps from the beach at Gros Raisins. We had a living room/kitchen combination, bedroom, bath and patio. The two rooms were air conditioned, but it ran only between 7:30 pm and 6:00 am. The kitchen had a refrigerator, stove top, and a microwave. Our bungalow was cleaned daily, and we had several changes of linens during our stay. The owners have been there three years; Didier is a little slow in English, but his wife, Nathalie, is fluent. They let us use their office computer for email, saving us a few dollars at CyberBase.
The bungalows did not profit from the breezes blowing in off the bay, but there is a very pleasant garden with adequate shade where we spent any hot time without suffering from the heat. The shade is provided by coconut trees, and we were frequently startled by branches falling to the ground or coconuts hitting with a thunk. Be careful where you put your chaise - look up for things that will fall.
Brise Marine is a short distance from downtown Ste. Luce, and we often walked in for dinner and shopping at several of the local stores. In addition to a grocery store, there are several bakeries, a tourist office, hardware store, and clothing stores. Many of the restaurants are right on the beach and get good breezes at noon and night. Some of the trees on the path to town (and on the beach) are mancineel, so be careful if you get caught in one of the frequent showers.


Beaches
We stumbled upon a few beaches of interest on the Atlantic side, this year. Just north of Îlet Chevalier (also called Îlet Lézards) and Pointe a Pommes, you will find Anse Michel and Ance au Bois. Both beaches are on the Atlantic coast but well protected from the surf by off-shore reefs. Both have sunny beaches with shaded areas behind them. There is a nearby creole restaurant, rental facilities for wind-surfing, and toilettes.
The beach at Anse Noire used to have a hotel and restaurant on it. The restaurant has been completely removed, and the hotel is now rental units no longer open to the public.

---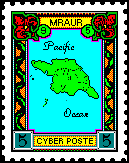 As always, if you have any objections, corrections, suggestions, or questions, drop us a line via Cyber Poste.
The Mraur Cyber Poste stamp is Copyright © 1995 by Jim Felter and is used with his kind permission. For more of his work, please drop by Jas' HomePage.

---
Copyright © 2007, The Civilized Explorer. ALL RIGHTS RESERVED.
| The French West Indies | The Civilized Explorer | Table of Contents | Search the Site |
---