[Site TOC] [Text]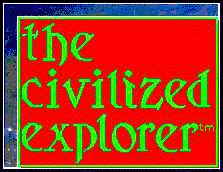 The Civilized Explorer
The Beaches of Les Saintes
We spent a week on Terre de Haut in April 2000, and we explored every beach on the island. It was tough work, but well worth the effort. Getting to the beaches can be a long hike, with steep hills, so we recommend renting a scooter. You can rent for the day, for 24 hours, or for several days. Gasoline is included in the price, although if you rent for several days, you must arrange to return to your rental place for refills -- there are no gas stations on the island.
---
Plage de Pompierre
The best is first. Plage de Pompierre is a nice, long, wide beach. It is protected almost all the way around it by a curving peninsula of land, leaving the water calm and clear. The beach is very well shaded, with lots of gazebos for picnics. Although we did not snorkel, apparently it is good there, with coral in easy reach from the beach. Our map was marked to show the little bay to be a reserve with anchoring prohibited. There were, however, boats anchored there every day we visited.
The fringes of the beach are interesting to explore, with rocks harboring all sorts of shell fish (it is a preserve, so look but do not take). You can get to the plage by road or by hike along the Trace des Crêtes. Although there are several gazebos, the restrooms were locked shut (and smelly) on our visits. This seems to be the most popular beach on the island, and there are several vendors on the road outside the gate to the beach area selling everything you need for the day: food, drinks, fresh fruit, and souvenirs.
The only distraction for the beach is that it is overrun with goats. We saw a boy of about 10 being robbed of his sandwich by a nanny. Everyone sort of enjoyed it, but he did lose his lunch. The goats then had a tussle among themselves for the remains. We saw several people shooing goats away from bags that apparently had food in them. If you bring food, bring it in something with straps that you can hang from a tree or gazebo. Otherwise, be prepared to fight with the goats till you eat.
Anse de Crawen
This is perhaps the most remote beach on the island. On our first trip we walked from Le Bourg to Crawen in the morning and then had lunch at Hotel Bois Joli on our way back. Bring water and anything else you need, as there are no facilities or vendors at Anse de Crawen.
On our first trip, there were signs prohibiting bare bathing, but the signs were ignored. We were told a year or so ago that the local police were ticketing people for nudity. In April of 2000, there were naked people at both ends of the beach and clothed people in the middle.
Frankly, nudity is the only draw we can see for the beach. The sand is almost entirely missing, leaving large rocks to try to pick among on your way to the water. What beach there is is very narrow. If your goal is to lay out on the beach and enjoy the sun, go elsewhere.
Les Bois Joli
This beach is taken entirely by the Hotel Bois Joli, although you do not have to be a guest to use it. (The pool, of course, is restricted to the use of guests.) It was about ten steps wide on both our visits, wide enough to lay out on, but not for much else. The snorkeling is good along the rocks on the west of the beach, and the hotel sells snacks and drinks.
The waters off Bois Joli are a popular anchorage for day trippers and other sailors who are staying at Terre de Haut for awhile. While we were at the hotel, we saw many dinghies putting in to the hotel dock to let people off for lunch and to use the beach. There was a stir when a large motorboat with two uniformed crew pulled up to the beach and dropped a couple off; the boat was a service craft from a large motoryacht from Luxembourg. There were several catamarans run by services out of Pointe a Pitre for a day's visit to Terre de Haut anchored just off shore, too.
Louise joked that Hotel Bois Joli has the best beach on the island. It is sadly true. No other hotel has a beach this good.
Pain de Sucre
This is a really big rock that sticks up out of the water. There is a narrow isthmus that leads up to it, with beaches on both sides. Pain de Sucre is very popular and generally crowded.
Anse Galet
This is an unremarkable beach just outside Le Bourg. There is a restaurant nearby.
Le Bourg
The beaches at Le Bourg are nice and sandy, with calm waters protected by Ilet a Carbit just offshore. The waters here get heavy use by the fishermen and the ferries; although we saw many kids playing and swimming in the water, we did not try swimming here, preferring less trafficked water.
Anse Mire
This is a beach which is entirely taken up by the Hotel Le Kanaoa. It is an exaggeration to call it a beach. Do not bother if you are not a guest or diner at the hotel.
Baie de Marigot
This is a quite nice beach near the UCPA. There is a large restaurant right on the beach for your dining pleasure. The waters are very protected and calm, and the beach is shaded and sandy.
Plage de Grande-Anse
This is a nice beach, but the water is not swimmable because of strong currents and a coral bottom that will tear you up. The beach is at the end of the runway, so you will be able to see the plane take off in the morning and evening. There is not much else to do, however, so if all you want is to sun bathe in solitude, this is a good choice. No shade, no facilities, no vendors. Bring water and food.
Plage de Rodrigue
This is a beach where the kids will have a lot of room to play. The beach is not long, but it is deep, and the waters are protected. There is no shade or facilities, so bring water and food with you.
Plage du Figuier
This is reachable from a paved road which ends; brave and hardy souls will drive their scooters on down the wretched unpaved road. Others will park and walk. The beach has no shade, and the waters are somewhat rough -- we saw children with body boards trying to do a little surfing. The beach is narrow, with no facilities or vendors. Bring water and food.
---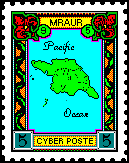 As always, if you have any objections, corrections, suggestions, or questions, drop us a line via Cyber Poste.
The Mraur Cyber Poste stamp is Copyright © 1995 by Jim Felter and is used with his kind permission. For more of his work, please drop by Jas' HomePage.

---
| The Civilized Explorer |

| Site Table of Contents | Portal |
| Help | Search the Site | Copyright, Privacy, and Warranty Information | About us |
---
Some of our pages are presented with light text on a dark background. This makes printing them difficult. If you wish to print a page with your default settings, see if the page has a link at the top called TEXT. If so, follow that link for a printable page.
Thanks for stopping by. Copyright © 1995, 1996, 1997, 1998, 1999, 2000, 2001, 2002, 2003, 2004, 2005, 2006, 2007 The Civilized Explorer. ALL RIGHTS RESERVED.
---