[Site TOC]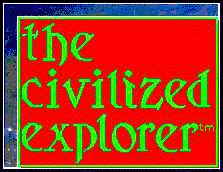 The Civilized Explorer
Auberge Les Petits Saints
We explore a very nice Auberge on the island of Les Saintes.
We had wanted to stay at Auberge Les Petits Saints on our trip to Les Saintes in 2000, but had been unable to arrange a room on rather late notice. We did get to have dinner there twice, and we visited with the owners during an afternoon, when we took some photographs.
For Americans, the Auberge will be very comfortable, as Didier and Jean-Paul provide a warm welcome in English. If you walk up the steps from the gate to the porch at night, a motion- detecting light will switch on, lighting you or lighting your path, depending on your point of view. The porch is where meals are served, and the evening meal is table d'hotel. The waitress or waiter will describe the courses, give you the price, and ask if it is acceptable. Tell them yes.

Our first dinner there was a baked codfish first course, dourade in a mango and onion sauce with rice, and flan and chocolate cake in a milk sauce for desert. The second meal was also fish, and both meals were excellent. We recommend reservations; our first night, there were no empty tables.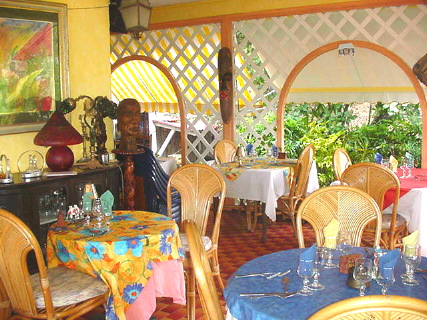 The decor is astounding. The owners have taken everything they could find, put it in the house, and wrapped it all together and made it work. Although all the rooms were in use and unavailable to us, we wandered through the public areas and took photographs.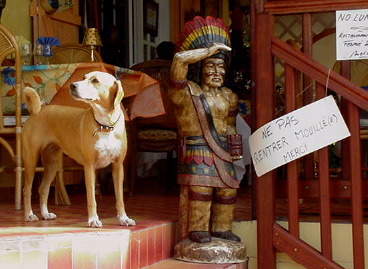 The auberge has a van which will pick you up at the dock or airport and bring you to the hotel. It's Web site is at Auberge Les Petits Saints in English, or French if you prefer. You may book directly with the auberge via email, telephone, or fax, or you may go through French Caribbean. Both sites have additional information, more photographs, and the rates.

---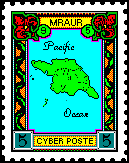 As always, if you have any objections, corrections, suggestions, or questions, drop us a line via Cyber Poste.
The Mraur Cyber Poste stamp is Copyright © 1995 by Jim Felter and is used with his kind permission. For more of his work, please drop by Jas' HomePage.

---
| The Civilized Explorer |

| Site Table of Contents | Portal |
| Help | Search the Site | Copyright, Privacy, and Warranty Information | About us |
---
Some of our pages are presented with light text on a dark background. This makes printing them difficult. If you wish to print a page with your default settings, see if the page has a link at the top called TEXT. If so, follow that link for a printable page.
Thanks for stopping by. Copyright © 1995, 1996, 1997, 1998, 1999, 2000, 2001, 2002, 2003, 2004, 2005, 2006, 2007 The Civilized Explorer. ALL RIGHTS RESERVED.
---