[Site TOC] [

Site Search]
Jobs in the Caribbean
We have no information whatsoever on working in the Caribbean. We live in California, and we have no more access to employment information in the French West Indies than you do.
However ...
If you wish to learn about working overseas in general, and in the Caribbean in particular, you may find these books helpful.
---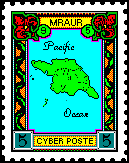 As always, if you have any objections, corrections, suggestions, or questions, drop us a line via Cyber Poste.
The Mraur Cyber Poste stamp is Copyright © 1995 by Jim Felter and is used with his kind permission. For more of his work, please drop by Jas' HomePage.

---
| The Civilized Explorer |

| Site Table of Contents | Portal |
| Help | Search the Site | Copyright, Privacy, and Warranty Information | About us |
---
Some of our pages are presented with light text on a dark background. This makes printing them difficult. If you wish to print a page with your default settings, see if the page has a link at the top called TEXT. If so, follow that link for a printable page.
Thanks for stopping by. Copyright © 1995, 1996, 1997, 1998, 1999, 2000, 2001 The Civilized Explorer. ALL RIGHTS RESERVED.
---