The Civilized Explorer
[Site TOC] [http://www.cieux.com/lif.html]
---
---
St. Barth in 1997
Les Ilets Fleuris
Our fax gave us rates in US dollars and requested a deposit on American Express. For a one- week stay the end of January 1997, the rates ranged from US$960 to US$1560 and included a car and transportation from the airport. We chose the least expensive "garden cottage" said to be in a tropical garden. Our hostess would be Catherine Tiberghien. We confirmed our dates, authorized a 30% deposit, and gave her our scheduled arrival time.

She was waiting for us at the airport. We waited for our luggage to arrive on another flight and chatted with her about planes and meaningless schedules. When we had everything, we loaded her small car and off we went. Les Ilets Fleuris is in the hills above Lorient. Even though we had a garden cottage, we had a view of the ocean from our windows and patio. The tropical garden, however, was a few bushes and a small tree. Perhaps Hurricane Luis had done some damage; perhaps not. We accepted drinks as we went over the contracts. We were charged for the room, we paid extra for collision damage on the car, and we left a blank receipt to be returned to us when we returned the car. At our check in, there was only a Samurai available, so we took it. We went to our room, unpacked, and went off for dinner.

The Samurai had no suspension whatsoever; it had bottomed out completely and rode like a bucking horse on even the smoothest pavement. The floorboard on the driverŐs side was rusted through. Small holes showed just how smooth the pavement was, and putting your foot on the floor was like stepping on cardboard. We asked for another car and received the keys to a Mega. This is a tiny four- seat car, similar in size to a Mini Moke. The body is fiberglass, and there is a locking storage area in the back. Much better, although the lack of doors in the rain was an inconvenience -- but we were used to Mini Mokes, so no problem.
Our room
We have stayed in condos on St. Barth a couple of times before, and this cottage was similar. The building was separate from others. It contained four units facing across a valley to the hillside opposite; most of the ocean was behind, along with the pool. We were on the side that gave us a side view of the ocean, as was the unit above us. The unit adjoining ours and the unit above it had only the valley as a view. We are not convinced that the distant view of the ocean was worth the extra charge, but some may wish it.
As with our other condos, the kitchenette was outside on the patio. It was behind french doors, and it contained a counter with sink, and a combination hotplate/ oven sat on the counter, taking up most of the space. Under the counter were a mini- refrigerator and storage for cooking utensils and flatware. In the cabinets above the counter were mismatched plates, saucers, cups, glassware, bowls, and room for nonperishable food which we had yet to buy. The hotplate was tall enough and the cabinets were low enough that pans on the hotplate were hard to get to. The small space also restricted access to one person. Our other condos were better designed. We also discovered that the oven and the hotplate would not work at the same time -- a safety feature, we assume.
Catherine had told us that the "housewife" would come twice a week and that Catherine would also clean once during the week, provided she had the time. She told us not to expect it, but to be pleasantly surprised if it were to happen. At our other stays, cleaning was done daily, and we left the dishes for the maid. With an outdoor kitchenette, leaving dirty dishes for a few days is not an option, so we did them ourselves after every meal. We cooked several suppers and all our breakfasts. Shopping in St. Barth is not a problem, even if you do not speak French. The foods are usually imported from the closest source, which turns out to be Puerto Rico, so you will see all the familiar brands. There are also foods from France that are not available in the United States. If you want to try different things and do not read French, bring a dictionary that has a food section. We shopped at various supermarkets; all took credit cards, and all checkout staff spoke English. Some have a minimum amount for charge cards, so be aware that if the clerk comments after you have handed over your card that he or she may be saying you have not hit the minimum. If you did not understand what was said, just say "Pardon?" and the comment will be repeated in English.
Our room was large and not overly crowded with furniture. We had a king- sized bed made of two singles pushed together with separate mattresses. It was covered with mosquito netting. There was a small single bed in another corner next to a small built in closet. We had a love seat and coffee table, and that was it. Three corners had shelves built in with lamps on them, and there was a large fan on the floor. The bathroom was tiled, and the shower area had a lower floor than the rest of the bath, but water ran all over everywhere when we showered. There was a sink with a cabinet above it, and a toilet in one corner. There was a window next to the sink. The patio had plastic patio furniture -- a chaise, three chairs, and a table.
One of the alleged advantages of living in the hills of St. Barth is the lack of mosquitoes. This has not been our experience in the past, and it was not our experience this time. In the winter season, mosquitoes usually are not a problem. We had rain every day our first week, however, and mosquitoes were very much in evidence. We had two windows, and they had screens, but our door was not fitted to its space, and there were significant gaps all around it. We always saw upwards of a dozen mosquitoes in the room every night, several of them on the netting banging away at it trying to get in with us. We were not bothered during the day.
We should mention the rain again. The wind was remarkably strong at times, but even the mildest breeze blew rain into our patio and got us wet if we were trying to cook. If it rained, we could not eat on the table on the patio. We ate on the coffee table. After it rained, the eaves from the unit above dripped onto our table. Moving the table back far enough to escape the dripping brought the table into contact with the wall -- we could not sit at it. Our rainy days in January and February were very unusual, but common in the summers. Be aware that such little things as the direction your patio faces can make a difference.
The most expensive unit at Les Ilets Fleuris is the Sea View Suite, and it is the only one with air conditioning. It listed for US$1560 for one week. The Sea View Cottage was US$1360, and our Garden View Cottage was US$960 for a week. This rate was for two persons and included a car and cleaning two days per week. Our two- week stay was US$1824.
Madame Tiberghien was very friendly and helpful during our stay, providing us with maps, pamphlets, and restaurant advice. Les Islets Fleuris has a swimming pool with a scenic view of L'Orient below and hills off in the distance. Staying here is truly staying in the country; the quiet was interrupted only by the goats, dogs (and the jackhammer nearby during working hours). Our stay was peaceful and wonderfully free of the constant activity of many resort hotels.
---
---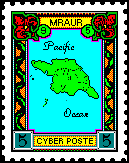 As always, if you have any objections, corrections, suggestions, or questions, drop us a line via Cyber Poste.
The Mraur Cyber Poste stamp is Copyright © 1995 by Jim Felter and is used with his kind permission. For more of his work, please drop by Jas' HomePage.

---
| The Civilized Explorer |

| Site Table of Contents | Portal |
| Help | Search the Site | Copyright, Privacy, and Warranty Information | About us |
---
Some of our pages are presented with light text on a dark background. This makes printing them difficult. If you wish to print a page with your default settings, see if the page has a link at the top called TEXT. If so, follow that link for a printable page.
Thanks for stopping by. Copyright © 1995, 1996, 1997, 1998, 1999, 2000, 2001 The Civilized Explorer. ALL RIGHTS RESERVED.
---
Copyright © 1997 The Civilized Explorer. ALL RIGHTS RESERVED.