The Civilized Explorer
[Site TOC]
---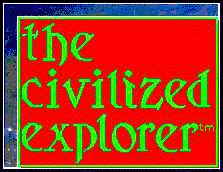 Life at Juliana Airport, Sint Maarten
or, Into Each Life Some Rain Must Fall

We arrived at Juliana Airport, Sint Maarten, in the late afternoon, the worst time of day to get to St. Barth. As we got off the plane and walked across the tarmac toward the customs booths, it was raining. We had arrived on American Airlines, which has no arrangement with Air St. Barth for checking through luggage, so we had to clear immigartion at the airport, wait for our luggage to be delivered to the luggage area, lug it to the Air St. Barth ticket counter, check it with them, go to the "brown booth" to get our waiver of the departure tax, present the waiver to the clerk at the entry to the departure lounge, go through the security check, and then wait for our flight on Air St. Barth.
As we found seats near our gate, a woman in uniform unlocked the door from outside and announced the departure of a flight. Several people immediately formed a queue and handed her their boarding passes. A middle- aged American began yelling at her that his flight had been scheduled an hour ago and still was not called. He demanded to talk to her supervisor. She answered calmly that she would talk to him as soon as she had boarded the current flight.
Things were normal at Juliana.
---
After boarding the passengers, the agent then inquired, "Who wanted to talk to me?" The middle- aged man yelled at her some more about the delay in his flight, then asked for her supervisor. The agent told him her supervisor was at the check- in counter and that he was free to speak with the supervisor there. Of course, this meant that the American complainer would have to go out of the secured area, go to the ticket area, break in line or wait in line for an agent, ask for the supervisor, complain, then pass the clerk demanding the departure tax (who had already taken his waiver), come back through security, and then quite likely have missed his flight. Two people that I assumed were his wife and daughter watched him without expression. He then asked his daughter where the bar was. She pointed in that direction. He went there, but yelled back that it was closed.
It was getting dark, and no planes land in St. Barth after night falls. We finally were called for our flight. The American, his wife, and daughter, another older man, and two women were also on our flight. As we left, the ticket agent said our baggage would not fit on our plane and would come over on a later flight. The man had a fit, demanding to know what flight. The agent shrugged; "It will be on the plane landing now," she said, pointing to an aircraft that was indeed landing now.
Off we trudged in the rain to our waiting plane. It had a door on the starboard, giving access to two rows of two seats, and a door on the port, with access to two rows of two seats. We went into the port side and sat in the last two seats. The woman I thought was his wife got into the front seat with the other man, the two women got in behind them. The complainer got in on our side in the seat in front of us with the young blonde woman. He announced to the passengers that our luggage was not on the plane. The woman in front had a fit. She told the pilot, "My medicine is in my baggage, and I must have it tonight." The pilot had heard that before -- "Everybody's medicine is in their luggage," she retorted, and prepared for takeoff. The two women in the second row started arguing about when we would see our baggage. The pilot radioed someone and said our luggage was on the plane now taking off and would be at the airport in St. Barth before our arrival.
The complainer smiled at the young blonde, and she put her arm around his shoulder. I saw a huge diamond engagement ring and a wedding band -- Oops!, I thought, a trophy wife.
We arrived at our destinations sans baggage, and it had not arrived ahead of us. One of the two women steamed into the ticketing area and found that it had not been on the preceding plane, but was assured it was on the succeeding plane. "They lied to us again!" she shouted to her companion.
Our baggage arrived on the next flight, and we all went our separate ways. It rained every day of the following week. The winds were fierce, scouring us with sand if we went to a beach during the all- to- brief periods of sun. The other passengers on the plane had mentioned that it was their first time for St. Barth's famous landing, so their first week on the little island was not a good one for them.
Ç'est la vie.
---
We have mentioned elsewhere that you should bring a carry- on bag with you that has everything you need for an overnight stay when you fly to St. Barth, but it bears repeating again. If you go through Juliana, you hit Caribbean time. Anger and aggravation are met with indifference and get you nowhere.
Do not check any items that are vital to your health. You may not see those items till the next day.
---
On our return two weeks later, we took off at 1:30 pm, arriving a Juliana at 1:45. Our departure was at 3:15 pm, again on American. We could not check our baggage through from St. Barth to Miami because Air St. Barth has no agreement with American. No problem. We went through immigration and on the to baggage claim area with the other people on our plane. Baggage came through for another flight. The American flight from New York came in, dozens of passengers came in, their baggage came in, and they left. The people on our plane from St. Barth compared notes -- no, no one had any baggage come through. We asked the American Airlines agent. We would have to talk to the Air St. Barth people, she said; American had no connections with Air St. Barth and could provide no assistance. A contingent of passengers was sent to the ticket counter for Air St. Barth. They were just agents, we were told; Air St. Barth personnel were on St. Barth, but a message would be sent.
More passengers from other flights landed, got their baggage and left. It hit 2:30 with no baggage. We began to be concerned about making our 3:15 flight. 2:45 came and went. Finally, at 3:00 pm, our baggage came through. One of us trundled the bags while the other went to American to inquire about the flight. "No way," was the answer. What about the flight to New York preparing to board. "Sorry, too late for that, too. Please wait in line for the next available agent for changing your flight."
So we waited. When we got to an agent, Milton Prince, he was friendly, professional, and charged us US$100.00 to change our tickets since we were on frequent flyer miles, and our route changed to get us out. We no longer flew directly to Miami then to our home destination. The soonest flight out was to San Juan for customs at 7:50 that night, then onto Miami at 10:00. Our second leg began the next morning at 7:00 am for our home town. We would have an overnight stay in Miami.
We went to the Air St. Barth counter to ask for a refund. Two men were at the counter ahead of us, but no agent. One man assured us she would return soon. We waited. Monique returned and spent several minutes getting done whatever had to be done, but we had four hours to kill, so no hurry, right? We got to Monique and explained the situation and asked for Air St. Barth to reimburse us US$100.00 plus the cost of our hotel in Miami. "We are only ticketing agents; we cannot authorize the reimbursement," she told us. A man came up, cutting in line ahead of the several people who were now behind us. He said WinAir was no longer flying into St. Barth and could Air St. Barth take him immediately. She told him the other man at the waiting at the counter had made the same request and that she was waiting for information from the agent at the gate concerning availability of seats.
She returned to us, saying, "I will call in a few minutes. Please wait over there." The man from WinAir interrupted, repeated her statement, and asked if he understood it correctly. I repeated to him as exactly as I could her comments and stared at him. He ran back to WinAir, and we moved over to stand with the other man waiting for information. She took care of the other customers in line, with one more interruption from the man from WinAir, then I asked again about the call. She said she would make it then, and left the counter. She returned saying she had made the request and to check back in five minutes for an answer.
It was 4:30, so we decided to have lunch. I asked her when she left for the day and told her I would come back just before then. When I returned, she handed me a copy of the telex she had sent, but still had no answer. She left for the day.
We had a reasonably pleasant meal for an airport restaurant and chatted with the two men at the next table. They were Cajuns from Lagniappe, Louisiana, who were going to work on a bulk refueler off Statia. Very interesting and entertaining fellows. Then we boarded our flight and came home a day late.
Ç'est la vie dans Les Antillaise.
---
Go to St. Barth, The Friendly Isle, or
go to The Civilized Explorer, or
go to The French West Indies.
---

Copyright © 1997, The Civilized Explorer. ALL RIGHTS RESERVED.