[Site TOC]
---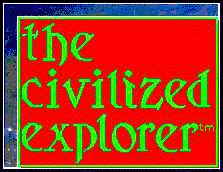 The Civilized Explorer
Layover at SFO
---
If you have a long layover (3 hours or more) between flights at San Francisco, we suggest the following diversions from the typical airport nachos and magazine racks. All have been selected because they can be reached via public transportation or taxi, allowing maximum flexibility. We have also given preference to places and restaurants with web sites, so you can select more knowledgeably. We live 15 minutes from the airport and have personal experience with almost of the these recommendations. If we have not been to a particular place, it is noted.
Lockers are available on your way out in all departure lounges at SFO. Use them to free yourself of the burden of carry- on baggage.
Other airport services are available, including a full service Medical Clinic run in conjunction with UC San Francisco.
So enjoy -- and remember, there are now web- access computers near the departure areas at SFO, so you can refer to this page if you have an unexpected long layover as well!
Getting There
All excursions are described using public transportation (CalTrain), shuttle service (Super Shuttle), or taxi. Here is the scoop on using them.
CalTrain runs a double-deck stainless steel train from the SoMa area in San Francisco all the way south to Gilroy. A shuttle bus stops at the airport and delivers you to the Millbrae station just in time to meet almost every train they run. This is a delightful train ride; we routinely use CalTrain to get to work and into the city. Outside of rush hour, trains generally run every hour, so check their schedules to ensure they will fit yours. You will need to pay with cash. The most expensive round-trip ticket is $5, for these excursions.
Super Shuttle (1- 800- BLUE VAN) leaves from all terminals all day. To catch a ride, follow the airport signs for Shuttles. In general, they will board only 3 stops on a van. The longest wait we have had was about 15 minutes on a very busy afternoon. Super Shuttle requires a reservation for the return trip; you can arrange this with your driver or through the 800 number. Be sure you know the exact pick up point for your return; you may want to ask Super Shuttle to recommend a convenient spot. This service will take to you directly to any of the places we mention here, including Fisherman's Wharf. They accept credit cards.
Other shuttles will take you to specific parts of San Francisco. We haven't used any of these; although SFO Airporter does run a commuter shuttle we use to get to work from the Caltrain station - it's a great service! SFO Airporter will take you to Union Square and Pacific Airporter will take you to Nob Hill. All leave every 30 minutes and stop at lots of hotels.
Taxis are the most convenient, but they are fairly pricey (about $30 from the airport to downtown). We suggest using them primarily if time is short.
Knowing Where You Are
Be sure to have a map with you on these excursions; our descriptions are NOT written in sufficient detail to be used alone.
Live Video and Satellite Images
San Francisco and the Bay
San Francisco
Fisherman's Wharf
Bay Bridge and Yerba Buena Island
Yerba Buena Island
Bay Bridge
Cityscape looking toward the Bay
Sausalito
A recent satellite imageof the San Francisco Bay Area.
Excursion 1 - Coit Tower and/or North Beach
(Tip: Wear good walking shoes; this is best done on a clear day.)
We love the view from Coit Tower and the walk down the Filbert St. steps (which many visitors miss). Fortunately for you, the restaurants and coffee houses of North Beach are very close by.
Since the only food available at Coit Tower is from a lunch truck, we suggest you start in a North Beach restaurant or coffee house. The area bordered by Union St., Broadway, Grant Ave. and Powell St. is full of such places. Use Super Shuttle or take a taxi to Washington Square (Union and Stockton Sts.) as a convenient North Beach starting point. (If you want to go directly to Coit Tower, ask to be dropped off at Stockton and Greenwich Sts. HINT: Do not ask to be driven all the way to Coit Tower! The line of traffic is almost always too long and the walk up the hill is too pretty to miss.) Two restaurant recommendations we've heard of (but not eaten at) are Caffee Trieste and Enrico's Sidewalk Cafe. Additionally, City Lights Bookstore (261 Columbus Ave.) is close by -- a must for anyone who enjoys reading.
North Beach is 6 to 8 blocks from the bottom of Telegraph Hill. When satiated, walk up Grant Ave. past Quantity Postcards (1441 Grant) for an extra treat, if you have the time. You are walking toward the intersection of Stockton and Greenwich Sts.
Coit Tower is visible from here, so it's difficult to get lost. Walk uphill on Greenwich past some lovely Victorian homes; this street ends in a small garden with steps leading up to Telegraph Hill Blvd. You can either follow this road up to Coit Tower or use the footpaths up the hill. The elevator ride to the top of the tower is $3 and runs daily from 10:00 am to 6:30 pm. The parking lot has a wonderful view as well, with several coin-activated binocular thingies you often see at tourist spots.
Once you've seen the view, follow the road leading out of the parking lot until you find a path through the trees on your left. This is the entrance to the Filbert St. steps. This is an amazing hillside covered with gorgeous homes and wonderful gardens that immediately makes you feel miles from the busy city full of diesel exhaust from tour buses. At the bottom of the hill, continue on Greenwich St. and then follow Battery to the Embarcadero. This is a major thoroughfare and you should be able to hail a taxi back to the airport, if you have not arranged to be picked up by Super Shuttle. If all else fails, walk southeast along the Embarcadero to the Hyatt Hotel at Justin Herman Plaza (about 3/4 mile); they always have taxis (or call Super Shuttle).
We estimate this complete excursion would take about 5 hours, but you can omit some of the stops if time is short.
Excursion 2: Pier 39
OK, we've been here once. Pier 39 is perfect for a visit when you don't have much time and you need to buy souvenirs. It is very commercial; however, you can watch the sea lions for free. Lots of restaurants, attractions, performers, tourists, etc. Super Shuttle or a taxi would work very easily to get in and out. The amount of time spent here is completely up to you.
Excursion 3: Cable Car Ride and Walk Down Lombard St.
(TIP: This is best done outside of the height of vacation season (summer through October) because the lines to get on the cable car can be over a block long.)
Take Super Shuttle to Union Square. Enjoy the place where the opening scenes of "The Conversation" were filmed. Find Powell St. on the west side of the square and follow that downhill to Market St. This is the beginning of the Powell St. Cable Car line. You can buy tickets from a machine or just pay on board. Enjoy the ride up to the top of Russian Hill. If you must, take the Cable Car all the way to The Cannery and Ghirardelli Square. You can shop, eat, and enjoy Aquatic Park until it's time to take to Cable Car back to Union Square to get Super Shuttle back to the airport.
But it is much better, really, to get off the Cable Car at Lombard St. and walk down "The Crookedest Street in the World." The gardens are wonderful and the houses are incredible. Follow Lombard to Columbus Ave. Turn right and you will find yourself at Washington Square after a walk of about 7 blocks total. Check out our description of places to eat in North Beach in Excursion 1.
To return to SFO, meet Super Shuttle at the place and time you have arranged or grab a taxi on any major street.
Excursion 4: Sky Deck at the Embarcadero
One Embarcadero Center
Battery & Sacramento Sts.
800-733-6318
$4
This is a relatively new observation deck -- we haven't had a chance to visit yet. It is open 5:00 pm to 10:00 pm Wednesday through Friday and 10:00 am to 10:00 pm weekends (closed Monday and Tuesday). It is very conveniently located at Embarcadero Center, a place full of shops and restaurants, across the street from the Ferry Building and Justin Herman Plaza (which often has special events offering lots of people watching). Eat at Gordon Biersch, the brewery restaurant that started the trend (2 Harrison St. at Embarcadero, 415- 243- 8246). This is a great quick getaway that combines great views, food, shopping, and tourist stuff -- all without a lot of walking.)
Because the Hyatt Hotel is right here, Super Shuttle or a taxi is very convenient.
Excursion 5: Union Square
Of course, Union Square itself can keep you busy all day. If you enjoy shopping in the city, you may not want to go anywhere else. Stores include Macy's, Nieman Marcus, Nordstrom, Disney Store, Gump's, Saks Fifth Ave (with appropriate window displays at Christmas), Borders Bookstore, and Victoria's Secret. Just off the eastern side of Union Square is Maiden Lane and the wonderful store, Britex Fabrics (if you want to buy fabric, that is; 146 Geary, 415- 392- 2910). You can eat at Nieman Marcus, the St. Francis Hotel, Sir Francis Drake Hotel, or Cafe Claude (a French bistro on a small side street).
Use Super Shuttle or a taxi.
Excursion 6: Walking Tour of Victorian Architecture
Jay Gifford has had several people take his Victorian Walk tour who were on layovers from the airport. In 2 1/2 hours people see quite a bit of the City. The tour starts at 11 am in the lobby of the Westin St. Francis Hotel on Union Square and ends at Union Square. There is a shuttle bus from the Westin that leaves every fifteen minutes to the airport ($10 per person) which works out perfectly for people returning to the airport after the tour. Reservations are required.
(415) 252-9485 jay@victorianwalk.com
Excursion 7: Dim Sum at the Hong Kong Flower Lounge in Millbrae
51 Millbrae Ave.
415-692-6666
This beautiful restaurant is huge and has great dim sum for lunch. It is a very popular restaurant with lots of conversation; if you plan to be there right at lunch time, call ahead for reservations.
Take the CalTrain shuttle to the Millbrae station. Walk up Irwin Ave. one block to El Camino Real. The restaurant is to your right on the corner of El Camino and Millbrae Ave. It sits up on a hill, you can't miss it.
Use the CalTrain schedule to plan the timing of your return, or just call a taxi from the restaurant.
Excursion 8: Get Away from Airport Food!
There are several excellent restaurants near the airport. We've eaten at all of them and enjoyed them a great deal.
Kincaid's Bayhouse sits on the bay and provides great water views. The food is excellent, and the menu is not the usual American fare.
60 Bay View Place, Burlingame
415-342-9844
Use Super Shuttle or a taxi to get there. It's about a 15 minute drive.
Copenhagen Bakery and Cafe
1216 Burlingame Ave., Burlingame
415-342-1357
6:00 am to 6:00 pm Monday -- Saturday
8:00 am to 4:00 pm Sunday
Stacks
361 California Ave., Burlingame
415-579-1384
In downtown Burlingame, both the Copenhagen Bakery and Stacks have great breakfasts and weekend brunches. The Copenhagen Bakery is one of the best I've seen with absolutely wonderful pastries, breads, cookies, etc. They serve lunch too, but we've always been too enthralled with the Huevos Rancheros to order a sandwich. Both are a short, enjoyable walk from the Burlingame CalTrain station., You can window shop at stores like the Pottery Barn on your walk to Copenhagen.
Use CalTrain or Super Shuttle to get there.
Excursion 9: The Pez Museum in Burlingame
Actually, we've never visited the Pez Museum, but it would make an unusual excursion. The museum is conveniently located 1 block south of the Burlingame CalTrain station.
Excursion 10: Stanford Shopping Center
180 El Camino Real, Palo Alto
800-772-9332
10:00 am to 9:00 pm weekdays
10:00 am to 6:00 pm Saturday
11:00 am 6:00 pm Sunday
Upscale shopping in the suburbs. Stanford Shopping Center is beautiful, particularly if you've just flown in from a cold, wintry city. The plantings are wonderful and there are lots of great shops for browsing. Stores include Bloomingdales, Nieman Marcus, Nordstrom, Gardener's Eden, and Tiffany's.
Take CalTrain to the Palo Alto stop. The free Marguerite Shuttle runs every 20 minutes or so and will take you to and from the shopping center. Super Shuttle will also take you there.
---
|The Civilized Explorer|

|The French West Indies|
---
LJ
---
Date created: 3/23/97
Last modified: 3/29/97
Copyright © 1997, The Civilized Explorer -- Louise Johnson