[PaperView(tm) Table of Contents] [The Civilized Explorer Table of Contents]


St. Martin & St. Barts Alive
An excellent book, giving St. Barts the coverage it deserves.
---
Review by Phil Stripling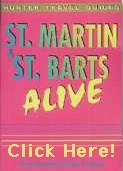 Finally! We have looked for years for a book which gave St. Barth proper coverage. We have heretofore found only books with from a few to a dozen pages. St. Martin & St. Barts Alive gives this tiny island well over a hundred pages, and it covers beaches, restaurants, hotels, villas, shopping, and considerably more. Our edition is copyright 1999, but the authors mention the damage done by Hurricane Luis several times -- do not let that dissuade you; the island had fully recovered when we visited there two seasons after Luis.
The layout uses lots of free clip art, one font used for headings is rather hard to read, and there are no photographs, but the book is well- written in plain English, without gushing -- we enjoyed it. The authors have covered the island very well, and there were lots of tips which were new to us. We will have this book with us on our next trip.
This book is recommended for all visitors to St. Barts, whether first- timers or old hands on the island.
A companion Alive! volume is Martinique, Guadeloupe, Dominica & St. Lucia Alive!
---
Order St. Martin & St. Barts Alive directly from the publisher and save 20% off the list price.
If you have comments about or additions to this review, please drop us a line by selecting the envelope for forms- enabled browsers or our names for mailto- enabled browsers. We will assume the comments are to be posted to our comment section unless you tell us otherwise; email addresses will not be posted.

PaperView(tm) is a trademark of The Civilized Explorer. Copyright © 1999 The Civilized Explorer. ALL RIGHTS RESERVED.
The Civilized Explorer [PaperView(tm)] or [Site Table of Contents]