[Site TOC] [TEXT page] [Martinique Table of Contents]
---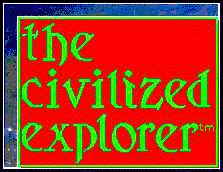 The Civilized Explorer
Martinique 2002
---
Overview of Martinique
Martinique is a large island, and we have never been able to cover the entire island in one trip. We were hampered this year by the lateness of our reservations; we ended up not being able to reserve lodging on the northern end of the island. We stayed for a week in Diamant and then another week at Anse Mitan. We did reserve a day for a trip up to St. Pierre and Mont Pelee, but we got rained out.
We have had problems with rental cars in prior years (see Martinique 1999 for an example), but all was smooth this year with Europcar. We reserved online through Orbitz, made our contact at the Martinique airport and were driven out to the pick up site in a van. The only minor issue was the addition of a small amount for the airport tax; we could have avoided that by taking a cab, but the price difference was not worth it.
We used IslandTrips.com for reservations at La Rivage and made our own reservations directly online with Diamant Les Bains. With an agency, you may get someone who has visited the hotels they represent and who can talk to you about what you get. (This is the case with Island Trips, by the way.) If you are comfortable working on your own or you have been before, making the reservations yourself may save a few dollars on the commission.
For links to more information about Martinique hotels and gites, see our Caribbean Travel Information Page: French West Indies.

Our weather
We have noted before that it rains every day on Martinique. This year was one of the rainiest dry seasons in the entire Caribbean. As a result, mosquitoes were a painful presence. Air conditioning helped some, but we ended up burning a mosquito coil at night even with the air conditioner running. It is remarkable how little smoke keeps mosquitoes away; if you are ever troubled by them, get a package of the coils to burn and place it so that the smoke wafts over the bed.
We tried to climb Mont Pelee, but we gave it up. It was completely clouded over, so there would have been no view if it were not raining, but it did rain with great frequency. We would think the rain had stopped -- it had stopped, but in ten or fifteen minutes, it would start pouring again. We retired to the snack bar and dried out before driving back to our hotel.

English speakers on Martinique
We were very surprised at the number of native English speakers on the island and at the number of residents who spoke English. Generally in Martinique and Guadeloupe, we might run into another couple who are native speakers of English during a week, often from Canada. Our first week was in Diamant, and there were and English couple and an American at the hotel. Our hosts spoke impeccable English, as did the staff. At Le Rivage in Anse Mitan, an American couple had the room below ours, and the owners were completely fluent. At both hotels, many of the guests spoke English, and we ran across several groups of Americans at Trois Islet. We still recommend taking a Berlitz French/ English Dictionary or similar guide with a good menu translator with you, but we think it is probable that you will be accommodated at most restaurants and hotels with someone who has some knowledge of English.

Food and lodging
Restaurants in Martinique tend toward creole food. Prices were quite reasonable, with lunch and supper often costing less than thirty euros for the two of us. As an accommodation of some kind, we found that sauce chien is now called creole sauce, but it is still the same old dog sauce. We found the food to be much above average at the Bakoua Sofitel in Trois Islet, La Plantation in Le Lamentin, and La Mouina in Forte de France. We were disappointed not to be able to get to Foulard this year, as we had enjoyed it in a prior visit.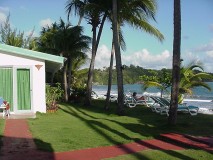 Our stay at Diamant Les Bains in Diamant was quite pleasant. Our hostess was fluent in English and quite helpful and pleasant. The hotel is small enough that you feel you are in a family, but large enough for full services; we had a daily maid, and the restaurant is open for three meals. There are rooms in the hotel and bungalows out on a manicured lawn. The beach is volcanic black, and it is entirely swept by the ocean at high tide. The surf is quite rough, although several brave souls body surfed. We had a small refrigerator in our room, but no stove.
Le Rivage is run by a husband and wife, and you really are made a part of the family. Maryelle and Jean-Claude are warm and outgoing and speak English fluently. Rooms are cleaned and linens and towels replaced twice a week. Our room had a kitchenette, and we had breakfast on our balcony every morning. The hotel is not on the beach, but the beach is across the street -- and it is a useable beach with restaurants and white sand. Le Rivage was closed when we visited in 2007.

Beaches
We have complained about the lack of interesting snorkeling on Martinique. The island rises volcanically out of the Caribbean with no surrounding reefs for fish to hide in, making the shore rather like that of the United States. We visited the beach at Anse Macre again this year -- it is on the Atlantic side, although its cove gives some protection. The surf is rather strong but manageable. Saline is the beach of choice for the residents of Martinique. It is patrolled by vendors, has ample shade, and mobile restaurants spring up every day to serve your lunch to you. In addition to the strolling vendors of swimsuits, coffee, pastries, and such, there are vendors set up in the shade with pareos, postcards, and almost everything you could find in Trois Islet, including one person who accepted credit cards.
We were tipped off this trip to two additional beaches that it seems only the locals know about: Anse Dufour and Anse Noire. These are adjacent beaches just north of Anse d'Arlets, about fifteen minutes' drive from Point du Boute. Anse Dufour is a white sand beach with a snack bar on the beach and a very good restaurant up a hill and across the road. During the week, the beach is not at all crowded, but on the weekends get there early in the morning to get a place in the sun. Anse Noire is, as its name suggests, volcanic. There is a restaurant (the owner is a woodworking artist) The former restaurant no longer exists, but there is a pier, with lots of shade during the day. Both beaches are "working beaches" -- fishermen come and go all morning with lobster traps and fish, so stay out of the way of the working men. But the highlight of the both beaches for us was the snorkeling. Both places had a large school of fish, maybe a thousand. The fish were not afraid of us, and we could swim in among them, although they always stayed just out of our reach. Occasionally, we would see the outside of the school magically firm into a very specific line of demarcation, and we would watch and see predator fish patrolling the school, once a sennet, other times blue fish. The predators were much to small to be of concern to us, and they stayed well away from us, generally keeping the school between them and us.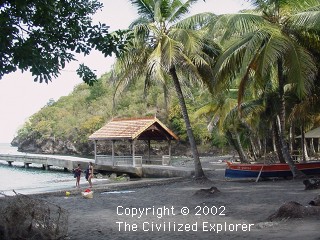 ---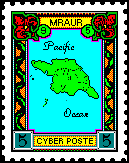 As always, if you have any objections, corrections, suggestions, or questions, drop us a line via Cyber Poste.
The Mraur Cyber Poste stamp is Copyright © 1995 by Jim Felter and is used with his kind permission. For more of his work, please drop by Jas' HomePage.

---
Copyright © 2002, The Civilized Explorer. ALL RIGHTS RESERVED. To print this page from your browser with black text on white, choose TEXT page from the top of this document. NOTE: We use small GIF images on these pages. Larger JPGs are available in thousands and millions of colors from the Photo Pages.
| The French West Indies | The Civilized Explorer | Table of Contents | Search the Site |
---