[Site TOC] [TEXT page] [Martinique Table of Contents]
---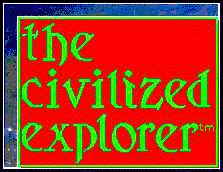 The Civilized Explorer
CyberBase
---
Getting online in Martinique
We were very happy to find government-operated Internet access points in several cities in Martinique. Our tourits map showed 15 locations, but we could not find all the ones we looked for and people we asked were unaware of them.
We have photographs of a couple, and their offerings vary. The CyberBase in Anses d'Arlet was in what appeared to be a small portable building. There were three pods of four computers each, often in use by teens playing games quietly. The one in Marin was in a large building with more computers and a collection of materials on employment, much of it aimed at young workers.
Charges for access to the computers varied with age and employment. The fee for us (as general public) was 3 euros for one hour, 5 euros for 2 hours, and 8 euros for 3 hours. We were told that the connection speed was one meg, but we are unsure whether that is bits or bytes.
Each location gives you a username (random letters) and a password (random letters); you need a separate username and password for each location. At Anses d'Arlet we were lent a flash card reader at no charge, a USB 2.0 reader with 4 slots for various memory cards. The locations we visited were staffed by English-speaking persons who were very helpful.
Drop by http://www.cyber-base.org for more information. It is entirely in French, of course.

---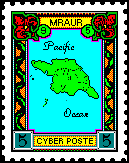 As always, if you have any objections, corrections, suggestions, or questions, drop us a line via Cyber Poste.
The Mraur Cyber Poste stamp is Copyright © 1995 by Jim Felter and is used with his kind permission. For more of his work, please drop by Jas' HomePage.

---
Copyright © 2007, The Civilized Explorer. ALL RIGHTS RESERVED.
| The French West Indies | The Civilized Explorer | Table of Contents | Search the Site |
---