[Site TOC] [360 Degree Panoramas]
You are here:
The Civilized Explorer > 360 Degree Panoramas > The Crucifix > The Crucifix and the Shrine
The Crucifix and the Shrine, Les Saintes
Terre d'Haute has a large crucifix in the hills above the harbor which gives a spectacular view of the harbor and the town below. Our panorama was made so close to the crucifix that it was not entirely visible. This page has links to photos of the crucifix and the shrine up the hill behind it.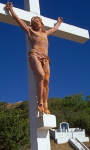 "The Crucifix" is on a hill above the harbor. This image is about 512x768 pixels and 110K.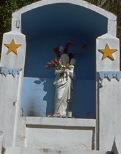 "The Shrine" is above the crucifix. You can see the series of steps in the photograph above. The flowers are fresh. Image size is about 768x512 and 150k.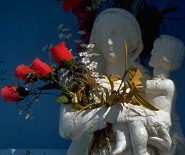 "The Virgin" holds a bouquet of flowers in addition to the Child. Image size is about 512x768 and 86K.