---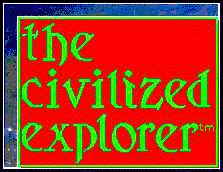 The Civilized Explorer
Dining On Guadeloupe in 1998
---

Several of our favorite restaurants have been closed or sold and destroyed. We have reviewed restaurants from our 1996 visit to Guadeloupe at Dining on Guadeloupe, and we update our reviews here. We will take our disappointments first.
---
Restaurants that are off our list
Our favorite restaurant from 1996 was La Mahona. In 1998, we took acquaintances with us in anticipation of sharing an excellent meal with excellent service as in our previous visits. Reservations were made, but when we arrived, there were only two other tables occupied. The name had been changed to La Mahona Beach Restaurant; the lobster pond had been filled with sand and covered with a cheap pseudobeach shack of bamboo. The waitress was in shorts, and the other customers were in T-shirts or tank- style undershirts, shorts, and sandals. Gone were the waiters in white shirts and ties, gone were the well- dressed customers, gone was the service. We had a pleasant meal, but we cannot review La Mahona Beach Restaurant objectively because of our dashed expectations. Among the four of us we had salads ranging from 30 FrF to 50 FrF and three orders of vivaneau for a 75 FrF each and poulet au coco for 64 FrF. With water, our bill for four persons was 453 FrF (wine was paid for by our guests).
La Canne a Sucre has stopped being a world class restaurant and has become a wharf- side cafe. The upstairs dining room is closed except for private parties, but it uses the same kitchen as the sidewalk cafe. We had an unremarkable meal, two entrécotes and a half bottle of wine, along with two mixed drinks for 222 FrF. The food was good but not the wonderful meals of the upstairs restaurant of the past. Service is what one would expect of a sidewalk cafe.
---
Back to the good news
We had a meal at Cote D'Azur Pizzeria Restaurant just south of Ste. Anne. We had a pizza each at 50 FrF for each pizza, a profiterole for 35 FrF, and coffee, totalling 225 FrF. Cote D'Azur is a family restaurant; we visited on a Sunday night, and almost all the tables were occupied by couples with children. There was one other couple with no children, and there was a group of two or three families apparently celebrating a birthday. Service was on a porch that wrapped around two sides of a house, and the take- out order window was in heavy use. This is a place to keep in mind for keeping the kids occupied or for when you want to bring food back with you. The telephone number is 88.38.01. It is south of the new traffic circles at the new school south of Ste. Anne, on the east side of the road. We saw it as we drove by and had to turn around and come back. The menu included pastas and the usual assortment of Italian fare one would expect of an inexpensive pizza place.
---
We were impressed with the new owners at La Louisiane and asked them for a menu to put on our Web site. They gave us a sample menu in English and in French, along with a photograph; take a look at La Louisiane. We had eaten here years before and had enjoyed it, so we tried again in 1998. The new owners are Véronique and Didier, and they have cleared some of the vines from the porch (dinner is served on a porch that wraps around two sides of the house) and done some yard work. We no longer felt that we were dining in a jungle. The tables were attractively draped in pareus, and the menu was impressive. We were there on a Monday evening, and we were the only customers. There was a waiter in addition to Véronique who acted as hostess. Her English is excellent, and with a few of the items the waiter enlisted her help for translations. We ordered two tournedos at 140 FrF each and a half bottle of Brouilly for 75 FrF. The meal was excellent, and we ordered a pear with chocolate (55 FrF) and a mango desert (40 FrF). The pear was wonderful. With bottled water and coffee, the entire price was 496 FrF.
We asked about the lack of customers, and their thought was that most people stay at hotels and dine there as part of the price of the stay. La Louisiane is on the road to Ste. Marthe, just outside St. Francois. It is in a house, and you need to turn into an alley that runs behind the house in order not to park on the road to Plantation Ste. Marthe. As you may guess, we think La Louisiane is worth the trip. We asked for a menu, and they proposed doing an advertisement if we could come back later in the week. A second meal there? No problem.
We returned on a Friday evening to find another couple there ahead of us. They were American, and as we talked, a group of six more Americans arrived. We ordered the duck, a lobster and pasta dish that was quite attractively presented as well as tasty. Remembering the pear, we ordered that again, along with an apple tart for desert. In lieu of wine, we drank a piña colada each. We have misplaced our bill and cannot give the cost. The people at the other two tables all agreed that their meals were quite good.
Please note that we paid for both meals and are advertising the restaurant because it is out of the way and deserves your attention. At the time of our visit, the change in ownership had just taken place, so credit cards were not being accepted while their application was pending. We have no idea when that application will be completed, but you may wish to ask at the time you make reservations or be sure to bring cash or travelers cheques, just in case. Recommended.
---
Speaking of Plantation Ste. Marthe, we have had lunch there at least once on all of our visits to Guadeloupe. It is a de luxe hotel, with a poolside restaurant. There are always very few other customers, generally guests who wander over from the pool for lunch. We had a Salade Gourmande for 65 FrF, an entrécote for 100 FrF, with a glass of wine and two piña coladas bringing our bill to 260 FrF. The service and food have been good enough to bring us back, and it is out of the way of the usual lunch goers, so it is a relaxing meal in a quiet location. Recommended.
---
We had dinner at La Mandarine Restaurant in Gosier. We had veal for 135 FrF and chicken for 98 FrF and a half bottle of Beaux Rivage for 65 FrF. Two deserts and a bottle of water brought our bill to 386 FrF, one of our most expensive meals (at 6 FrF per dollar, about US$65). We found that the combination of chicken and local fruit did not work well together, but the veal was good.
---
Since we were staying in Ste. Anne, we had the chance to eat at Chez Elles a couple of times. This is a casual restaurant with service on the porch, in the house, and on the patio. The owners serve the food, but you go to the outdoor grill to order from the chalkboard. Service is pleasantly casual and unhurried. We had vivaneau and entrécote for 120 FrF each, a half bottle of bordeaux for 70 FrF, chocolate cake (40 FrF), pineapple flambé for 30 FrF, and coffee, for a total of 410 FrF. The main dishes were grilled on an open wood fire, and both were excellent, as were the deserts.
Our next meal was salmon and beef for 130 FrF each. We had a bottle of Cotes du Rhône for 110 FrF. We drank a glass of champagne each before dinner and had coffee after, bringing our bill to 500 FrF.
We tend to eat earlier than the local people, so we never had a problem with reservations, but if you eat after about 8:00 pm, we suggest calling 88.92.36. Recommended.
---
We had lunch twice and dinner once at Kotésit, our favorite lunch restaurant on Guadeloupe. It is in St. Francois, right on the water. The owner has continued to upgrade the restaurant from the shanty hanging over the water years ago with a bamboo mat serving as a wallcovering to hide the house next door to a quite nicely finished restaurant. He took over the building next door some years ago, moved the kitchen, expanded the dining area, and covered the seating area. Service and food are excellent. Prices were 100 FrF for entrécote, 80 FrF for chicken brochette, 130 FrF for filet de boeuf, and our meals cost between 300 FrF and 400 FrF. The view from the restaurant is described in more detail at the 1996 version of Dining in Guadeloupe. It remains recommended.
---
In Le Moule, we had lunch again at Chez Doudou. We had two fruit cocktail juice drinks (cold and refreshing) for 30 FrF for the pair, tomato salad for 25 FrF, entrécote (Is there a pattern here in what one of us always orders?) for 90 FrF, grilled fish for 75 FrF, and to coconut tarts for 56 FrF for the two. With water our lunch was 292 FrF. The food is good and very reasonably priced. Since Chez Doudou is within range of Damoiseau Distillery, we recommend it as the precursor to the rum tasting so you are not on an empty stomach. We had a rather bad time with Mathieu while we were at Chez Doudou, but we would not expect him to be there when you visit.
---
Eating out in Ste. Anne
Ste. Anne is not a gastronomical delight. It is a working fishing town, with a large number of beach goers there for lunch. Most of the restaurants cater to the lunchtime crowd, especially on the beach. It is possible to drive on a nice road to the beach (the Route de la Plage), but it is not always possible to find parking. Snack trucks take up much of the space next to the beach, and restaurants crowd the road on the side nearer town. We describe the beach elsewhere, so we will spend our space here on the restaurants.
Generally, the restaurants are similar enough that it makes no difference which one you choose. Not all the restaurants accept credit cards, so if you do not bring cash to a beach you will need to look for the sign of your credit card or ask. We tried several of the restaurants and found one which we preferred. We never identify ourselves as writers, but make it a point to get to know our hosts and food servers. When we find a place we like, we return and renew our acquaintance each time. Being recognized as a repeat customer is often helpful and always brings a cheery greeting, even if it is based on monetary gain for the restaurateur. Our preference is based on what we like, so your preferences will likely lead you to a different restaurant. Service is generally good, depending on the time. We go early (at noon) when there are few people. As the restaurants fill up, service is more rushed and less attentive.
Le Barmuda
This was our restaurant of choice. We were waited on solicitously by the owner. We got to watch him buying fresh produce and fish from the delivery trucks that drive right by Le Barmuda's front door on the beach road. Our preference for this restaurant is based on the salads, which we thought considerably better than other restaurants on Route de la Plage. This trip we seemed to order fruit juices frequently. A note about the word "cocktail" -- it means a mixed drink, but not an alcoholic beverage. We ordered juice cocktails which were mixed fruit juices without alcohol, just the ticket for quenching our thirst after a hot morning laying on the beach. At Le Barmuda, the cost was a reasonable 10 FrF each. The salads at Le Barmuda were our favorite item, and we ordered different ones at each lunch. Their prices ranged from 40 FrF to 65 FrF, and we found them all delicious. The owner speaks English fairly well, and there are English menus available. We generally spent about 150 FrF on our lunch, which included salads, bottled water, and juice cocktails, but we also ordered desert and coffee on occasion. The telephone number at Le Barmuda is 85.32.38, and it specializes in seafood. Recommended.
We had reserved a room at the Hotel Matic, and we had to call to get our room assignment and our keypad number. Since I could not count on the operator speaking English, I dropped by La Barmuda in the morning, explained the situation to the owner, and asked if he would be so kind as to call. He called, confirmed that the operator did not speak English, and obtained the information for us. We are sure that the owners at other restaurants would have been as accommodating for us as repeat customers. We relate this to encourage you to be friendly, to visit restaurants you like several times, and to let the persons running those restaurants know that you like them and are repeat visitors.
Le Coquillage
This is another quite good lunch spot on Route de la Plage. Our first visit there was after a particularly hot morning, and we were waved to a seat by the owner, who was setting up tables for lunch. Getting a particular service is often difficult in the French West Indies. Everything generally proceeds according to an established custom, and asking for something out of the established order often brings a rejoinder that it will come in due time. We were very hot, and I asked the owner if we might have a bottle of water immediately. He looked at us, as this was an unusual request, and clearly saw that we needed the water. We got it immediately, before menus, before all else. Our lunch was a mixed salad for 25 FrF, entrécote (again) for 85 FrF, chicken salad for 38 FrF, and a half bottle of muscadet for 45 FrF. Water and two juice cocktails brought our bill to 232 FrF. A later lunch of chicken salad, grilled chicken, and water cost 113 FrF; we also had two salads, beef, wine, and water for about 250 FrF. Food and service were quite good, and the range of menu items allows for just about any budget.
L'Americano
This is a fast food restaurant on the beach in Ste. Anne. They have interesting pizzas, interesting mixed drinks, and interesting clientele. For the kids, there is a pool table and plenty of places to run around. Service is comparatively slow while still being rushed, but L'Americano gets lots of business. We are not sure just what the attraction is, since we preferred Le Barmuda and Le Coquillage, but L'Americano had more customers every time we went. To each his own.
L'Accra
L'Accra is a creole restaurant in the Motel de Sainte- Anne, just north of the town by a large Shell station. We were disappointed only in not being able to eat there more often. We had dinner twice, and the food and service were excellent. Our first evening, we had two fruit juice cocktails (called Caress des Antilles at this restaurant) for 18 FrF each. We had stuffed crab for 46 FrF and grilled fish for 75 FrF, two coconut tartes (good!) for 30 FrF each, bottled water, and coffee for a total price of 242 FrF. Our second evening brought us the two Caresses again, a half bottle of Cotes du Rhone for 50 FrF, a plate of fritters for 25 FrF, skewered chicken for 65 FrF, and a pork dish for 60 FrF.
Our waitress was the same on both evenings, and she was friendly, spoke English well, and helped us with our French. Recommended.
---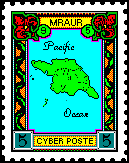 As always, if you have any objections, corrections, suggestions, or questions, drop us a line via Cyber Poste.
The Mraur Cyber Poste stamp is Copyright © 1995 by Jim Felter and is used with his kind permission. For more of his work, please drop by Jas' HomePage.

---
|The French West Indies|

|The Civilized Explorer| Table of Contents |
---
Copyright © 1997 The Civilized Explorer. ALL RIGHTS RESERVED.