[Site TOC]
---
WELCOME TO

Fact Sheet on Guadeloupe -- 1995
---
Location/Size/Population
Guadeloupe is 1,845 miles from New York, 4,306 miles from Paris, 2,138 miles from Montreal, and 310 miles from San Juan. It is an archipelago in the Caribbean Sea comprising several distinct islands. Guadeloupe proper is made up of two islands, Basse- Terre and Grande- Terre, separated by a seawater channel, the Rivière Salée. The other islands are Marie- Galante, La Désirade, and Les Saintes, which lie offshore, and St. Martin and St. Barthélemy (or St. Barts), some 125 miles north.
The butterfly- shaped island of Guadeloupe has a land area of 530 square miles: the western wing, Basse- Terre, has 312; the eastern wing, Grande- Terre, has 218.
Approximately 386,600 persons live on Guadeloupe, with about 50% of the population still under 20 years of age. (This figure comprises all residents of Guadeloupe's off- shore islands as well as French St. Martin and St. Barts.) (1990 census.)
Capital: Basse- Terre. Principal city: Pointe-à-Pitre
---
Language
French and Creole. English is spoken in most hotels, restaurants and tourist facilities, but it is useful to bring along a French phrase book and a pocket dictionary.
---
Unique Characteristics
Guadeloupe is a French island, yet its people, personality, culture, and mores are the result of a harmonious blending of European, African, and East Indian origins. Shops close for the ritual of a long lunch with wine, as they do all over France. Yet in the busy open- air markets, vendors wear headdresses of madras, a fabric brought to Guadeloupe from India. And the music and dance are often of pure African strain.
---
Climate
Tempered by tradewinds or alizés, coastal temperatures average between 72 degrees and 81 degrees Fahrenheit; inland they are 66 degrees to 81 degrees Fahrenheit. There is about a 5 degree difference between summer and winter.
---
Currency and Banks
2005: Legal tender is the euro. Most major banks are in Point-à-Pitre and open from 8 a.m. to noon and 2-4 p.m., Monday through Friday. Some also open on Saturday mornings.
---
Arrival and Departure Taxes for Visitors
None for commercial flights. For charter flights only.
---
Entry Formalities, Immigration Documents, and Vaccination Certificates
For stays up to three weeks, U.S. and Canadian citizens traveling as tourists must have a proof of citizenship in the form of:
a valid passport, OR
a passport that expired no more than five years ago, OR
other proof of citizenship in the form of a birth certificate (original or official copy), or a voter's registration card which must be accompanied by a government- authorized identification with photo, such as a driver's license.
For stays over three weeks, or for non- tourist visits, a valid passport is necessary. Resident aliens of the U.S. and Canada, and visitors from countries other than those in the Common Market (E.E.C.) and Japan, must have a valid passport and visa. A return or onward ticket is also required of all visitors.
No vaccination papers are required unless arriving from an endemic area.
---
Customs Regulations
Items for personal use, such as tobacco, cameras, and film, are admitted without tax or formalities provided they are not in excessive quantity. For other items, French regulations apply.
---
Telephone/Telex, Mail
2005: To telephone direct from the U.S., dial your long distance access number, then 590 590 + the local Guadeloupe number. To phone from Guadeloupe, a "Telecarte" makes local and international calls easier and less expensive. "Telecartes," sold at Post Offices and other outlets marked "Telecarte en Vente Ici," are used in special booths marked "Telecom" found all over. Operator- assisted calls are higher in cost. Guadeloupe's telex area code is 340. Postage stamps can be bought at post offices, cafés- tabacs, and hotels.
---
Time Zone
There is one hour difference between Guadeloupe and the East Coast of the U.S. when Standard Time is in effect. Thus, when it is 8 p.m. in Guadeloupe, it is 7 p.m. in New York. Time is told the French way; i.e., 1 p.m. is 13 hours. [When Daylight Savings Time is in effect in the U.S., there is no time difference between the East Coast and Guadeloupe. The Civilized Explorer]
---
Electric Current
Voltage is 220 AC, 50 hertz. Appliances made in the U.S. and Canada require French plug adapters and transformers. Our dual-voltage charging units work fine with only the plug adapter.
---
Medical Facilities
There are five modern hospitals in Guadeloupe and 23 clinics. Hotels and the Guadeloupe Tourist Office can assist in locating English- speaking doctors.
---
Car Rental and Road Information
A valid driver's license is needed for car rental up to 20 days. After that, an international Driver's Permit. Car rental companies in Pointe-à-Pitre open weekdays from 8 a.m. to noon/12:30 p.m. and 2:30 to 5/5:30 p.m., and Saturdays from 8 a.m. to noon/1 p.m. At Raizet Airport, hours depend on international flight times.
Guadeloupe's 1,225- mile road network is one of the best in the Caribbean. Cars keep to the right. Drivers, though skillful, do like to speed. Traffic regulations and road signs are like those in Europe.
---
Sightseeing and Tourist Information; Local Tourist Publications
Guadeloupe has a great deal to offer the sightseer, who can best begin by paying a visit to the Guadeloupe Tourist Office, located in downtown Pointe-à-Pitre at 5, Square de la Banque. Tel: (590) 82.09.30. : For addtional information on Tourist Offices, see Tourist Board Contacts, which has a list of the tourism offices for many of the cities on the island, including postal addresses, telephone and fax numbers, and -- where available -- email and Web addresses.

Complimentary maps, magazines, and information bulletins are available at the Tourist Office, and the English- speaking staff can help with suggestions on what to see and do. There is a free publication in English and French called Bonjour Guadeloupe which contains a variety of information and suggestions. A booklet entitled Guadeloupe Excursions provides six excellent itineraries for touring the island by self- drive car. Similar sightseeing tours can be done by taxi or motorcoach. Details on organized island excursions offered by local tour operators can be had from the Tourist Office and from hotel desks.
---
What to Wear
Bathing suits, bikinis, and monokinis are fine for beach (never in town) but some type of cover- up is suggested during the first days of vacation. The sun is strong. At night, women dress in chic but informal resort clothes, men in sport shirts and slacks. For hiking in the Parc National: sweater or windbreaker and climbing shoes.
---
Shopping
Besides excellent buys on luxury items with made- in- France labels (perfumes, china, crystal, etc.) which are usually discounted by about 20% if paid for in travelers' checks and certain credit cards, there are very good local products which make fine gifts: dark and light rums, coffee beans, unusual spices, handicrafts in pottery, straw, and wicker, hand- painted fabrics, and handmade lace. Champagnes and wines from France, as well as imported cheeses, patés, and other delicacies, line the shelves of many new supermarchés that have sprouted up on the island. Lastly, the markets of Pointe-à-Pitre are animated open- air bazaars that contrast nicely with the smart little boutiques snuggled into city streets. Shops and stores are open 9 a.m. to 1 p.m. and 3 to 6 p.m. daily, as well as on Saturday morning.
---
Cuisine/Dining
Guadeloupe's cuisine mirrors its many cultures. To the typically Creole dishes have been added the finesse of French cuisine, the spice of African cookery, the subtlety of Hindu and Southeast Asian recipes. Fresh seafood appears on most menus. Other specialties: shellfish, smoked fish, stuffed land crabs, stewed conch, and curry dishes. Guadeloupe is considered one of the true culinary capitals of the Caribbean [I'll drink to that! The Civilized Explorer], with some 200 restaurants recommended by the Tourist Office. Some are in hotels, some in lovely settings by the sea, and some on the front porches of the cooks' homes. [Be sure to try the front porches -- you will get good home- cooked Creole food and good service. The Civilized Explorer.] Local rum drinks often precede a meal and imported French wines often accompany it. Prices for a three- course meal for one person, without wine, range from inexpensive (under US$30) to moderate (US$30 to US$45) to expensive (US$45 and up). [These prices are sadly out of date from 1995, we're sorry to say. The Civilized Explorer].
---
Nightlife
Guadeloupe has nightspots galore, discos, and nightclubs in the larger hotels, and such piano and jazz bars as the Jardin Brésilien at the Bas du Fort Marina. Some hotels offer dinner dancing and performance by folkloric troupes. A popular dance music craze is "zouk" which can be heard in performance by many groups. The "hot" clubs at present are the Victoria, Elysées Matignon, and Zénith, all in Bas du Fort, Caraïbe Deux near Bas du Fort, New Land outside Gosier, 7ème Sens in St. François, and Shiva 1 in Le Moule. Legal drinking age is 18.
---
Casinos
There are two casinos on Guadeloupe, one in Gosier and the other in St. François. Hours are 9 p.m. to 3 a.m. nightly, with extension to 4 a.m. on Fridays, Saturdays, and nights before holidays. Legal age is 18. Proof of identity (passport or driver's license with photo) is required for entrance to the gameroom and the fee at both casinos is 69F. Blackjack and American roulette are played. Dress is casual; jacket and tie are not required. Slot machines are located outside the gameroom entrances.
---
Spectator Sports
Cockfighting is in season from November through April. Horse racing is scheduled periodically at the St. Jacques Hippodrome at Anse Bertrand (Tel: 22.11.08).
---
Beaches
Guadeloupe is justifiably proud of its beaches, most of which are well- sheltered and wonderful for swimming. The natural beaches, all beautiful to behold, range from the surf- brushed dark sands of western Basse- Terre to the long white stretches encircling Grande- Terre. A picnic on any one of them can turn into a lifetime memory. Public beaches are free, though some may charge for parking. Unlike hotel beaches, they have few facilities. Hotels welcome non- guests but charge for changing facilities, beach chairs, and towels. There are a few officially designated nudist beaches, the most popular being Pointe Tarare. Topless is common at hotels, less so on village beaches.
---
Additional information, is available on Car Rentals, Public Transportation, Ferry Service to Offshore Islands, and Getting Additional Information.
---
As always, if you have any objections, corrections, suggestions, or questions, drop me a line via Cyber Poste: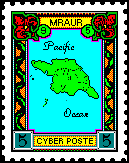 The Mraur Cyber Poste stamp is Copyright © 1995 by Jim Felter and is used with his kind permission. For more of his work, please drop by Jas' HomePage.
---
| The French West Indies | The Civilized Explorer | Table of Contents |
---
Copyright © 1995, 2005, The Civilized Explorer. ALL RIGHTS RESERVED.

---