[Site TOC]
Travel from Guadeloupe to its surrounding islands
The Civilized Explorer
---
We hope to provide helpful information on traveling within the Guadeloupe Archipelago.
NOTE: We have found an excellent book which devotes almost two hundred pages to Guadeloupe. We review it at our PaperView site.
Traveling from Guadeloupe to one of its surrounding islands is not difficult. One may take a ferry, a plane, or charter a local boat for the short trip. Doing this from the United States is more of a chore, as it may entail working out schedules, translation from and to French, and telephone and fax bills. We provide here some Web sites which we hope may provide some assistance for doing it yourself.
If you do not understand French, these words may be helpful:
Vol

flight

Vols réguliers

scheduled flights

Horaire

timetable or schedule

Tarifs

prices

Prix

price

Avec ma voiture

with my car (some of the ferries can carry cars)

Sans ma voiture

without my car

De / Vers

from / to

Aller retour / Aller simple

round trip / one way

Points de vente

points of sale; locations where tickets are sold
The airport at Guadeloupe was relocated some years ago. Currently, the airport is known officially as L'Aèroport Guadeloupe Pôle Caraïbes. It's Web site provides the usual information only in French, although there are flags indicating intention to provide translations to English. In addition to contact by email, the site provides telephone and fax numbers and the mailing address. You may look up departures and arrivals, and get information on current conditions (new restaurants, the pharmacy, runway improvements). Many of the pages were not online as of the date of our visit (October 2004). The abbreviation for the airport is PTP, for Pointe-a-Pitre.
Air Caraïbes flies from PTP to Les Sainte (LSS). We have used the site to reserve tickets, although it is in French. In the United States, their toll- free number is (877) 722-1005. Their Web site gives their email address, telephone and fax numbers, and mailing address. Additional sites with information on Air Caraïbes include Aviation Photos, Airline Timetable Images, Jet Photos (a prop job landing on St. Martin), and Jet Photo livery photos (shots of many Air Carïbes aircraft, including some landings on St. Barth). Flights from PTP to LSS are during daylight hours only. If you are leaving directly from your arrival on Guadeloupe for Les Saintes, it is more convenient to leave from the airport, so we recommend flying. Allow at least an hour; remember you will be on Caribbean time.
In addition to flying to Les Sainte, one may take a ferry. Ferry service is more limited than the flight schedule and is also limited to daylight hours.
Express des Iles provides contact information for its agents on Guadeloupe, Marie Galante, and Les Saintes. Check the Special Offers which may include coupons for discounts. The site also provides schedules for the ferries to Les Saintes and Marie Galante, along with prices.
Brudey Freres offers ferry service to Marie Galante and Les Saintes as well. Their Web site offers local contact numbers and email, along with timetables (horaires) and prices (tarifs).
We have no off-island contact information from Deher Freres (590 590 99 50 68) or Princess Caroline (590 590 99 82 25), companies which also provide ferry service.
A note on telephone numbers: To bring the French West Indies into the modern French telephone system, the French telephone company has set the number up so that when calling from other countries, you must dial the 590 prefix twice after your long distance carrier's overseas prefix. The first 590 is technically the country code, the second 590 is the city code, the last three double- digits are the local number. For example, if you are calling from the United States using AT&T, you would dial 011 + 590 + 590 + 99 50 68 for Deher Freres.
---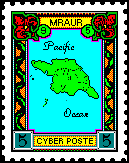 As always, if you have any objections, corrections, suggestions, or questions, drop me a line via Cyber Poste.
The Mraur Cyber Poste stamp is Copyright © 1995 by Jim Felter and is used with his kind permission. For more of his work, please drop by Jas' HomePage.

---
| The French West Indies | The Civilized Explorer |

Search the Site | Get your free Cieux Mail account | Travel Guides |
---