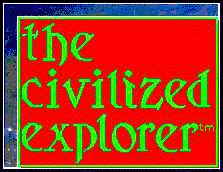 The Civilized Explorer
Guadeloupe is growing.
---

As we circled Raizet Airport, we saw new buildings being constructed for the terminal and new roads being built for access to the new facility. On the beach at Gosier, a new addition was built to the Hotel Creole Beach, occupying a former parking area. The manager at Callinago said that hotel will be renovating in April 1996. We were stopped several times by people selling time- share resorts. Everywhere we saw new housing being constructed. On an island where once we met only one or two other native English speaking persons in a week's stay, this time we met a dozen.
We stayed for two weeks in February 1996 at Hotel Marissol in Bas du Fort, Guadeloupe. The beach is in a small, sheltered lagoon, with a nice view of Basse Terre, and it is shared with another hotel, the Fleur d'Epée. Our room was in a four- unit bungalow, and high- rise hotel rooms are also available, along with two- unit bungalows. We had a nice terrace in the back with a table and two chairs, accessed through a sliding glass door. We spoke with other American guests, and we all agreed that the beds were poor. The mattresses sank where you lay, and turning over was an uphill struggle. When we got up in the morning the depressions created by our bodies stayed. The pillows were worse.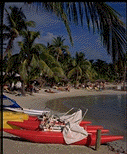 We were promised an American breakfast -- scrambled eggs and ham, along with the usual French breads and coffee. We had a running commentary with others as to whether real eggs could be that bad or whether we were getting the powdered version. The eggs and ham were in a steam tray, but they were always cold. The croissants were referred to as miniature by one of the patrons. The coffee came from a machine that contained powdered instant coffee, powdered milk, and powdered cocoa. You pressed one of a series of buttons, and the resulting liquid was drained into your cup. All in all, breakfast was not quite a disaster, but not worth seconds. We have stayed at three other hotels on the island, and Hotel Marissol has the worst food and service. We do not recommend Marissol, although it has its advantages --
The beach is very pleasant. It is wonderfully shaded by many palm trees, much better than the beaches at Le Gosier. The beach is on a protected lagoon which offers a gently sloping bottom -- very nice and very safe for children and nonswimmers. Outside the lagoon, the surf is active for those who seek more than a wading pool for swimming. The beach is patrolled by security guards; although their main function is removing non- hotel guests from hotel chaises, some of the guards carry sidearms. And though the hotels had posted signs saying no lifeguard was provided and that swimming was at the risk of the guests, there was a man wearing a T- shirt saying "Maïtre Nageur" on site during all daylight hours. There is a bar on the beach, along with a pizza/hamburger/snack shack, and beach towel service (free for guests). There are daily aerobics, ping pong tables, and volleyball. Restrooms are close by, as are the rental buildings for sailboards, paddleboats, and kayaks.

It was, however, somewhat crowded, and vendors kept a steady stream of traffic, hawking swimsuits, beachwear, coffee, pastries (which we needed after not eating the American breakfast), jewelry, sailing excursions, madras- clad dolls, ice cream, T- shirts, sun glasses, hats, colorful print shirts, scarves and pareus, fresh coconuts, and on and on. The swimsuit sellers were particularly obnoxious. There were a half dozen or more young women, each walking at a rapid pace through the people laying on the beach. Each woman carried a change of attire; she would start at one end of the beach, walk quickly around the beach to the other end, change clothes, and walk back. They were timed so that one of the models was always in front of you. It was like New York's Grand Central Station. Getting from your chaise lounge to the beach without being run down was quite a challenge, and the constant pacing made the atmosphere far from the relaxing laziness we prefer. As you can see from the photograph, getting a floor show requires only that you inquire about the outfit being shown. Although the shade made for a pleasant beach at all times of the day, we spent much of our beach time elsewhere. If you are interested in a swimsuit, the same styles are available at all the beaches, and we would recommend buying at Le Gosier or Club Med, where the pace is not so relentless, and you can have a more relaxed experience.
If you want different styles, there are vendors with lower prices and some very interesting batik pareus, T- shirts, and swimsuits off the beach and on a path near the Hotel Rotabas. This is between Gosier and Ste. Anne. Going from Gosier to Ste. Anne, pass the entrance to Club Med on the right, continue on about 50 meters to the next right. Drive down a rough dirt road until you see cars parked on the right side of the road. This path leads past several vendors to a nice beach which you can reach through a turnstile. The vendors here are low- key, stay in their stalls, and do not bother you on the beach. We bought a very nice T- shirt here for 120 F.
We found the beach near the Club Med compound to be sheltered, shaded, and nude. It is within sight of Ste. Anne, and somewhat difficult to find and to actually get onto. After passing by the vendors, you get to a beach which is blocked by a sailbord shop with tons of gear spread out. To the right is a metal turnstile which seems to deny access to the beach, but everyone ignores the implication, and all beaches are public on Guadeloupe. Go through the turnstile and walk along the beach. If you do not wish to see the naturists, stop when you reach a second, smaller sailboard equipment area. The beach is quite nice, has a nice breeze and shade, and is frequented by families and couples. Beyond the sailboard pavilion the beach angles to the right and the naturist area begins. The water here is protected by a levee and is always calm no matter how windy on the Ste. Anne side. It is shallow for a long way out, making it a popular place for clothing optional couples with small children; snorkeling, however, is very uninteresting. Beyond the shallows there is a surf, and you may see people trying to catch some waves. On past the naturist area is the beach used by Club Med. It has facilities for sailboarding, small sailboats, jetskis, and much more. Off the beach and on the Club Med grounds there are a chipping green and archery range. The public beaches are well- shaded, nice, and patrolled by vendors, though not so relentlessly as at Bas du Fort. We were able to relax and doze, and if the sun became too warm, the inviting water was a pleasant stroll away.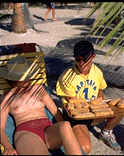 ---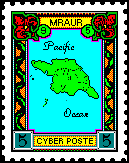 As always, if you have any objections, corrections, suggestions, or questions, drop us a line via Cyber Poste.
The Mraur Cyber Poste stamp is Copyright © 1995 by Jim Felter and is used with his kind permission. For more of his work, please drop by Jas' HomePage.

---
Copyright © 1996, The Civilized Explorer. ALL RIGHTS RESERVED. To print this page from your browser with black text on white, choose TEXT page from the top of this document. NOTE: We use small GIF images on these pages. Larger JPGs are available in thousands and millions of colors from the Photo Pages.
| The French West Indies | The Civilized Explorer | Table of Contents |
---