Table of Contents for Civilized Explorer or Burning Man
Search this site
Burning Man 2002

The Civilized Explorer
This year was the best year ever for the weather. Our official REI keychain thermometer reported daily highs of 85 or 90 degrees Fahrenheit, with one day reaching 95 degrees. Excellent! A warning to those coming to Burning Man for the first time in 2002: The weather will never be this good again.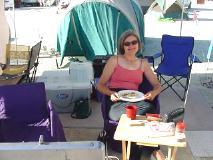 As usual, we got up each morning between 6:00 and 6:30 (well, one morning we slept until 7:30), and the temperature was about 50 degrees with little or no breeze. Louise commented that it was the first time in years that she had not had to eat breakfast bundled up against the cold. She made Phil take a photo to prove it.
We asked many people when their first burn was, and there were a great many who started in 2000 and 2001. Our hats are off to them -- they came in the worst years and kept on coming. We hope this year is their reward.

We arrived Monday afternoon about 3:30 and set up our shade and tent in Hushville. It was already crowded there, and more arrived at all hours of the day and night. True to its name, though, Hushville remained quite (for Burning Man), with no in-camp generators or amplified noise, err, we mean music. As we recall, Hushville took up the middle third of its block, and no camp in the entire block had generators or amplified sound; we were lucky, too, that no one in the camps across the street from us had noise generators.
Unfortunately, this was not true for everyone. We spoke with a woman in Empire after the event; it was her first burn, and she assured us she was never coming back because of the loud music from the adjacent camp. She said the Black Rock Rangers had been called in to mediate, resulting in the volume being turned down for twenty minutes. She said people in her group were in tears because of the loud music all night and that the offending camp refused all requests to turn it down.
On a more pleasant note, it seems that the porta potty problems have been licked. The Johnny On the Spot truck came by every morning about 6:30 and sucked out the johns, hosed down the interiors, and replaced the toilet paper. Although we give props to those guys, we are guessing that the people in charge at BMORG finally figured out that the potties most needed cleaning after a hard night of partying. Or maybe it was just luck. Anyway, the early cleaning was really great this year. We saw little to no trash from participants in the porta potty cabins for the entire event. All around, the cleaning crew and the BM'ers did a wonderful job of keeping the potties clean. We assume there was as little trash in the potties as appeared in the cabins themselves. Thank you one and all!
We had a great time handing out buttons for the year and photos of prior years' burns to people we met. We'd like to take the time here to remind people that it is a gift. We often had people tell us they had nothing to give us in return. While we understand the wish to repay, this is Burning Man. Repayment is superfluous. On the other hand, others were generous in their giving, and we ended up with lots of wonderful gifts ourselves. If you want to give things, see our Guide for Second Timers.
Every thing went swimmingly until Friday, when we had the worst dust storm we have ever seen. In prior years, the dust storms were vicious, accompanied by high winds, and never seemed to end. This storm was a true white out. We were on our bikes at the Man when it hit, and there were times we could not see the ground. (BLM has an online press release that gives visibility at four feet.) We did not time it, but it passed after a reasonable amount of time. We got back to our camping area in time to hear someone on a bicycle with a megaphone shouting, "Burning Man is cancelled. Pack your things and go home!" One of the people in the camp next to ours was standing in the street giving people their location so they could navigate back to their home camp. We could hear the drummers from center camp celebrating the white out. It is an incredible thing to see people joyously drumming and dancing in what could be a miserable experience. After the white out ended, it rained briefly, not even enough to get the playa powder turned to mud. All in all, it was a great day for first timers -- a terrific storm that lasted just long enough, but not too long.
The burn started with the Man's arms down this year. The fire dancers were excellent, and the Man raised his arms. Fireworks began shooting off from the watch tower, then flames began in the bottom and worked their way up to the Man himself. The crowd seemed to know better what to do after the burn this year; in the last couple of years there has been more milling around than usual, but this year, the dancing and celebration began.
We dropped by the Info center after the burn, and attendance was given as 29,082. We recall that this is a few thousand more than last year -- perhaps because incoming vehicles were searched for stowaways this year. The rumor is that people found in vehicles who did not have tickets were given the option of leaving or paying $285 for admission. Hint for next year: the most popular hiding place was the bathrooms of RVs.
Sunday was quieter than usual, with fewer people leaving than usual. It turned out that Monday was the big exodus day this year. According to someone with a radio transmitting to Radio BM, it took an hour and a half to get from center camp to the gate, leaving at 12:30 pm. We packed up at 4:00 pm on Monday and started driving about 6:00 -- we went the speed limit (5 mph) the whole way, in a line on Abyss, but still moving on out to the pavement.
All in all, a year as remarkable for the weather as the last two, but for the opposite reason. It was almost balmy at this year's burn. We will be posting pictures in the next week or so, and we'll link to them on the BMTOC.
Update: Sheesh! Even before we get this posted, news in from the playa is that a horrible wind and dust storm hit on Tuesday the 3d about noon and lasted about seven hours. Total whiteout conditions with winds rumored to be gusting to 100 miles per hour. Naturally this has made a mess out of all the camps that were in the process of packing, and volunteers are requested to go back and help with the clean up.
Stefan A. MacKenzie -- please return to your camp
---
This is not the official Burning Man site. That Web site is located at Welcome to Burning Man.
Copyright © 2002, The Civilized Explorer
ALL RIGHTS RESERVED.
---