Burning Man Table of Contents
Search this site

---
The Civilized Explorer
Guide for Second Timers
Okay, so last year was your first time at Burning Man. You thought you knew what was going on, and you found out you were totally wrong. You thought you knew how to camp, and you found out that Burning Man is on a totally different level. You thought you knew how to party. You thought you were good at picking up people. You thought.
The thing about Burning Man is that you can get better at it every year. All you need is a few thousand dollars and a big truck. (If you can get everything you need for Burning Man in your car, you are not doing it right.) Well, maybe you can scrape by with a couple of hundred bucks and a not so big truck. So listen up people, here is what you need and where to get it.
Meeting People and Making Friends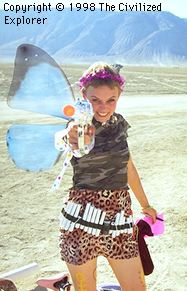 One of the great things about Burning Man is that it is so easy to meet people. Louise and I make friends with all the people camped around us. This gives us some sense of security (probably false, but a sense in any case) that our neighbors are really our neighbors and will watch out for our stuff. We helped everyone set up camp, offered coffee to an early- morning arrival (it really is a drag to have gotten in at 7:00 in the morning -- it is a two hour drive from Reno, and who knows when these people got up). We also gave glowing sticks, bracelets, and necklaces to all the new people who did not know that they would be so useful. We also get cheap burn- related items from Oriental Trading Company and Archie McFee to give out on the night of the burn. Giving things to people is great for Burning Man to impress on newcomers that they really are responsible for bringing everything they need, as well as great for your own PR.
Note that there are other schools of thought about giving things away at Burning Man. Many people object, as this is thought to create more trash in the playa. We have asked people if they would like the specific gift we offer, and we offer to keep any wrappings. Our new-found friends have assured us they know not to leave trash on the playa when they accepted the gift. Use your judgment on whether you want to offer gifts (or accept them), but please take gifts that relate to the Burn or that are handmade, heartfelt objects. Many first-timers forget lights so that they are visible on the playa at night, so we encourage you to think of ways to provide lighting to people in the dark.
The father of all novelty items is Archie McPhee, and the mother is the Oriental Trading Company. Both sites provide tons of toys which are cheap enough to give away (but please get things related to Burning Man, OK?). Nothing lets you make friends with your neighbors faster than giving them things they never thought to bring. We particularly enjoyed the buttons we ordered from Northern Sun. We found discontinued models available on their Web site at very cheap rates. Follow their link to "Bargains" for buttons, T-shirts, bumper stickers, posters, and more. If you do not like the bargains on the day of your visit, check back; they change. EvolveFish.com sells those Darwin fish you may see on cars, along with a huge line of hilarious buttons, stickers, shirts, magnets, and such. (Outsource Congress, Believe those who seek the truth - doubt those who find it, Got WMD?)
U.S. Cavalry is more military- oriented, but they have lots of gear which is impressive on the playa; be sure to get on their catalogue mailing list. Campmor has lots of inexpensive camping equipment which you will find useful on the playa. And for all you geeks out there, drop by ThinkGeek for buttons, T shirts, mugs, and such. (The riotous phrases include "#include <geek.h>" and "got root?" HAHAHAHAHAHAHAHA!) For discount camping gear, try Gear.com, which promises 25% to 75% on close outs and last year's camping stuff. (On one visit, Gear.com offered Timberland's cotton/nylon travel shirt (bellows chest pockets, sleeve pockets) for $25, claiming an MSRP of $62.)
You can get electroluminescent panels from Being Seen Technologies. The panels vary in size and price, with an 8x11 inch sheet with inverter and wiring (assembly required, including soldering) costing about $110. All Electronics Parts and Supplies is heaven for techies, and they offer EL panels, too. Prices range from a few dollars for a panel or strip with no wiring or switch to about $30 for the jumbo kit with wiring, battery holder, switch, and a 4x6 inch panel (no assembly required). All Electronics also sells exit signs, magnetic flashing LEDs, infrared signal extenders, cables, project boxes, and much, much more for Burners who build stuff for the playa.
For those of us who are less technical, you can buy costumes made with EL wire at Neon Trim. The site is somewhat garish, but isn't that the point? In addition to stuff already made, they will be happy to sell you wire by the foot, inverters, kits, and all the individual parts to create your own gear.
Now, some of these companies sell your name and address. When you get on their mailing list, you will end up getting catalogues from related companies that you never heard of. This is either a blessing or a curse. The companies you order from will continue to mail you catalogues, and the others will stop after one or two. You will get some bizarre stuff, especially from U.S. Cavalry selling your name. Interesting stuff going on out there. (Be careful of Brigade Quartermaster, though -- they started spamming us, and several junk emails a day is not nice. It took several years and many phone calls to get off their list.)
Remember your first time at Burning Man and you saw those people with Burning Man buttons and T-shirts and stuff, and you asked where you could buy yourself a souvenir? Not at Burning Man, hon. Sorry. So buy it before you go, and make your own Burning Man souvenirs to give away to all those people who ask you where they can buy those catchy buttons and stuff you're showing off. Some resources for button, pins, and paper labels include:
(Prices are in US dollars and are subject to change; shipping abroad will cost more than the order.) The button size we show is pretty big; one-inch buttons are cheaper if your budget is small. And bigger orders give you a bigger discount: Dr. Don charges $69 for a hundred 2 1/4" buttons, and $160 for 250 (shipping included). Do some comparison shopping for different sizes and amounts, and don't forget some places charge a separate fee to set up your text and images for printing.
For magnetic and vinyl flame decals for your car, van, trailer, whatever, see SuperFlames. They also sell flame-deocrated floor mats, windshield sunshades, shirts, and USPS-approved flaming mail boxes! For eye protection, flashlights (including the Inova 24/7 SmartBrite 7 Function LED Lighting System), boots, turnout gear, Fidney tool belts, and more, see The Fire Store.
We get custom patches embroidered at Convective Custom Embroidery. We deal with Chris, and he sends images of the patches to make sure we're in agreement on what we'll be getting. It's all computerized, and it makes getting one or two custom patches reasonably inexpensive. (Sixteen dollars each for two 4x9 inch patches, plus a few dollars to mail them.)
Embroidered patches are stiff and last a long time, but they're expensive and they're stiff (you don't want them on a t-shirt). If you want less expensive products to sew on clothes and lighter fabrics, consider tapes (like you see on military fatigues and at summer camps), woven labels, and printed ribbons, which you can chose to be sew-on or iron-on. Some resources are
We list lots of henna resources for less than permanent tatoos and artwork for your skin on our Bizarre Resources page; check out the links there for how to give yourself a different look that will last several days while you are at the burn.
Henna from head to toe! has over 70 pages with hundreds of illustrations (photographs and line drawings) of body decorations and hair coloring suggestions. (If you buy it through this link, we get a commission.)
Burning Man has an extensive list of resources for glowing things, glamour things, camping stuff, and more than you have ever thought of -- take a look at our table of contents for "Preparing for the event." Before the burn, drop by your local drug store and look at the sun block section. In 1999, the children's sun block section had bottles with glitter -- just the thing to rub on yourself and others. We saw a man at the portapotty lines offering to rub glitter on one and all.
Here is the man rubbing someone with glitter:


And here is a happy, shiny recipient: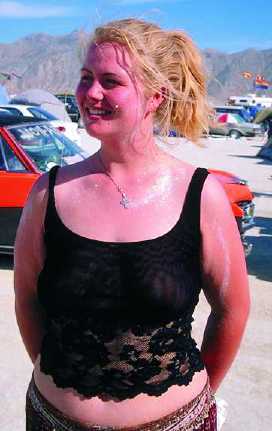 Great way to meet people.
If you thought you needed a backpack to carry stuff around and found that it made you sweat like the pig you are, try a PodBelt from SintheteX. Similar in concept to military pistol belts and ammo pockets, the PodBelt is more adjustable and has pockets more in tune with the Playa: insulated water carriers, sunglasses pockets, pockets for your iPod, whatever.
Start planning your next Burn now. Keep the Man in mind as you browse through racks of clothes and used goods; hit these links throughout the year and look for sales and discounts on discontinued items. Buy stuff throughout the year to spread out the expenses.
If you meet people you want to see again, have something to give them with your name and contact information (being careful, of course, about real addresses -- email and URLs are great for more nearly safe contact with your new friends). VistaPrint will print free business cards for you. Pick the link to free cards and follow the directions. It is very nice if you know your location on the playa -- people may be able to find your camp. [NOTE: VistaPrint seems to be having some difficulties lately with their shipments. Order early or have a back up resource.]
Note: Do not give away crap. Please. If you buy stuff for gifts on the playa, pleasepleaseplease make it Burn-related. Don't get a bunch of bookmarks from the stack at your local bookstore and give those away. You're just adding to the trash someone has to dispose of. Speaking of trash, if the stuff you give away is packaged, always ask if you can keep the packaging for disposal. Almost everyone sneers, says "I know about Leave No Trace," and takes the packaging, but please offer to keep any extraneous materials for proper disposal.
---
Don't Dress Like a Dork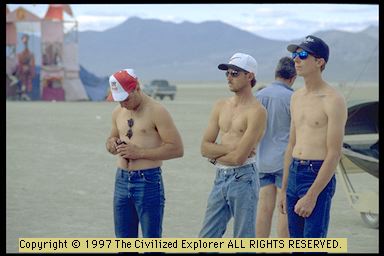 It just isn't cool to wander around Burning Man dressed like a dork (unless, of course, you are mocking them). And what's Burning Man without a ton of makeup and weird hair color? Ben Nye Makeup has tips on special effects, fantasy make up and face painting. And guys, this is for you, too, not just women. While you're at it guys, get your girl a mood bra. See the bizarre page for details. The bizarre page also has links on how to make tennis ball cannons, spud guns, and lots of other toys that you can have fun with on the playa. Just leave no trace, okay?
Now here's a tip: You will see thousands of people wandering around in really weird outfits. Although everyone (including us) refers to these outfits as "costumes," they are not costumes. What you wear when you're home is a costume. On the playa, you dress the way you really are. If you do it right it's an expression of self. Before you go to Burning Man this time, get an idea of who you really are and figure out how to express that in your clothing. You'll get better at it every year.
Tubaman turned us on to a really good book with tons of photographs of people expressing themselves through their clothing. It is really art. Take a look at (un)FASHION. Masks, headgear, underwear, and shoes. (If you buy it through this link, we get a commission.)
Remember all those el wire creations? Incredible stuff, and you can make it yourself:
Here's a secret link, just for you:
Enlighted Design, Inc..
For those of us who have all the creative design aptitude of a walrus, drop by this site. It has lighted costumes for sale. (And check out the bridal wear.)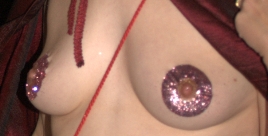 Some women prefer to be topless but with some coverage. We have discovered a Web site called Pastease. They offer a large assortment of styles, including stars and flames. In addition, there are pasties with a string of candy hanging from them, pasties that glow in the dark, and pasties that are adhesive on both sides, so you can sprinkle glitter or whatever on the pastie, then put it on. The glitter pasties have a removable center portion. Prices are low and service is prompt.
If you plan far enough ahead, visit Tokyo Flash for some wristwatches otherwise unavailable in the US. The watches are bizarre; you can get watches that show time in binary numbers, digital, with hands, with phases of circles, and on and on. Prices are in Yen, and they are mailed to the US by USPS; they will ship to any country. Response times are prompt.
We are also seeing people give away CDs that they have ripped just for the playa. In addition to Apple's iTunes, we suggest Audio Lunchbox and betterPropaganda which have great lists of indie artists. For all the iPodders, take a look at MacJams.com, which has music made by musicians using Mac hardware and software. In addition to free music, the site has forums and tutorials on using the software.
If you have not looked at the bizzare page yet, here is a sample: Characterization of Organic Illumination Systems, wherein the good folks at DEC Western Research Laboratory explore triboluminescence and electroluminescence in various organic materials: pickles, bok choy, and mandarin oranges. A quote, showing just how serious these experiments are:
Our apparatus consisted of a fused AC line cord, the ends terminated with bare .1631"/.1571" diameter CDA10100 copper electrodes. To facilitate insertion, the ends of the electrodes were ground to a conical shape with a 60 degree included angle.
Okay, boys -- light up those pickles.
---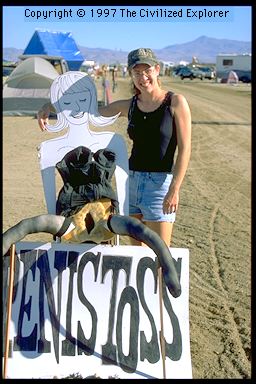 Making Your Own Camp Better
So last year you loaded up your car and brought a shade structure. You ended up sitting in the playa powder during the heat of the day and having no place to stretch out and nap, right? The first thing to start looking for is a nice carpet remnant. You can trash pick them if you know where to look; otherwise, visit a carpet store and ask where their remnants are. We have gotten decent size pieces for US$10. Get light colors, though -- besides not showing the playa powder, they do not absorb the heat of the sun in those hundred degree fahrenheit days.

When you put the carpet under your shade, remember that the sun rises in the east and sets in the west, but spends most of its time south of your shade fabric. Either make side panels to block the sun or keep the carpet mobile so you can move it into the shade as the sun goes by. Putting the carpet directly under your shade fabric means it will be in the sun all day. That is not what shade is all about.
Think about a theme for your camp site. If you want people to come to your camp, have something to offer. We have seen camp sites where a group of people put their cars in a circle and tie a big tarp over everything. This provides some good shade, but there are drawbacks: no one can see you, and you cannot see anyone. Thousands of interesting people are going to walk by your camp, and you will not be able to see any of them. Worse, those interesting people will not see you and will not wander over to talk to you. If you want to see and meet people, keep your camp open to the people who wander by.
And did you plan on cooking on the tailgate of your pickup? Please, please, please. This is not a tailgate party at the World Wrestling Federation arena. It is Burning Man. Bring a table; bring chairs. And it is not your school cafeteria, either -- bring a table cloth. If you do not have room for a real table and real chairs, bring folding TV tray tables and folding chairs. If you do not have room for full sized furniture, bring beach chairs and make some tables out of wooden wine cases you can buy at a liquor store for a couple of bucks each. Get cases with nice designs stamped into them from good wineries -- at least you will look like you have taste. Buy some one by twos at the lumber yard, drill holes, and bolt the legs to the bottom- side up wine cases. That way you can take them apart for transport, and use the wine boxes to carry stuff. Make sure the legs are the right height for your chairs.
If you want to shower, you can bring one of those solar showers and try to find a place to hang it so you can stand under it. And live with the resulting mud puddle. Or you can go to the local garden supply store and buy a tank that they think is for spraying insecticide on your rose bushes. The nozzle adjusts from a stream to a mist. Fill it with water in the motel before you leave Reno and bring it on out. Not only can you wet yourself down, you can use it to rinse your dishes after you wash them. Be sure you budget your bathwater, though; you don't want to use up all your drinking water taking baths.
For additional hardware, no-rinse washing, bicycle gear, costumes, and on and on and on, please see our delicious links for treks and for burners. For more lights, see our Being Seen links. To power your lights and such, our batteries links offer links to batteries.
Last minute shopping
See our Reno Shopping Table of Contents page for links to last minute shopping in Reno. Stores are listed by what they sell, where they are, and by map on Tagzania. Enjoy.
A Theory of Burning Man
As we say in our Guide for First Timers, Burning Man's greatest lesson is how to be free. One of the benefits of being free is having permission. You have permission. Permission for what, you may ask? Just permission. What you do with your permission is one of the personal aspects that only you control. Take your permission and do with it what you will. You are free on the playa.
One of the permissions you have, by the way, is to say no. If someone offers you a gift you do not want, just say, "no, thanks." No excuse is necessary. If you feel the need to have an excuse, tell them they gave you one already. Few people remember who they gave things to. If someone wants to take your picture, you may say a polite "no, thanks" to them as well. Again, no excuse or reason is necessary.
---
This is not the official Burning Man site. That Web site is located at Burning Man.
Copyright © 1999, 2000, 2001, 2002, 2003, 2004, 2005, 2006, 2008 The Civilized Explorer. ALL RIGHTS RESERVED.