[Site TOC]
---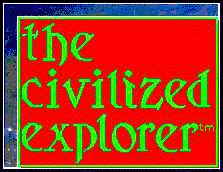 The Civilized Explorer
San Francisco CyberCafés
---
All numbers are in the (415) area code. All cafés are subject to failure without notice. Call before you go.
Brainwash
1122 Folsom St
255-4866
getlost@brainwash.com
Café.com
970 Market Street
922 - 5322
Fax: (415) 921 - 3103
Email: Cafe@sanfrancisco-cafe.com
Price/Hour: $7
Hours: 8:00am - 10:00 pm Seven Days/Week
3 workstations connected via DSL. Beer, Wine, coffee, food, satelite TV, Sports.
CoffeeNet
744 Harrison St.
495-7447
roastmaster@coffeenet.net
Down Load Deli
400 Haight St
252-5862
downloaddeli@hotmail.com
Global Bazaar Internet Cafe
401 O'Farrell St. - next to the Hilton Hotel, corner of Taylor St. and O'Farrell
885-6890
fmarar@netscape.com
Price/Hour: $10/hour
Hours: 7:00 am to 10:00pm M-F 7:00 am to 9:00pm Sat, Sun
Java Supreme
703 Guerrero St @ 19th
206-1832
Price/Hour: An hour $7.00 dollares-40 minutes $5.00 dollars - 20 minutes $3.00 dollars
Hours: Cafe hours 6:30am till 9:00pm
Come try our best tasting coffee, hot or iced fresh juice, sandwishes, salads and soup while you're enjoying a new art show every month.
Kinko's
3225 Fillmore 441-2995
1967 Market 252-0864
1597 Sloat 566-0572
25 Stanyan 750-1193
201 Sacramento 834-0240
50 Fremont 512-7766
369 Pine 834-1053
1800 Van Ness 292-2500
Quetzal
1234 Polk @ Bush
673-4181
FAX 673-4182
6:00 am - 11:00 pm daily
$9.95/hr, 16 cents/minute
10 imacs, printer, scanner, videoconference, food, coffee, wine
Seattle Street Coffee
456 Geary St. - next to Diva Hotel
922-4566 Fax: 922-0369
Email: bro3@ix.netcom.com
Hours: Mon 6am-10pm, Tue-Fri 6am-11pm, Sat 7am-11pm, Sun 7am-9pm
Price/hour: US$ 8
Small cafe with three terminals downstairs, more upstairs
---
| The Civilized Explorer |

| The French West Indies |
---