[Site TOC]
---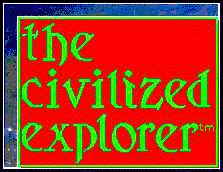 The Civilized Explorer
Francophone Institute of Higher Education
---
The Université des Antilles et de La Guyane is headquartered in Guadeloupe, but the Institut Supérieur d'Études Francophones (ISEF) is located high up on a hill in Schoelcher, Martinique, overlooking a bay. While we were in Martinique in 1999, we met with Patrick Dahlet and obtained information on its program for foreign students. College credit for its courses can be obtained only by having a foreign college enter into a contract with the ISEF, which takes considerable time. There are some American universities which have existing contracts, so it may be easier for American students to get credit through those colleges rather than through their own college. Contact M. Dahlet at isef@martinique.univ-ag.fr for information on what colleges currently have agreements with the ISEF.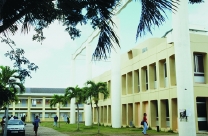 You may also write to
Francophone Institute of Higher Education (ISEF)
University of the French Antilles and Guiana
Campus de Shoelcher
BP 7207
97275 Shoelcher Cedex
Martinique, French West Indies

The telephone number is + 596 72 74 95, and the fax number is + 596 72 74 97
M. Dahlet provided the following description of a brief course leading to a certificate of participation, not college credit. This information was current as of April 1999.
French Langauge Training and Classes for Foreign Students at the Francophone Institute of Higher Education (ISEF)
University of the French Antilles and Guiana
Possible Candidates
Anyone interested in learning the French language and discovering francophone cultures, especially students, teachers of all subjects, and deans of universities located in the Caribbean and American regions.
Objectives
To get an introduction to the French language or to enhance participants' abilities to communicate in French in everyday professional situations
To update the participants' knowledge of contemporary French, of Caribbean society, and of the diversity of Francophone Cultures
To prepare participants' for admission into the French University system or for total immersion in a Francophone country
To develop self- reliance among participants
Contents and Methods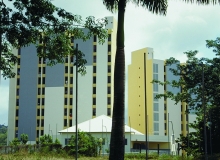 Oral and written practice of French in context
Practice of French for professionals (in such fields as law, business, tourism, higher education)
Presentation of the socio-economic and cultural aspects of present French and Caribbean societies through the use of authentic documents
Dynamic and personalized teaching methods using various multi-media technologies and requiring individual participation. Activities include lectures, discussions, role plays, scenarios, debates, oral presentations, and solo and group projects
Organisation of Courses
Two options for all levels (beginner, intermediate, advanced): semi- intensive - 20 hours per week, intensive - 30 hours per week
Duration: 1, 2, 3 or more weeks
Sessions are held upon request except during the months of July and August
Weekly schedule: Monday through Friday from 8 a.m. to 1 p.m. (semi- intensive), Monday through Friday from 8 a.m. to 1 p.m. and from 2 p.m. to 4 p.m. (intensive)
Programs: lectures, meetings with local political leaders and professionals, afternoon leisure activities and excursions to various locations around Martinique on Wednesdays and weekends
Program Fees
| | | |
| --- | --- | --- |
| Accommodations | Semi-intensive Sessions (20 hours) | Intensive Sessions (30 Hours) |
| Family | 2300 FF | 2700 FF |
| Hotel (double) | 3700 FF | 4000 FF |
| Hotel (single) | 5000 FF | 5300 FF |
Costs are determined on a per- person and per- week basis with a minimum of 15 participants, and include the following expenses: tuition, lodging, meals and snacks, ground transportation, and excursions.
Certification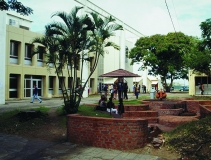 Upon completion of the course, participants will receive a personalized certificate attesting to their participation in the program.

For Registration and Further Information
Denise CAUMARTIN
Institut Supérieur d'Études Francophones, U.A.G.
Campus de Shoelcher
97275 Shoelcher Cedex
Martinique, French West Indies Tél: + 596 72 74 95; Fax: + 596 72 74 97
Addresse électronique: isef@martinique.univ-ag.fr