Table of Contents for Civilized Explorer or Burning Man
Search this site
The Civilized Explorer

Twin City Surplus

Page 3
We visited over the 4th of July Weekend in 2005, and we found the store to be completely -- well, we started to say re-organized, but it is organized! Very easy to browse and shop. The photo above shows a Burn Unit, priced at $249.97 for industrial cooking on the playa. Only a couple left, thought.
All the stuff is still there, but they have opened up some of the space to make browsing easier, and the store looks much brighter. For more nearly realistic cookery, Twin City Surplus offers a plethora of cook stoves and even the kitchen sink: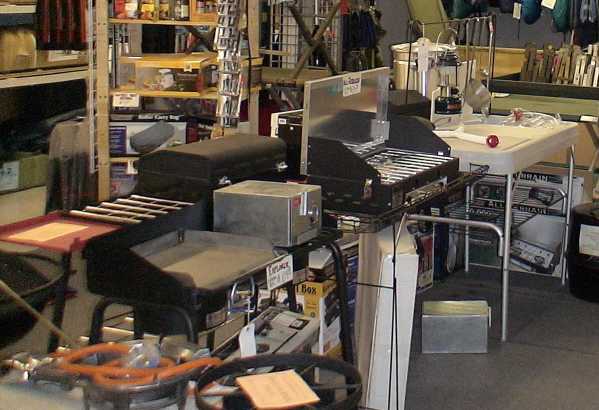 The camping gear is well laid out, making it much easier to find things your looking for, and the cooking gear is all right there where you need it. They offer showers, coolers, ice chests, tents, and the inevitable much more.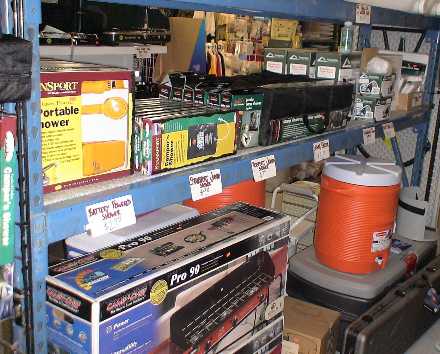 We found the usual assortment of fireproof garb, flight suits, and other playawear, but in our previous pages we have skipped over the large assortment of more nearly regular clothing suitable not only for the playa but for the blacktop world back home.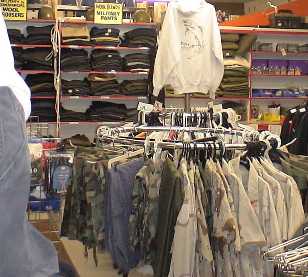 Twin City Surplus has its own web page, of course, so you can shop on line and have it delivered; maybe they will hold your order for you to pick up on your way to the Burn. Check and see. The online store is offering a chance to win $700 worth of BM gear, but the contest ends August 12, 2005, so drop by pronto if you want to enter (name and email address required and read the rules concerning taxes and shipping). The store is open seven days a week, and they are very helpful for all customers but they work with Burners, so if you are flying in, call or drop them an email about how to arrange for picking up and dropping off your gear.