Table of Contents for Civilized Explorer or Burning Man
Search this site
---

---
The Shrine of the Dessicated Rats
---
---
Everyone seems to be claiming that Burning Man is some pagan ritual involving the worship of a wooden idol that is burned for some reason or other. Well, we at The Civilized Explorer have decided that it is time to end that myth. The real, factual, and underlying myth is the Shrine of the Dessicated Rats, not the Man. The Man is a mere façade.
We have photographic proof of the true facts, as opposed to all those false facts promulgated by aliens. (If those aliens are so smart, why are they abducting the dumbest people on earth. That is what we want to know.) If those aliens would just stop spreading those rumors, then we could all be left alone to dessicate our rats in peace. We refer you all to The Hitchhiker's Guide to the Universe where all this is explained, and thanks for all the fish.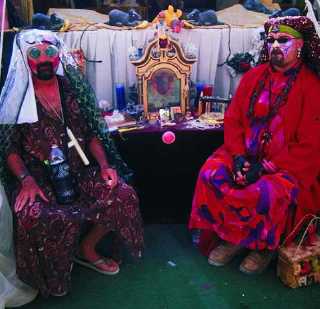 The High Holey Communion at the Shrine of the Dessicated Rats was held at center camp in the shade of the Caffe. Sister Dana, on the left, looks absolutely stunning in those sun glasses, but she has got to learn to keep her knees together. Sheesh! Just look at how much better Sister Kitty's posture is. Very nice, dear.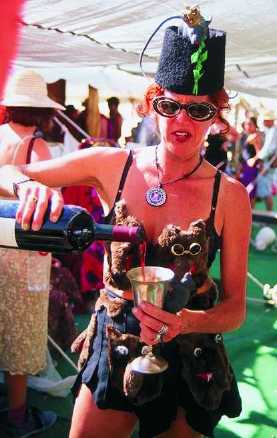 Lady Bee poured quite a good wine for the confession. (That may have had some effect on Sister Dana's inability to keep herself together, kneewise.) We all just loved Lady Bee's high hat.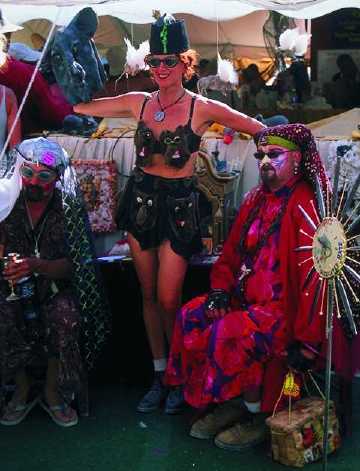 Here, Lady Bee, Sister Dana (on your left), and Sister Kitty (not on your left) pose for the cameras of their many fans. Those aliens have tried to suppress the part of the picture showing Siste Dana hitting the bottle again, but we have managed to squeeze in just enough to show the bottle on the lip of the cup.
We hope this photographic proof lays all those nasty rumors of some kind of paganism to rest. It is performance, dear children. It is all about art.
---
This is not the official Burning Man site. That Web site is located at Welcome to Burning Man.
The Burning Man Archives contain every Web site for the Burning Man known to Man. Please browse that site as well.
Copyright © 1999, The Civilized Explorer
ALL RIGHTS RESERVED.
---