Table of Contents for Civilized Explorer or Burning Man
---
Burning Man 1996

Art Cars, Page 2
---
All photographs in The Civilized Explorer Burning Man 1996 pages are Copyright © 1996 The Civilized Explorer. ALL RIGHTS RESERVED. You may make a copy of the photographs for your personal use, but you cannot display them publicly nor may you cause them to be displayed publicly either by direct copy or by making a link to any of the photographs. You may contact us for a license to use any of the photographs for public display.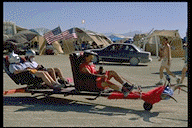 "Alien Buggy" is about 384x256 and 25.5k. Did we mention that it is not only cars that can be art? Even aliens get into the act at Burning Man.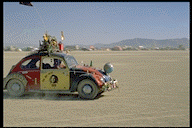 "Beetle" is about 255x380 and 17k.
It seems these people are looking for "Slow Children", but it is not exactly clear to us what they will do with them. About 380x255 and 28k.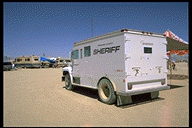 "The Ultimate Art Car" About 380x255 and 28k.
For more information on Art Cars, an incredible culture you may never have explored, please visit Art Cars in Cyberspace. They have great photographs of the cars and records of their visits to Burning Man 1994 and 1995.
Return to Table of Contents.
---