Table of Contents for Civilized Explorer or Burning Man
Search this site
BM2K

The Civilized Explorer
It was the dust of times, it was the dust of times.

Charles Dickens, A TALE OF TWO CITIES
Wait a minute ... . Did we get that quote right?
We thought the 1999 burn was unique in three ways:
The Burn was on Saturday night
It was the coldest BM we had been to
The Burn was set off accidentally
We have a repeat on two accounts for The Year 2000: It was darn cold, and the Man was again set off accidentally. This year we add wind to the triad. It was windy!
We arrived on Monday afternoon a little after 4:00, and we set up our shade and tent in the cooling evening. The next day, our official REI keychain thermometer showed a high of 95° for the afternoon. It was the last time we saw the 90s. The winds started on Wednesday and lasted until Saturday. Wednesday's high, as best we can recall, was 70; overnight lows were in the mid-40s. We have reliable reports of sustained winds at 41 mph, with gusts up to 69.5 mph. Remember, this is Burning Man, so the geeks are out there, and they're measuring things accurately.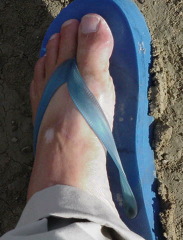 Thursday morning about 4:30 am, our Sierra Designs Mondo 5 had had enough, and one of the poles broke. We have come home from BM with bent poles before, but this is our first broken one. We cleaned out the floor of our cargo van and threw our air mattress and sleeping bag inside, waiting for the wind to stop. HAHAHAHAHAHAHAHAHAHAHAHAHAHA! We slept in the van the rest of our stay, never bothering to set up our back-up tent. (It is Burning Man, after all -- we carry a back-up for almost everything.) The Mondo is a huge tent, and three poles are not enough to withstand the rigors of Black Rock. We have already selected our replacement and are waiting for a sale. Meanwhile, Thursday morning it started to rain about 8:00, going off and on till 10:00 -- just enough to make some mud, but not enough to be soup.
Thursday evening about 5:00 we had our first whiteout, mixed with rain. During all the storm, wind, rain, and dust, the Hair of the Dog Lounge had live music going. Absolutely incredible! Rock on, guys.

We suffered through periodic whiteouts from the dust storms on Thursday and very nearly all day Friday. The Opera was cancelled, so the wind died down. Saturday was glorious, and the gods smiled from cloudless skies all day and all night. We were in center camp about 8:30 pm waiting for the procession to start, and decided to head on out early. We got out to the Man and milled around looking for a good vantage point. We had just gotten the tripod set up when, promptly at 9:00, the right arm of the Man exploded. A moment of shocked inaction was followed by shooting pictures; the Man's head shot off into the dark.
We heard later that the neon in that arm shorted out and arced, setting off the explosives and causing the burn to start prematurely. In any event, the crowd went wild, and the Man burned in fine fettle. Chaos, as Robert says, does not happen according to plan.
Sunday evening there was a wonderful parade of EL wire users around center camp, and people wandered around handing out trinkets. Monday people pitched in and cleaned up. We had some friends who departed on Saturday because of the burning wind and dust storms, and we got our fill on Monday trying to cook our supper. The wind was strong enough to keep our water from boiling, and intermittent dust storms filled our gear box with dirt. We finally got our meal cooked and eaten, and the thought of trying to clean up so we had something to cook in for breakfast was our breaking point. We loaded up the van and headed in to Reno for a couple of nights at the Adventure Inn.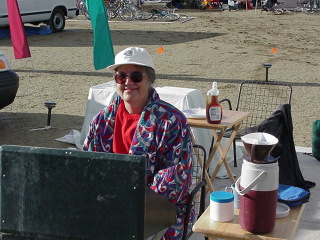 We had packed some clothes for cold weather this year, and we needed them. We were not prepared, however, for the dust storms. Everything was either coated in dust or was downright filled with dirt. The photo above shows the gray film of playa powder on our normally green cookstove; the tent should be in the background, but it had already blown down. The black shapes are rebar covers we left in place in the (unlikely) event we put up our back-up tent. We saw few structural failures this year, though, so we presume more people are aware of the potential for strong winds.
We learned from our experience and the experiences of others. We were camped among new and old friends in a theme camp. During the crappy weather, we provided and received moral support. Many said that the weather forged a bond during the event that helped get through the blowing dust and high winds. If you go, we suggest camping in a group if at all possible -- one ad hoc group is the Solo Collective, a group of solo campers formed through the e-playa bulletin board. (UPDATE: For 2004, although they have a listing as a theme camp on Six Degree Burn, we understand that there will be no official Solo Collective camp. There is a very active discussion list, and it is expected that people will form unofficial groups to camp together this year. If you are going solo, drop by and see who you can connect up with.)
Cargo vans and containers are your friends. Our air mattress fit snugly between the rear wheel wells of our van, and containers with snap on lids kept their contents grit free during the long winds. Our boxes with hinged lids failed to provide any seal at all, and squeezing our box of aluminum foil caused a cloud of playa powder to blow out the side. Many people wore goggles during the whiteouts, and contact lenses came out and stayed out for almost the entire event, at least in our camp. (We have back-up prescription glasses, of course.)
With the wind and dust storms at mealtime, we are considering alternatives to food that needs to be cooked. During his time in the service in the early 70s, Phil had the opportunity to eat C-rations and K-rations straight from the box. Claiming that they were not all that bad, he has suggested trying some of the modern MREs before next year's burn to see if they will do for a meal- in- a- van during a whiteout.
Update:
HeaterMeals seems to provide what we are looking for. The meals come in a box requiring no refrigeration. They can be heated in the box using a packet of saltwater included with the meal; pour the saltwater on a metal foil, and a chemical reaction boils the water, heating the meal in its box. (Nothing like a little magnesium to start your day at Burning Man.) We have tried a couple, and although we were not overwhelmed with the amount and tastiness, the ability to cook up a hot meal without a camp stove makes these our alternatives when the weather really sucks. The food is hot enough to eat in 15 minutes.
HeaterMeals won out over MREs because of calories. HeaterMeals have an average of 400 calories in the basic pack and 800 in the plus pack. MREs are made for soldiers in combat and provide a full day's worth of calories in each meal: 3,000 calories. (Army Times article quoted by HeaterMeals.)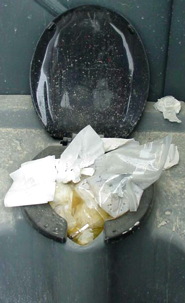 The portapotties were a disaster again this year. We had a bedside commode which we used at night to avoid a trip out in the 40-something degree weather. It came in handy to avoid having to sit down -- well, sitting down was impossible in the portapotties.
This is the result of law of unintended consequences. The BLM appears to have forbade early arrivals, so the tickets and all advertising gave August 28 as the starting date for the event. So people came on the starting date. The rumor we heard is that on Wednesday, there were 4,000 more people than expected, leading to the failure of the clean up crew to keep up with the outpouring of people. All because no one was supposed to arrive early.

[UPDATE: At the town meeting on 3 December 2000, we found out there were a few other reasons the portapotties stank. One of three tank trucks was taken for a joy ride and put out of commission for the rest of the event. But the biggest problem was you! An agreement was reached with a facility local to the playa for disposal of the sewage, but the BM trucks were banned because of the presence of non-sewage items in the sewage. Sheesh! Among the items found were a rack of lamb, a gallon jug of urine, and a plastic bag of raw sewage someone filled at their camp and then just dropped in the portapotty. As a result of the ban, the trucks had to transfer their sewage to a larger tanker for a two- hour trek to Reno's sewage station. And because of the presence of non-sewage items there, BM trucks were not invited back next year. Come on, people. Use the portapotties for your bodily fluids, not for garbage disposal! Every time a sucker truck hits a can, clothing, shoes, or other item that cannot fit in the hose, they have to shut the truck down and unclog it. Then they have an item contaminated with raw sewage. Stop throwing trash in the portapotties!]
Even online magazine Salon had an article about it.
[Second Update: See PortaPotties 2001.]
The official police were ticketing people for everything under the sun, it seems. The laughing stock of cops was the woman who ticketed a man for indecent exposure. She explained that the real reason for the ticket was because the man relieved himself on the playa when portapotties were readily available. The BLM does not regulate voiding one's bladder on the playa, so that was not a ticketable infraction, so she gave a ticket for indecent exposure. The poor object lesson was completely naked at all times, so the ticket was a "lesson," just "educating the public." The police also arrested people for smoking pot, possessing two half tablets of ecstasy, and other such infractions. Do not get upset, do not plan any pranks or protests. Just let it go. The Man survived this kind of crap in 1997, and it will survive this new crap in 2000. Just let it go. Next year the police will have been laughed at all they want and things will get back to normal. Just let it go.
[UPDATE: At the town meeting on 3 December 2000, Larry Harvey said all cases in Pershing County were dismissed and all fines were refunded.]
As always, the key (for us, in our very humble opinions) is the people. The wonderful people who elect to go to Burning Man with their wonderful art, their wonderful costumes, and their wonderful selves. We ran into the people who camped next to us last year, and we ran into people we see nearly every year at the event, and only at the event. We met new friends we hope to see next year and every year thereafter. The creativity, generosity, and friendliness is astounding.
By the way: just to clarify a point on the use of the word "costume." We do not mean the clown suits, witches outfits, or other regalia people purchase for such events as Hallowe'en. At Burning Man, the costumes are truly an expression, an extension, of self. We appreciate the people who express themselves so creatively.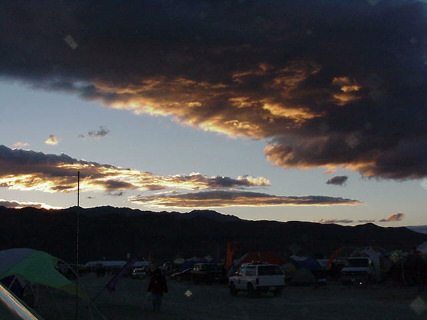 ---
This is not the official Burning Man site. That Web site is located at Welcome to Burning Man.
Copyright © 2000, 2001, 2003, 2004 The Civilized Explorer
ALL RIGHTS RESERVED.
---