Table of Contents for Civilized Explorer or Burning Man
Search this site
2011 -- Maybe the best weather ever?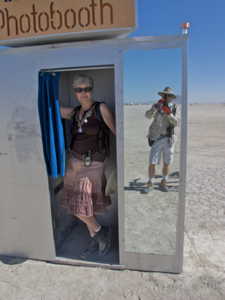 The weather was incredibly mild this year -- mostly in the 80s and 90s during the day. We had no dust storms in camp (we had a shift on Point 1 Monday where we had dust blowing in from the gate all day), no rain, no high winds. Very pleasant every day.
Generally, we're up at dawn and on the playa reasonably early in the mornings. I'm usually out of water and too hot by 11:00, but this year I noticed it was noon and was surprised. Not only was I not out of water, but I wasn't hot.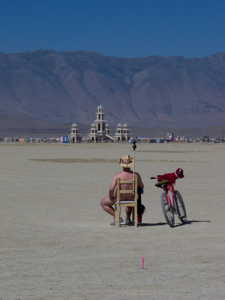 Many people commented on the amount of playa art erected earlier in the week than usual. Someone on Tuesday said based on the finished art they would have guessed it was Thursday. The Temple was amazing this year. One of my friends who didn't go to Burning Man saw photos of the Temple and was incredulous that they burned it.
Consider volunteering
We have been volunteering for the last five years in an effort to do our part in getting Exodus over with. Generally we schedule our shifts on Monday, Tuesday, and Monday (Exodus day). We work for Perimeter, and it's a great group of people. If you're tired of Exodus, we suggest volunteering to work that day and contribute to making it smoother. BMOrg's Volunteer FAQ has the information you need to sign up. (If you have not been to Burning Man, I recommend going at least the first year without volunteering so that you can explore the event and know your limits.)
Copyright © 2011 The Civilized Explorer. All rights reserved.